Welcome to Dr. Xiong's Food Protein Biochemistry lab Resource website. This page is intended as a resource for Dr. Xiong's Protein Biochemistry Lab in the University of Kentucky Department of Animal and Food Sciences. The Food Proteins lab consists of Dr. Xiong, the Principal Investigator, Sue Blanchard, the Research Specialist, and a number of Graduate Students and Visiting Scholars. All comments should be referred to Sue Blanchard.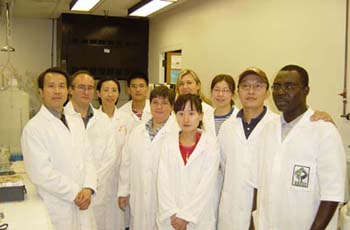 Dr. Xiong's research includes Physical, biochemical, and functional properties of muscle, dairy and soy proteins; oxidative changes in proteins and lipids during food processing and storage; development of natural antioxidants and bioactive peptides; textural properties of meat, dairy and soy products; interactions among food ingredients in value-added meat and poultry products; porcine and avian muscle fiber types; postmortem muscle proteolysis; and aquatic products (fish and crustaceans). For additional information, please visit Dr. Xiong's College of Agriculture Faculty information page.

Researchers from Dr. Xiong's Protein lab
Pictured: Front left to right are Dr. Youling Xiong,Daniel Alvarez, Sue Blanchard, Yuanyuan Ma, Henry Tseng, and Kingsley Agyare. Back left to right are Lin Wang, Gong Chen, Gema Nieto, and Caodi Fang.