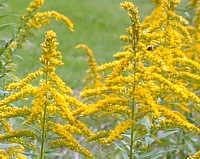 1. INCREASE PLANT DIVERSITY Some insects need certain types of plants to live. If you install those plants, the insects are almost sure to follow. If there is a certain type of insect you want to attract, read about its life cycle and food preferences, and you might be able to find the right kind of plant to attract it. In general, if you have more types of plants in an outdoor classroom, more insects will arrive to exploit those plants.
Here are some specific examples of plants that tend to attract a large variety of insects:
Milkweed: attracts monarch butterflies, aphids, milkweed bugs, swamp milkweed beetles, and milkweed long-horned beetles. Vine or free-standing milkweed can be used.
Pea plants: attract various caterpillars and many bees and flies that visit for nectar. Predatory wasps will also visit to attack the caterpillars
Goldenrod and Queen Anne's Lace (a.k.a. Wild Carrot): these and other native flowering plants attract bees, moths, butterflies, flies, and wasps, all of which visit the flowers to collect pollen and nectar. Crab spiders, ambush bugs, assassin bugs, and other predators soon colonize to feed on the pollinators.
"Butterfly Plants": there are many species of butterfly plants sold in gardening stores. These usually work well, and will generally attract other insects in addition to butterflies. Visit our ENTFact for specific examples of good butterfly plants: How To Make a Butterfly Garden
Native Grasses: the Kentucky Department of Fish and Wildlife has information on how to establish native Kentucky grasses. These native grasses will attract native butterflies and other insects that you've probably never seen before.
Native Grass website: http://fw.ky.gov/native.asp
Weeds!: one of the best ways to attract insects is to simply allow weeds to grow. Weeds provide shelter and food for various insects. Encourage weed diversity by controlling any one type of weed that starts to dominate. Let the weeds grow tall, but remove most of the woody types that may begin to take over after a few years so that you can maintain a mixture of grassy and woody plants.
Even if you don't try to attract specific insects, you can get a general increase in diversity by planting a mix of tall and short plants, grasses and woody plants, fruiting and non-fruiting plants, trees and shrubs, and any other variations you can think of.
2. PROVIDE SHELTER Many insects and their relatives hide during the day under rocks and pieces of wood. Scatter these items around your outdoor classroom to attract ground beetles, centipedes, millipedes, wolf spiders, sowbugs, ants, and many other creatures.
3. JUST ADD WATER To attract an entire spectrum of insect diversity, install a small pond in your outdoor classroom, or build your outdoor classroom around an exisiting body of water. If you build a pond, add rocks and pieces of wood to the bottom to attract even more creatures and to encourage aquatic plant growth. A permanent pond or stream will have a whole host of aquatic arthropod life. In a pond, you will find mosquito larvae, giant water bugs, aquatic beetles, fishing spiders, water scorpions, water striders, dragonfly naiads, and damselfly naiads. Adult dragonflies and damselflies will also be attracted to the area. A cool, clean, fast-moving stream will have most of the insects a pond will have, plus mayfly and stonefly nymphs, caddisfly larvae, dobsonfly larvae, along with crawfish and aquatic sowbugs.