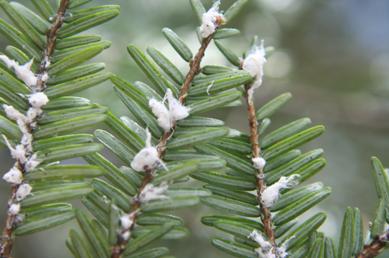 What is the Hemlock Woolly Adelgid?
The Hemlock Woolly Adelgid (HWA) is a small, aphid-like insect that feeds on the Eastern Hemlock tree. Like an aphid, HWA uses its piercing mouthparts to suck sap from its host. Its nickname is "woolly" because of the fluffy, waxy, protective substance that the creature secretes. HWA is not native to the United States, but came to our country by accident on ornamental plants that were brought here from Asia. Over the last century, the insect has gradually infested stands of the Eastern Hemlock all across the eastern United States.
(Photo by Tom Coleman, UK Entomology).
Why is HWA a problem?
The Hemlock Woolly Adelgid is considered an "invasive, exotic species." "Exotic" because it is not-native to the United States. "Invasive" because it is a destructive, difficult-to-control pest. HWA quickly establishes itself in an environment because few predators are adapted to feed on it. It has also no diseases that help to reduce its population. Eventually, an HWA infestation causes severe stress to hemlock trees, leading to their eventual death. Although hemlock trees are not economically important lumber species in Kentucky, they are very important to the environmental health of watersheds. Because hemlocks grow in moist valleys, they help shade forest streams during the summer. They also help control erosion along streams. Without hemlocks, streams would become hot and muddy - a lethal combination for aquatic animals.
What can teachers and students do to help?
In Spring of 2006, the first hemlock woolly adelgids were confirmed in southeastern Kentucky by the University of Kentucky Department of Entomology. So far, the insects have been found in only a few places in the state. However, judging by the spread of HWA in Tennessee and other states, it is likely that the adelgid will continue moving north. It is possible to save limited numbers of hemlock trees from HWA, but the trees cannot be helped if their locations are not known.
Currently, the University of Kentucky is gathering information about the location of hemlock trees in Kentucky. Teachers and students can help us by sending us the approximate location (or GPS coordinates) of hemlock trees. The Departments of Forestry and Entomology can then plot those locations into digital maps to help monitor the spread of HWA. If you live in extreme southeastern Kentucky, you can also search hemlock trees for signs of HWA infestation.
Get started!
If you are interested in helping, contact us (blaken@uky.edu, 859-257-7453) for instructions on how to search for hemlock trees, how to survey for HWA infestation, and how to use the hemlock survey form (below). We can also help you fit an HWA investigation into your science curriculum. We will also visit your school and introduce the project to your students. Participating students will get valuable experience with scientific data collection. If you have access to GPS units, this is also a great excuse to use them for a real scientific project.
More information:
UK Entomology Factsheet: Meeting the Threat of the Hemlock Woolly Adelgid
http://www.uky.edu/Ag/Entomology/entfacts/trees/ef452.htm
USDA Guidelines for HWA: PDF article
Life Stages of HWA: PDF factsheet
University of Kentucky Hemlock and HWA Survey Form: PDF data sheet