BESS BEETLES
Critter Files/Insects/Beetles/Bess Beetles
By Jacqueline Dillard
University of Kentucky Entomology/Biology
Photo: Gerald J. Lenhard, Louisiana State University, Bugwood.org
Common Kentucky Bess Beetles:
TAXONOMY

KINGDOM: Animalia | PHYLUM: Arthropoda | CLASS: Insecta | ORDER: Coleoptera | FAMILY: Passalidae (bess beetles)

Other Names: passalids, patent-leather beetles, peg beetles, betsy beetles
WHAT IS A BESS BEETLE?
LIFE CYCLE
ECOLOGY
PEST STATUS
COMMON KENTUCKY BESS BEETLES
COLLECTING & PHOTOGRAPHY
BESS BEETLE FACTS
MYTHS, LEGENDS, AND FOLKLORE
WHAT IS A BESS BEETLE?

Bess Beetles are large beetles in the scientific family Passalidae that live in decaying wood. They are most closely related to Scarabs (Scarabidae) and Stag beetles (Lucanidae). Like all beetles, bess beetles have chewing mouthparts and hardened front wings (elytra) that meet in a straight line down the back of the abdomen when closed. Adult bess beetles are characterized by their large, rounded bodies and a very shiny, black exoskeleton. This smooth exoskeleton allows them to move freely through the tunnels they construct in rotten logs using their large, powerful mandibles. Bess beetles have characteristic "lamelliforme" antennae – that is, medium length antennae with comb or finger-like projections at the ends. While their cuticle is often jet black as adults, young newly emerged adults will appear bright red for a few weeks after pupation while their exoskeleton hardens and darkens. Adults produce a very distinct squeaking or hissing sound when disturbed. Males and females of the common Kentucky bess beetle look virtually identical and have no external differences in appearance.

Bess Beetle Antenna (Jessica Lawrence, Eurofins Agroscience Services, Bugwood.org)

Larvae look similar to other common beetle larvae in that they are large white grubs, but they are more elongate and less C-shaped than scarab or stag beetle larvae. They are also most very easily identified by their 'missing' hind legs. Like all insects, bess beetles have 6 legs, however during their larval stage the last pair of legs are modified into a scraper that rubs a rigid file on their middle pair of legs, resulting in a squeaking sound similar to, but quieter than, that of the adults. Adults provide parental care for larvae so both age groups can be found in the same rotten wood habitat simultaneously.

SIZE: Adult body length up to 1.5", larva about the same
LIFE CYCLE

Like all beetles, bess beetles have "complete" metamorphosis with egg, larval, pupal, and adult stages. Males and females form pairs in unoccupied logs early in the spring and immediately begin tunnel construction. The female will then lay 30-70 eggs in these tunnels that hatch within a few weeks. Once hatched, the larvae will go through 3 instars – 3rd instar larvae are the largest (about 1 inch long!) of these stages and are common in galleries from July-September. They prepare to pupate in early fall and construct pupal cases within their tunnels with some help from the adults in the colony. Adults pile frass and wood pulp on the larvae while the larvae roll around in the frass to form a hollow center in which to pupate. Beetles emerge as adults about 2-4 weeks after entering their pupal case. The exoskeletons of these young adults are not completely hardened and therefore appear bright red for several weeks after pupation. During this time the young adults are very vulnerable and remain in their log for several months before leaving to form their own colony the following spring. Adult bess beetles may live for several years.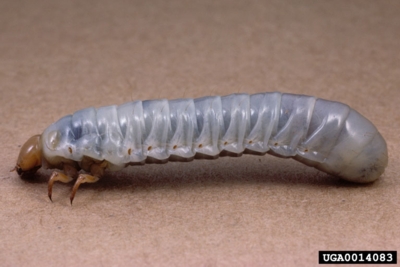 Bess Beetle Larva (Gerald J. Lenhard, Louisiana State University, Bugwood.org)
ECOLOGY
Bess beetles spend the majority of their lives inhabiting rotten logs. They appear to feed on logs that are approximately two years old until all of the cambium layer (area between the bark and wood) has been ingested. Bess beetles provide an immensely beneficial forest service by recycling dead wood material. These beetles are common in hardwood forests and prefer oak, hickory, and maple logs, although they can be found in just about any hardwood log of the appropriate decay stage in the eastern U.S.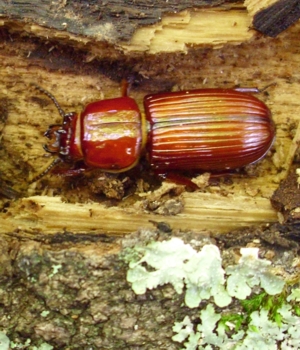 Adult Bess Beetle, showing red coloration shortly after emergence (J. Dillard, 2012)
Bess beetles also live in social groups consisting of an adult pair (the parents) and their many offspring that they provision. Biparental care is unusual in insects, yet bess beetle parents appear to participate in care of young even after their offspring have emerged as adults.

PEST STATUS
Bess beetles are not considered pests, although they are capable of further damaging wooden structures, such as bridges, that are already in a late state of decay. Bess beetles are typically considered beneficial insects because they recycle dead wood material in the forest.
COMMON KENTUCKY BESS BEETLES
HORNED PASSALUS
GENUS & SPECIES: Odontotaenius disjunctus
There is only a single species of bess beetle found in Kentucky, Odontotaenius disjunctus. It goes by several names, including the 'patent leather beetle', 'horned passalus', or simply 'bess beetle'. This beetle is found throughout the eastern U.S. and is fairly common throughout its range.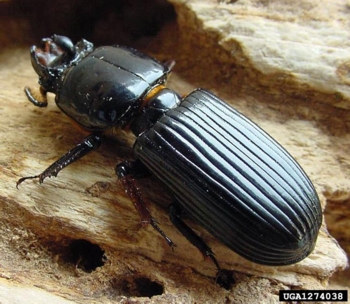 Bess Beetle, aka "Horned Passalus"
(Herbert A. 'Joe' Pase III, Texas Forest Service, Bugwood.org)
COLLECTING & PHOTOGRAPHY
Bess beetles can be collected at all times of the year by searching decaying hardwood logs. They are typically found between the bark and heartwood layer of the wood, but can be found deeper in the log if the wood is particularly rotten. Larvae can be found throughout the summer in these logs and adults can be found year-round. Adults may also be caught at black lights, often approaching the light source on foot since they rarely fly.

BESS BEETLE FACTS
Although there is only one species in Kentucky, there are over 500 species of bess beetles in the world. The majority live in the tropics and only two species are found in temperate regions – Odontotaenius disjunctus, which is found throughout the eastern U.S. and Cylindrocaulus patalis in Japan.
Bess beetle larvae produce a begging call with their hind- and middle-pairs of legs that they use to solicit food from their parents.
Bess beetle adults are able to produce 14 different calls, which is more than what is known for any other insect!
MYTHS - LEGENDS - FOLKLORE
Have you heard any myths, legends, or folklore about bess beetles? If so, let us know.
---
Original document: 5 May 2013
Last updated: 5 May 2013

Photos courtesy J. Dillard, University of Kentucky and Bugwood.org
The Kentucky Critter Files are maintained by Blake Newton, Department of Entomology, University of Kentucky.
Contact: blaken@uky.edu