TIGER BEETLES
Critter Files/Insects/Beetles/Tiger Beetles
By Blake Newton
University of Kentucky Department of Entomology
Common Kentucky Tiger Beetles:
TAXONOMY
KINGDOM: Animalia | PHYLUM: Arthropoda | CLASS: Insecta | ORDER:Coleoptera | FAMILY:Cicindelidae (tiger beetles)
Other Names: Cincindelids
WHAT IS A TIGER BEETLE?
LIFE CYCLE
ECOLOGY
PEST STATUS
COMMON KENTUCKY TIGER BEETLES
COLLECTING & PHOTOGRAPHY
TIGER BEETLE FACTS
MYTHS, LEGENDS, AND FOLKLORE
WHAT IS A TIGER BEETLE?
Like all beetles, Tiger Beetles have chewing mouthparts and hardened front wings (elytra) that meet in a straight line down the back of the abdomen when closed. Tiger beetles closely resemble their relatives the Ground Beetles (Carabidae), but can be distinguished by their overlapping sickle-shaped jaws. Most Kentucky species are shiny, metallic blue, green, copper, or orange.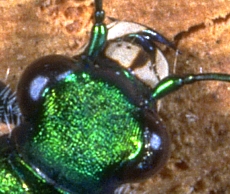 Tiger Beetle, showing overlapping mandibles (R. Bessin, 2001)
SIZE: Adult body length up to 3/4"
LIFE CYCLE
Like all beetles, tiger beetles have "complete" metamorphosis with egg, larval, pupal, and adult stages. Female tiger beetles place eggs into small holes dug into soil. Upon hatching, larvae find dry soil and constuct vertical tubes where they will later pupate. Adults emerge from the tubes in summer.
The Tiger Beetle World homepage has pictures of tiger beetle larvae and more information about the tiger beetle life cycle.
ECOLOGY
Tiger beetles are predators that feed on small insects, spiders, and other athropods. They are fast, agile flyers, and are able to catch insects in the air.
Tiger beetle larvae are also predators, and have a lifestyle very similar to antlion larvae. Tiger beetles live in vertical tunnels in sandy soil where they wait for ants, spiders, other other small creatures. When prey gets close enough, the larva pops out and grabs it.
The Univeristy of Florida's Department of Entomology has more information about tiger beetle biology at their "Featured Creatures" website:
http://creatures.ifas.ufl.edu/misc/tiger/tbeetle3.htm

PEST STATUS
Tiger beetles are not considered pests.
COMMON KENTUCKY TIGER BEETLES
SIX-SPOTTED TIGER BEETLE
GENUS and SPECIES: Cicindela sexguttata
The Six-Spotted Tiger Beetle (Cicindela sexguttata), below, is bright metallic green with white spots. It is very common along forest paths in Eastern Kentucky, and is one of the most commonly seen tiger beetles in the state.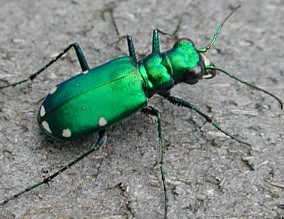 Six-Spotted Tiger Beetle (B. Newton, 2002)
OTHER CICINDELA spp.
GENUS: Cicindela
In addition to Cicindela sexguttata, shown above, there are several other tiger beetles in the genus Cincindela that live in Kentucky. Like the Six-Spotted Tiger Beetle,they are common in forests.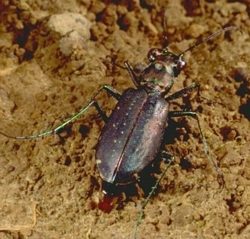 Cicindela sp. (R. Bessin, 2000)
COLLECTING & PHOTOGRAPHY
Tiger beetles are one of the most difficult kinds of insects to capture. On warm summer days, you can find them commonly along forest paths, but they are fast flyers and will bolt away if a human approaches within a few feet. An aerial net, along with considerable patience, is required to catch tiger beetles. Beware: tiger beetles can pinch you with their large mandibles.
Getting a good photograph of a tiger beetle can be even more difficult. For best results, try sneaking up on them very slowly. The beetle may fly away, but it will usually land just a few feet further up the trail, and it will do this repeatedly. If you are careful enough, you will eventually get close enough for a picture.
Tiger beetle larvae are often found in loose, sandy soil in the same areas that the adults inhabit. The larvae are easy to capture (if you can find their burrows), but, like the adults, they can bite. Tiger beetle larvae should be preserved in alcohol.

TIGER BEETLE FACTS
Tiger beetles are very closely related to ground beetles (family Carabidae), and most of the beetles in both of these groups are predators both as larvae and adults.
There are a few tiger beetle species that are threatened or endangered. This page from the Connecticut Dept. of Environmental Protection discusses the Puritan Tiger Beetle, an endangered species.
Because of their bright, striking color patterns, tiger beetles are very popular insects. Below are some other websites devoted to tiger beetles.
Dr. Jay's Tiger Beetle Page:
http://members.aol.com/askdrjay/cicindla.htm
Tiger Beetles of Connecticut:
http://collections2.eeb.uconn.edu/collections/insects/CTBnew/ctb.htm
MYTHS - LEGENDS - FOLKLORE
Have you heard any myths, legends, or folklore about tiger beetles? If so, let us know.
---
Original document: 25 May 2004
Last updated: 25 May 2004

Photos courtesy R. Bessin and B. Newton, University of Kentucky
The Kentucky Critter Files are maintained by Blake Newton, Department of Entomology, University of Kentucky.
Contact: blaken@uky.edu