PLANT BUGS
(AKA "LEAF BUGS")
Critter Files/Insects/True Bugs/Plant Bugs
By Blake Newton
University of Kentucky Department of Entomology
Common Kentucky Plant Bugs:
TAXONOMY
KINGDOM: Animalia | PHYLUM: Arthropoda | CLASS: Insecta | ORDER: Hemiptera | FAMILY: Miridae (plant or leaf bugs)
Other Names: Leaf Bugs, Mirids
WHAT IS A PLANT BUG?
LIFE CYCLE
ECOLOGY
PEST STATUS
COMMON KENTUCKY PLANT BUGS
COMMON KENTUCKY SCENTLESS PLANT BUGS
COLLECTING & PHOTOGRAPHY
PLANT BUG FACTS
MYTHS, LEGENDS, AND FOLKLORE
WHAT IS A PLANT BUG?
Plant Bugs, also called "Leaf Bugs," belong to the family Miridae, the largest family in the order Hemiptera (which also includes Stink Bugs, Leaf-footed Bugs, and Assassin Bugs). All insects in Hemiptera share a few characteristics, including piercing-and-sucking mouthparts and wings (called hemielytra) which are membranous at the tips but hardened at the base. Plant bugs can be difficult to distinguish from other Hemiptera, especially Leaf-Footed Bugs and certain Stink Bugs. However, plant bugs, at less than 3/8" (1 cm), are usually smaller than similar hemipterans. Plus, plant bugs lack ocelli (the small, simple eyes that appear on many insects) and have 2 closed cells in the membranous portion of their hemielytra (shown below).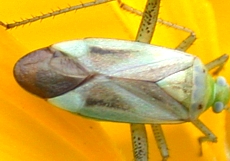 Plant Bug: roll mouse over picture to see the
2 closed cells in hemielytra (B. Newton, 2003)
SIZE: Up to 3/8"
LIFE CYCLE
Like all Hemiptera, plant bugs go through a simple metamorphosis with egg, nymph, and adult stages. Females of most species use a knife-like ovipositor to insert eggs into plant stems or leaves. After hatching, the wingless nymphs (which resemble small, wingless adults) molt several times before becoming full-sized, winged adults. The adults will often mate and reproduce numerous times during late spring, summer, and early fall. Large nymphs or adults are usually the overwintering stage.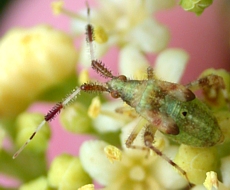 Plant Bug Nymph, Neurocolpus nubilus (B. Newton, 2003)
ECOLOGY
There are many plant bug species in Kentucky. The majority are herbivores, and use their piercing-and-sucking mouthparts to feed on plant juices. Most herbivorous species feed on a variety of plants, including crop and garden species. A few species of plant bugs are predatory, and they are similar in behavior to assassin bugs and damsel bugs. Some species are important predators of whitefly pests on vegetable crops.
Like stink bugs and many other hemipterans, plant bugs are able to secrete foul-smelling, foul-tasting fluids from pores on the sides of their bodies. These secretions help to protect plant bugs from predators. Plus, many species are camouflaged with brown, green, and gray markings. Even with these defenses, plant bugs are often eaten by birds, spiders, assassin bugs, and other predators.
PEST STATUS
There are dozens of plant bug species in Kentucky, and most of them are not pests. There are a few species, though, that can sometimes cause problems in field crops, gardens, and on landscape plants, including the Four-Lined Plant Bug and the Tarnished Plant Bug, discussed below. These bugs cause damage by sucking juices from plants, which causes leaves to discolor and shrivel. Read more about these pests in our online factsheet: Plant Bugs and Lace Bugs.
COMMON KENTUCKY PLANT BUGS

FOUR-LINED PLANT BUG
GENUS and SPECIES: Poecilocapsus lineatus
The Four -Lined Plant Bug, Poecilocapsus lineatus, is one of Kentucky's most distinctive plant bug species, with bold black and yellow stripes. Adults are about 3/8" long. This species is common in a variety of habitats, including gardens, crops, and meadows. It appears in May and June in Kentucky, occasionally damaging landscape plants like currant, rose, forsythia, sumac, viburnum and fruits and herbs grown in gardens.


Four-Lined Plant Bug (B. Newton, 2004)

TARNISHED PLANT BUG
GENUS and SPECIES: Lygus lineolaris
The Tarnished Plant Bug, Lygus lineolaris, is named for its appearance, which resembles tarnished metal. Adults are about 3/8" long. This bug is common throughout the late spring, summer, and fall in Kentucky, and is sometimes a serious pest of garden plants and alfalfa.

Tarnished Plant Bug (R. Bessin, 2002)

CLOUDED PLANT BUG
GENUS and SPECIES: Neurocolpus nubilus
The Clouded Plant Bug, Neurocolpus nubilus (1/4" long), is common in Kentucky, and is sometimes a pest on landscape plants (its nymph is pictured in the Life Cycle section above).

Clouded Plant Bug (B. Newton, 2003)

Hyaliodes vitripennis
GENUS and SPECIES: Hyaliodes vitripennis
Hyaliodes vitripennis (3/16" long) is one of the few predatory plant bugs in Kentucky. It feeds on mites in many tree species, including orchard trees. It has partially transparent wings, an unusual feature among plant bugs.

Hyaliodes vitripennis (R. Bessin, 2002)

Other Plant and Leaf Bugs
In addition to the species pictured above, there are many common plant and leaf bugs in Kentucky. Unfortunately, little is known about most of them. Pictured below are some common species.

Calocoris sp.
(B. Newton, 2003)

Unknown species (possibly Stenodema)
(B. Newton, 2003)
COLLECTING & PHOTOGRAPHY
Plant bugs are very common, and can be found on spring, summer, and fall days in gardens, crops, weeds, trees, and other vegetation. In particular, four-lined plant bugs and tarnished plant bugs are very commonly found in gardens and meadows.
Some plant bugs have unique appearances and vibrant colors, and make nice photo subjects or additions to an insect collection. Like many Hemiptera, plant bugs are normally slow moving and are commonly found resting on leaves and flowers, so they are easy to capture and photograph.

PLANT BUG FACTS
With several thousand species worldwide, there are more species in the plant bug family Miridae than in any other family in the order Hemiptera.
A German website, The Heteroptera Bug Photo Gallery, has many fascinating pictures of Central European plant bugs. Visit this site to see the diversity in form and color exhibited by bugs in this family (on the site, visit the "Cimicimorpha II" section for the pictures of bugs in the family Miridae):
http://www.koleopterologie.de/heteroptera/index.html
MYTHS - LEGENDS - FOLKLORE
Do you know any myths, legends, or folklore about plant bugs? Let us know if you do!
---
Original document: 21 April 2005
Last updated: 21 April 2005

Photos courtesy R. Bessin and B. Newton, University of Kentucky
The Kentucky Critter Files are maintained by Blake Newton, Department of Entomology, University of Kentucky.
Contact: blaken@uky.edu