DAMSELFLIES
Critter Files/Insects/Damselflies
By Blake Newton
University of Kentucky Department of Entomology
Common Kentucky Damselflies:
TAXONOMY
KINGDOM: Animalia | PHYLUM: Arthropoda | CLASS: Insecta | ORDER: Odonata | SUBORDER: Zygoptera (damselflies)
WHAT IS A DAMSELFLY?
LIFE CYCLE
ECOLOGY
PEST STATUS
COMMON KENTUCKY DAMSELFLIES
COLLECTING & PHOTOGRAPHY
DAMSELFLY FACTS
MYTHS, LEGENDS, AND FOLKLORE
WHAT IS A DAMSELFLY?
Like all insects, damselflies have 6 legs, 2 antennae, and 3 body parts. Adult damselflies are long, narrow insects with 2 pairs of wings, chewing mouthparts, and large compound eyes. Damselfly antennae are very short, and cannot be seen without close inspection. Damselflies are close relatives of dragonflies, and look very similar, but dragonflies are unable to fold their wings over their backs, whereas most damselflies fold their wings up over their bodies when they are not flying. Young damselflies are called "nymphs" or "naiads", and they are fully aquatic. They are also long and narrow and resemble adult damselflies except that they are wingless. Damselfly naiads have 3 feathery gills on the tips of their abdomens (which dragonfly naiads do not have).
SIZE: Most damselfly adults are about 1 ½" long, but some can be up to 2". Naiads grow to be about 1 ½".
LIFE CYCLE
Damselflies have incomplete metamorphosis. After hatching from eggs, damselfly naiads live and grow underwater and molt (shed their skins) several times before they climb to the surface of the water and shed their skins a final time to become winged adults. Adults are active in the spring, summer, or fall, depending on the species. Like dragonflies, damselflies mate while flying. Most female damselflies dip their abdomens into water to deposit eggs. Others insert the eggs into the stems of underwater plants, while other species place their eggs on parts of plants that extend above the water.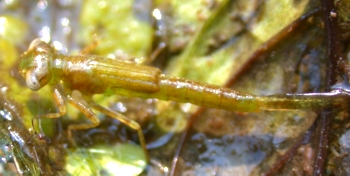 Damselfly Naiad (B. Newton, 2004)
ECOLOGY
Though most damselflies are smaller than dragonflies, they are very similar to dragonflies in almost every way. Just like dragonfly naiads, damselfly naiads feed on minnows, tadpoles, aquatic insects, and other aquatic prey. The naiads are primarily ambush predators: they find a strategic spot on an underwater leaf or under a rock and wait for prey to swim close enough to grab with their extendable jaws. Damselfly naiads are eaten by many fish species, and also by larger predatory aquatic insects. Adult damselflies are also predators. They are very good fliers, able to swerve, dive, and quickly change directions to catch flying insects. Because they are smaller, damselflies are often eaten by dragonflies. Damselflies are also eaten by birds and web-building spiders.
PEST STATUS
Like dragonflies, damselflies are not pests. They are considered beneficial because they eat mosquitoes and other pests.
COMMON KENTUCKY DAMSELFLIES
We have many common dragonfly species in Kentucky. They all have similar behavior, but some are found near ponds, others are more common near streams and rivers. Pictured below are some of the most commonly encountered Kentucky damselflies.
NARROW-WINGED DAMSELFLIES
FAMILY: Coenegrionidae
Most of the damselflies encountered in Kentucky are Narrow-winged Damselflies, including those in the Argia and Enallagma genera. These small, fragile-looking damselflies are common near ponds and slow moving streams.

Many narrow-winged damselflies are named after their colors -- common varieties include Violet Tails and Bluets.

Narrow-winged damselfly (B. Newton, 2003)

Narrow-winged damselfly with prey (B. Newton, 2005)
BROAD-WINGED DAMSELFLIES
FAMILY: Calopterygidae
Broad-winged Damselflies are common near Kentucky streams. These damselflies are fairly large (2" long), and common species have shiny blue-black or green-black bodies with black or dark-brown wings. The Calopteryx species pictured below is very common along the Elkhorn Creek in Fayette County.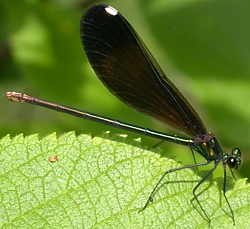 Broad-winged Damselfly, Calopteryx genus (B. Newton, 2003)
SPREAD-WINGED DAMSELFLIES
FAMILY: Lestidae
Spread-winged Damselflies (Family Lestidae) are not seen as often as narrow-winged and broad-winged damselflies. Unlike most damselflies, spread-winged damselflies hold their wings out when they are not flying, so they look a little more like dragonflies. Their long, skinny bodies distinguish them as damselflies, though.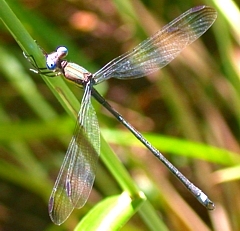 Spread-winged Damselfly,
Lestes
genus (B. Newton, 2004)
COLLECTING & PHOTOGRAPHY
Damselflies are a challenge to catch. You need an aerial net to catch an adult damselfly, but they don't fly as fast or as well as dragonflies. Catching damselfly naiads usually requires an aquatic insect net. Try dipping in parts of ponds and streams where a lot of aquatic vegetation is growing.
Damselflies and dragonflies are beautiful photography subjects, but their weariness and speed makes it difficult to snap a good picture. Make sure to use a fast film speed in bright daylight. Here's another hint: try looking for damselflies early on summer mornings - they may be found "warming up" on plants, and will not be so quick to fly away (a good hint for any insect photo-shoot).
Damselfly naiads are a great addition to a freshwater aquarium, but beware that they can eat your fish. Read more about insects in the home aquarium in our on-line article.
DAMSELFLY FACTS
Because fish like to eat damselflies, fishermen have special lures that are designed to look and move like damselfly naiads. Fly fishermen also use lures designed to fly through the air like adult damselflies.
To see more pictures of damselflies, visit the Damselflies of North America website. Many of the damselflies pictured here do not live in Kentucky, but they can give you an idea of what damselflies look like close-up.
MYTHS - LEGENDS - FOLKLORE
Do you know any myths, legends, or folklore about damselflies? If so, let us know.
---
Original document: 25 May 2004
Last updated: 19 Dec 2006

Photos courtesy R. Bessin and B. Newton, University of Kentucky
The Kentucky Critter Files are maintained by Blake Newton, Department of Entomology, University of Kentucky.
Contact: blaken@uky.edu