ROBBER FLIES
Critter Files/Insects/True Flies/Robber Flies
By Blake Newton
University of Kentucky Department of Entomology
Common Kentucky Robber Flies:
TAXONOMY
KINGDOM: Animalia | PHYLUM: Arthropoda | CLASS: Insecta | ORDER :Diptera | FAMILY: Asilidae (robber flies)
Other Names: Asilids
WHAT IS A ROBBER FLY?
LIFE CYCLE
ECOLOGY
PEST STATUS
COMMON KENTUCKY ROBBER FLIES
COLLECTING & PHOTOGRAPHY
ROBBER FLY FACTS
MYTHS, LEGENDS, AND FOLKLORE
WHAT IS A ROBBER FLY?
Robber flies belong to the family Asilidae. This family includes some of the largest and most distinctive insects in the order Diptera. Like all true flies, robber flies have only 2 wings. Robber flies also have a distinctive hollow space between their 2 large compound eyes. This characteristic distinguishes robber flies from most other kinds of flies.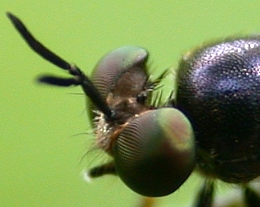 Above: Robber fly eyes, showing hollow area at the top
of the head between the eyes. This hollow area is not
present on most other kinds of flies. (B. Newton, 2003)
Most robber flies also have a "bearded" appearance, with fine hairs covering their long, piercing mouthparts. The most commonly seen robber flies are dark in color, with gray and black bodies, but some common types are orange. Other species mimic bumble bees, with black and yellow stripes.
Larval robber flies are seldom seen, and are usually found in soil. They are legless and soft-bodied, and some are fairly large. A robber fly larva is pictured here at Florida's Featured Creatures page.

SIZE: Adult robber flies and larvae attain body lengths of up to 1 1/4"
LIFE CYCLE
Like all true flies, robber flies and their relatives have complete metamorphosis with egg, larval, pupal, and adult stages. The larvae are long and legless and live underground, where they also pupate. Winged adults are active during warm months.
Robber fly larvae are seldom encountered or photographed. Pictured below is an illustration by University of Kentucky Entomology graduate student Sarah Colvin (this image was modeled from a preserved specimen). The Asilidae Home Page also has diagrams of robber fly larvae and pupae here:
http://www.geller-grimm.de/genera16.htm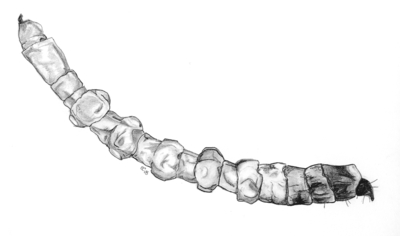 Illustration of a typical Robber Fly Larva (S. Colvin, 2008)
ECOLOGY
Larval and adult robber flies are predators of other insects. The adults are famous for their ability to capture prey in the air. In fact, robber flies will often catch insects that are larger than themselves, such as bumble bees.

Robber Fly, feeding on a grasshopper
(USDA Photo Set)

Although robber flies are predators, they are sometimes prey for other animals, including spiders, birds, and larger predatory insects like assassin bugs, praying mantids, and even other robber flies (as shown below).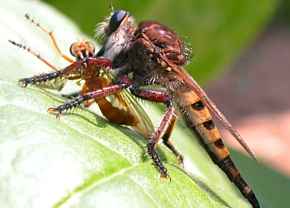 Bearded Robber Fly feeding on a "Hanging Thief" Robber Fly (L. Townsend, 2005)
Larval robber flies live in soil and decaying wood where they hunt for insect larvae, worms, and similar creatures. They are sometimes eaten by moles and underground arthropods predators, such as centipedes and ground beetle larvae.
PEST STATUS
Robber flies are not normally considered pests. They will occasionally bite humans, but they are not blood feeders, and will only bite on accident or if provoked. Because they feed on other insects, robber flies are generally considered beneficial. However, they do not specialize on pest insects, and sometimes eat other beneficial insects, such as bees or other predators.

COMMON KENTUCKY ROBBER FLIES

BEARDED ROBBER FLIES, BEE KILLERS
GENUS: Efferia, Promachus, others
These robber flies are called "Bearded Robber Flies" because of the many stiff hairs located around the mouthparts. Some are also called "Bee Killers" because they are often observed catching bumble bees. Most of these robber flies are over 1" long and have a frightening appearance, but they will only bite if handled carelessly. They are common in many habitats during the summer in Kentucky, especially along trails and in weedy or agricultural areas.

Bearded Robber Fly (R. Bessin, 2000)

LAPHRIA spp.
GENUS: Laphria
Shown below are two large (1") robber flies in the Laphria genus. Many robber flies in this genus closely resemble bumble bees, with alternating black and yellow patterns. They often capture and eat bees, just like the bearded robber flies discussed above.

Bumble bee mimic, Laphria genus,
feeding on a honey bee (R. Bessin, 2003)

Robber Fly, Laphria genus (B. Newton, 2004)

HANGING THIEVES, DIOGMITES spp.
GENUS: Diogmites
Below is a robber fly from the Diogmites genus. These large (1") robber flies are very common in row crops during the summer in Kentucky. They are sometimes called "hanging thieves" because of their habit of hanging from plants with their long legs.

"Hanging Thief", Diogmites genus (Image courtesy University of Florida)

SMALL ROBBER FLIES
GENERA: Cerotainia, Atomosia, Townsendia, others
Pictured below is a small (1/2") robber fly in the Cerotainia genus. Kentucky has several small robber fly species in this and other genera. Although many are common, they are seldom noticed because of their small size. Just like larger robber flies, these small species are all predators.

Small robber fly, Cerotainia genus (B. Newton, 2003)
COLLECTING & PHOTOGRAPHY
During the summer and early fall, robber flies are common in Kentucky, especially along woodland trails and in agricultural habitats. They are always on the move, though, and it may take patience to find one. Plus, they are strong, quick fliers, so an insect net is needed to capture one. A robber fly will often remain still on a plant or a rock while a photograph is taken, especially if it is not startled.
MYTHS - LEGENDS - FOLKLORE
Kokopelli, an important figure from Native American folklore, is partly named after "pelli," a word for the "desert robber fly." Read more about Kokopelli and his relationship with robber flies at the Kokopelli Kave website:
www.melhaven.com/kokopelli/kokostory.htm
---
Original document: 25 May 2004
Last updated: 14 Dec 2006

Photos courtesy R. Bessin, L. Townsend, and B. Newton, University of Kentucky
The Kentucky Critter Files are maintained by Blake Newton, Department of Entomology, University of Kentucky.
Contact: blaken@uky.edu