FLOWER FLIES
Including HOVER FLIES & DRONE FLIES
Critter Files/Insects/True Flies/Flower Flies
By Blake Newton
University of Kentucky Department of Entomology
Common Kentucky Flower Flies:
TAXONOMY
KINGDOM: Animalia | PHYLUM: Arthropoda | CLASS: Insecta | ORDER :Diptera | FAMILY: Syrphidae (flower flies, hover flies, drone flies)
Other Names: Hover Flies, Drone Flies, Syrphids
WHAT IS A FLOWER FLY?
LIFE CYCLE
ECOLOGY
PEST STATUS
COMMON KENTUCKY FLOWER FLIES
COLLECTING & PHOTOGRAPHY
FLOWER FLY FACTS
MYTHS, LEGENDS, AND FOLKLORE
WHAT IS A FLOWER FLY?
Flower flies, many of which are called "hover flies," belong to the family Syrphidae in the order Diptera (true flies). The most commonly seen species of flower flies are brightly colored, bee-like flies with yellow and black markings. Although flower flies resemble bees, they can be distinguished by their wings: flower flies (like all flies) have only 2 wings. Bees have 4 wings.

Flower flies are not as easy to distinguish from other kinds of flies. Many kinds of flies, especially soldier flies and bee flies, also have a bee- or wasp-like appearance. The best way to accurately identify a flower fly is by inspecting the wings with a microscope. All common flies in the family Syrphidae have a so-called "spurious vein" in each wing (shown below). It is called a "spurious vein" because neither end connects with other wing veins. Most veins in insect wings are connected at either end to other veins.
Immature flower flies are legless and wormlike, and, like most fly larvae, are very difficult to identify, even for experts. They are seldom encountered.

SIZE: Adult body length up to 5/8", larvae up to 4/8"
LIFE CYCLE
Like all flies, flower flies have complete metamorphosis with egg, larval, pupal, and adult stages. The larvae are legless and wormlike. Winged adults are active during warm months. Most species overwinter as pupae in soil or under fallen leaves.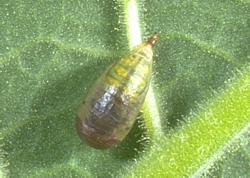 Flower fly pupa (R. Bessin, 2000)
ECOLOGY
Flower flies live in many habitats, but the most common species are found in field crops, gardens, and weedy areas (such as fence rows). The adult flies often visit flowers to feed on nectar, which makes them an easy meal for predators like crab spiders and ambush bugs.
Flower fly larvae are also found in a variety of habitats. Some live and feed in decaying plant material. Some are fully aquatic and are found in septic water. Several common species live on plants where they hunt for aphids and other small insects.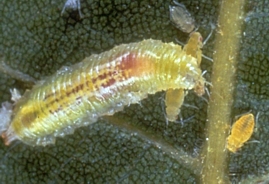 Predatory flower fly larva feeding on aphids. (Image courtesy University of Florida)
PEST STATUS
Most flower flies are not considered pests. The species that resemble bees are not able to sting or bite, although sometimes they will land on humans to gather moisture in the form of sweat droplets. Many species of flower flies are considered beneficial because their larvae feed on aphids and other pests.
The larvae of a few species of drone flies, called "rat-tailed maggots," are occasional pests in livestock operations. Some drone fly larvae have also been known to cause intestinal myiasis in humans, but this is very rare in the United States.
Read more about rat-tailed maggots in our online ENTFact:
www.uky.edu/Agriculture/Entomology/entfacts/livestc/ef500.htm
COMMON KENTUCKY ROBBER FLIES

HOVER FLIES
GENUS: Metasyrphus, others
Most of the flower flies that live in Kentucky are commonly called "Hover Flies." These flies are able to hover in mid-air, much like hummingbirds. There are many species of hover flies in Kentucky. Many of them resemble bees and wasps and are found in weedy habitats and gardens. Small black and yellow hover flies are very common around homes. The larvae of several flower fly species are predators of aphids and other small insects (one is pictured in the Ecology section above).

Hover Fly (B. Newton, 2003)

Hover Fly (R. Bessin, 2000)

Hover Fly (R. Bessin, 2000)

DRONE FLIES
GENUS: Eristalis
Certain large yellow and black flower fly species in the genus Eristalis, like the one pictured below, are called "Drone Flies". Drone flies are usually over 1/2" long. Although drone fly adults are often found on flowers, larval drone flies, called "rattailed maggots," live in polluted water. A rattailed maggot is so-called because it has a long breathing tube on the end of the abdomen which resembles a tail. The tube is extended above the water surface, allowing the maggot to breath in oxygen-poor water.

Drone fly (B. Newton, 2003)
COLLECTING & PHOTOGRAPHY
Flower flies are easy to find during the summer in Kentucky. Look for them in gardens and in weedy areas, or anyplace else where wild or cultivated flowers grow. Flower flies are able to hover in place and are accurate fliers, so it is sometimes a challenge to capture one with a sweep net. They will often remain still on a flower for a few moments, though, creating a good opportunity for a photograph.
Larval flower flies and rattailed maggots can be more difficult to find. Look for predatory syrphid larvae on certain crop plants (like tobacco) that are frequented by aphid pests. Rattailed maggots are fairly common in silage ponds and other polluted water sources, but these areas are not a safe place to collect insects.

MYTHS - LEGENDS - FOLKLORE
Flower flies are often called "sweat bees" because of their resemblance to bees and because they often land on human skin to gather sweat. Flower flies cannot sting, but there are small black bees in the family Halictidae (also commonly called sweat bees) that will occasionally sting humans while they are gathering sweat. Often, the innocent flower fly is been blamed for some of the stings caused by "true" sweat bees.
---
Original document: 25 May 2004
Last updated: 25 May 2004

Photos courtesy R. Bessin and B. Newton, University of Kentucky, except Syrphid Larva w/Aphids, University of Florida; used with permission
The Kentucky Critter Files are maintained by Blake Newton, Department of Entomology, University of Kentucky.
Contact: blaken@uky.edu