CELLAR SPIDERS
Critter Files/Spiders/Cellar Spiders
By Blake Newton
University of Kentucky Department of Entomology
Photo courtesy Jim Kalisch Department of Entomology
University of Nebraska-Lincoln
Cellar Spiders belong to the scientific family Pholcidae. Spiders in this family typically have extremely long and skinny legs with small bodies. Common Kentucky species are usually tan or gray. The web of a cellar spider is usually very messy, similar to the web of a cobweb spider. Like all spiders, cellar spiders have 8 legs, 2 body parts, and fang-like mouthparts called chelicerae.
SIZE: Body length of adult cellar spiders about 1/4" or less
LIFE CYCLE
Simple metamorphosis: like all spiders, young cellar spiders hatch from eggs and look like tiny adults. They shed their skin as they grow. Females lay a few dozen eggs at a time and wrap them in webbing for protection.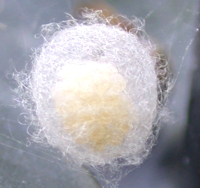 Cellar Spider Eggs (B. Newton, 2003)
ECOLOGY
Cellar spiders often make their stringy webs indoors, preferring shady corners in basements, pantries, closets, attics, barns, and sheds. They feed on small moths, flies, gnats, mosquitoes, and other creatures that are common in their habitat. When they are not living in buildings, cellar spiders are sometimes found in protected natural areas, including caves and rock piles.
PEST STATUS
Cellar spiders are common in homes, but they typically stay in one place and don't bother people. They are not known to bite.
COMMON KENTUCKY CELLAR SPIDERS
LONG-BODIED CELLAR SPIDERS
GENUS: Pholcus
In Kentucky, the most commonly seen spiders in this family are the Long-bodied Cellar Spiders in the Pholcus genus. Pholcus spiders live all over the world, and are very typical cellar spiders.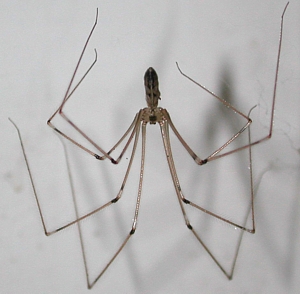 Long-Bodied Cellar Spider (B. Newton, 2002)
COLLECTING & PHOTOGRAPHY
In Kentucky, cellar spiders are usually present year-round in or near most buildings. Look around an attic or a basement with a flashlight for a few minutes and there is a good chance that you will find one. They are also fairly slow moving, so it is easy to collect one or snap a picture.

CELLAR SPIDER FACTS
Some cellar spiders use a sneaky trick to catch food. When food is scarce, these cellar spiders abandon their webs and find the webs of other spiders. They will then tap on the web, mimicking a trapped insect. When the owner of the web comes to catch its "prey," the cellar spider captures and eats it.
MYTHS - LEGENDS - FOLKLORE
Cellar spiders are also sometimes called "daddy-long-legs spiders," which is the same name given to the spider-like harvestmen in the order Opiliones. A widespread myth states that "the daddy-long-legs is the world's most venomous spider." Although it is unclear to which creature this myth is referring, it is probably not true in either case. Read more about this myth at:
http://spiders.ucr.edu/daddylonglegs.html

---
Original document: 25 May 2004
Last updated: 9 May 2011

Close-up cellar spider photo courtesy Jim Kalisch, Department of Entomology, University of Nebraska-Lincoln. Other photos courtesy R. Bessin and B. Newton, University of Kentucky
The Kentucky Critter Files are maintained by Blake Newton, Department of Entomology, University of Kentucky.
Contact: blaken@uky.edu