PURSEWEB SPIDERS
Critter Files/Spiders/Purseweb Spiders
By Blake Newton
University of Kentucky Department of Entomology
Purseweb Spiders are medium-sized, dark-colored spiders characterized by their oversized chelicerae. Like wolf spiders, purseweb spiders have a low stance and sprawling legs, but in addition to their larger chelicerae, the common purseweb spiders in Kentucky are shiny black, whereas most wolf spiders are hairy and brown. And, like all spiders, purseweb spiders have 8 legs and 2 main body segments (cephalothorax and abdomen).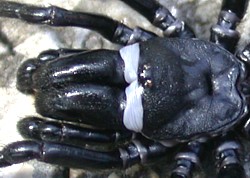 Purseweb spider cephalothorax.
Note large chelicerae (B. Newton 2003)
SIZE: Body length up to about 1 1/4"
LIFE CYCLE
Simple metamorphosis: like all spiders, young purseweb spiders hatch from eggs and look like tiny adults. They shed their skin as they grow. Male purseweb spiders will often wander long distances in search of females.
ECOLOGY
Purseweb spiders are predators. Like most spiders, they feed on insects, smaller spiders, and similar creatures. But purseweb spiders have a very unusual hunting strategy. Instead of building a large, sprawling web like orb-weaver and cobweb spiders (for instance), purseweb spiders build a compact, upright silk tube. The spider hides inside the tube, and when prey lands on the outside, the spider bites through the silk and pulls the meal inside.
Ed Nieuwenhuys, who maintains some of the best spider-related pages on the Internet, has a diagram showing the purseweb spider hunting technique at this website:
http://www.xs4all.nl/~ednieuw/Spiders/Atypidae/Atypidae.html
Although purseweb spiders are fierce predators, they are sometimes prey, and are fed upon by small mammals, birds, and other spiders.
PEST STATUS
Purseweb spiders are rarely encountered and they are not pests. Like many spiders, they can bite, but they are not considered dangerous except to individuals who are highly sensitive to spider and insect bites.
COMMON KENTUCKY PURSEWEB SPIDERS
There are a few species of purseweb spiders found in Kentucky, but their secretive habits make them difficult to find.
ATYPUS sp.
GENUS: Atypus
In the spring and early summer, males of the Atypus genus are sometimes seen on trails and roads. The one pictured below was photographed in Bath County, Kentucky, in the Daniel Boone National Forest.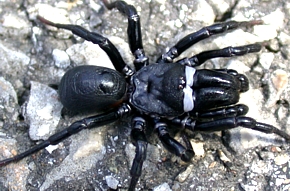 Male purseweb spider in the
Atypus
genus. (B. Newton, 2003)
COLLECTING & PHOTOGRAPHY
Except for wandering males, which are somewhat slow-moving and easy to photograph, purseweb spiders are very rarely seen outside of their silken tubes. The webs are often found at the bases of trees or rocks. The best way to preserve purseweb spiders (and most spiders) is by storing them in ethyl alcohol. Purseweb spider males make good photo subjects: they will sometimes stand still for a picture when they are found moving around outside of their webs.

PURSEWEB SPIDER FACTS
Although purseweb spiders resemble wolf spiders, they are not closely related. In fact, purseweb spiders, along with trap-door spiders, are very primitive spiders, and they are the closest relatives to tarantulas that live in Kentucky. Wolf spiders are not related to tarantulas.
The Red-Legged Purseweb Spider (Sphodros rufipes, which may occur in Kentucky) has historically appeared on U.S. endangered species lists, but some scientists believe that it may not be a rare spider.

MYTHS - LEGENDS - FOLKLORE
Do you know any myths, legends, or folklore about these spiders? If so, let us know.

---
Original document: 25 May 2004
Last updated: 21 Apr 2008

Photos courtesy R. Bessin and B. Newton, University of Kentucky
The Kentucky Critter Files are maintained by Blake Newton, Department of Entomology, University of Kentucky.
Contact: blaken@uky.edu