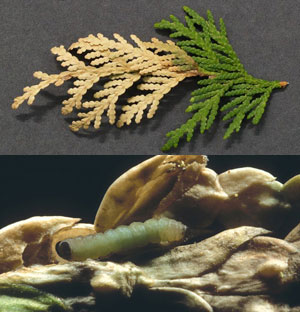 damage: Bruce Watt, University of Maine, Bugwood.org; larva: Connecticut Agricultural
Experiment Station, Connecticut Agricultural Experiment Station, Bugwood.org
Arborvitae leafminer caterpillars are leafminers feeding inside of the leaves. As a result, they are quite small, 1/4 inch long or so, with a black head and reddish green body. The adult moth is also quite small, with fringed wings that are white-grey and speckled with black. When the wings are closed, there appears to be three black bands. Damage appears similar to winter injury, with brown tips appearing in January and February. There will be foliage that is hollow and cracks open to reveal frass if the damage is caused by leafminers. There is one generation per year, with larvae being found in plants throughout the year but adults active in May-July.