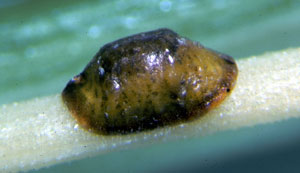 United States National Collection of Scale Insects Photographs,
USDA Agricultural Research Service, Bugwood.org
Hemispherical scale is a small scale, between 1/16 inch and 1/8 inch wide, that infests ferns, bamboo, and several other plants. They are brown and globular; they resemble a helmet when looked at in profile. Their feeding can cause plant stunting and they generate honeydew that accumulates on the plant as well. As an indoor pest, there can be multiple generations per year and development is dependent upon the surrounding temperature.