---
Leaf Feeders


---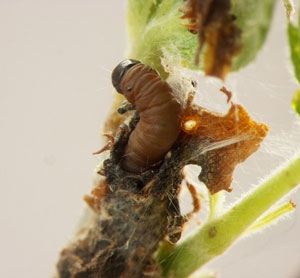 Copyright © 2018 John van der Linden, bugguide.net, used with permission
The Leaf crumpler larva is around an inch long, with a green-grey color with purple markings at each segment. The adult is a small moth with brown and white stripes along its wings. The caterpillars build web tubes on twigs which incorporate leaf fragments as they feed. The tube can be 1.5-2 inches long by the time the caterpillar is mature. Damage and nests are at their peak in July and August.
---
Sap Feeders


---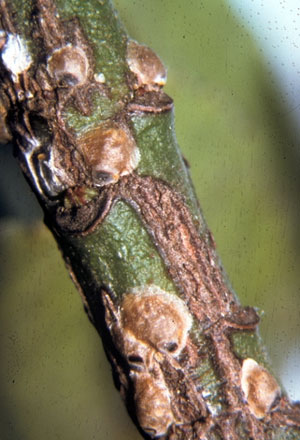 United States National Collection of Scale Insects Photographs,
USDA Agricultural Research Service, Bugwood.org
Greedy scale are small armored scales that create a conical shaped cover. As they grow and shed their old exoskeleton, it is incorporated into the wax that makes up the shield. Eventually this results in a characteristic off-center nipple or dot on the outer coating. There are often concurrent overlapping generations on plants
---
Also see Hickory (Carya) as many of the insects that feed on hickory will also feed on pecan.

<!a name="giantbark">