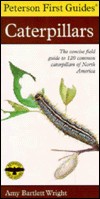 Peterson First Guide: Caterpillars
by Amy Bartlett Wright
Immature insects, such as caterpillars, are usually ignored by traditional insect field guides. This is unfortunate. After all, many insects spend more time in the immature stage than in the adult stage. Plus, imature insects often look completely different than their corresponding adults. Not to mention that some of nature's most fascinating colors, shapes, and behaviors are exhibited by immature insects.
So why do immature insects get the short end of the field-guide stick? There are several good reasons. For one, there are so many adult insects that field guides don't have enough room for all of them, much less the immature forms. Also, immature insects are often difficult to identify, even for experts.
But that doesn't mean that immature insects should be left out. After all, they are really cool. That's why Peterson's First Guide to Caterpillars is so welcome. This is one of the few field guides that attempts to tackle the confusing world of immature insects, and it does an admirable job, despite a few flaws.
Included are pictures of the most common moth and butterfly larvae in the continental U.S. You will also find pictures of the adults and, in many cases, the pupae. The book has an easy to use picture identification system (based on the shapes of the caterpillars) that works well. Flaws? Well, as with every insect field guide, this one is not complete -- not every caterpillar species is pictured. But given that it is impossible to fit all the moth and butterfly caterpillars into a single field guide (much less a pocket-sized one!), this one does a good job of covering most of the different types of caterpillars. Another minor quibble: although this book is marketed for children, it uses fairly sophisticated language and is probably more useful for older kids (middle school and up) and adults.
Nit-picking aside, this is a great book to have. Plus, it is currently priced at less than $7. This guide, along with the Golden Guide to Butterflies and Moths, may be all you will ever need to study butterflies and moths. Most importantly, it gives immature insects a much-needed spot on the bookshelf. Now, if only someone would do the same for immature beetles. And wasps. And dragonflies...