System Vein Infection - Blue Mold
---
These are systemic vein strikes made by blue mold. This can occur even where control is occurring from chemical application.
For example the year Kentucky got an exemption to spray Ridomil late in the season, control occurred but plants look
crinkled in the top due to blue mold strikes on the vein. At the source of the strike the vein is affected and all leaf tissue
that is supported by that vein suffers. The rest of the leaf grows but the infected part does not, leaving a puckered appearance.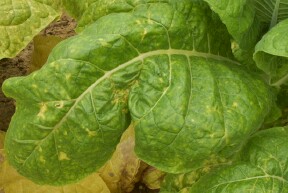 ---
<< Back to the Gallery