!pn010604.htm>

Kentucky Pest News Newsletter
HIGHLIGHTS IN THIS ISSUE
Number 919__________ June 4, 2001
TOBACCO
ALFALFA
CORN
WHEAT
VEGETABLES
LAWN AND TURF
SHADE TREES AND ORNAMENTALS
ANNOUNCEMENTS
DIAGNOSTIC LAB HIGHLIGHTS
IPM TRAP COUNTS
---
ANNOUNCEMENTS
---
TRUE ARMYWORMS MAKE ANOTHER APPEARANCE
By Doug Johnson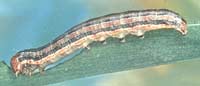 Second generation moth flight of the true armyworm has begun at the REC in Princeton, KY. The weekly trap catch of moths on Friday May 25 was 68 moths / trap / week, up from 7 on Friday May 18. Already on May 29 there are about 150 moths in the trap. A daily catch rate of this size could produce a weekly trap count of 262 moths / trap / week this Friday (6/1). This number is not quite to the first generation maximum of 398 moths / trap / week counted on Apr. 13. So what does this tell us?
There are several important points to remember.
This data represents just one location in Kentucky.
Insect development rate is almost completely dependent upon temperature.

So, moth flight in other locations will begin on different dates than at Princeton, depending upon temperature and the timing of the first generation.

Moth flight is just an indication of the beginning of the generation.

It is not the moths that cause damage it is the caterpillars (worms). Before worm feeding begins the moths must mate, and lay eggs; the eggs must develop and hatch. All of these processes are dependent upon temperature.

The lower limit of temperature that will support armyworm development is about 50º F

Most of our daily temperatures should be above 50º F during the second and subsequent generations.

The upper limit of temperature that will support armyworm development is about 85º F.

Above this temperature armyworms should suffer increased mortality, and reduced development.
We can use degree days to estimate how long after a moth flight occurs it will be before the worms show up and start to feed. However, degree days are only estimates. Additionally, they deal with the distribution through time of an insect population's development, so you will not get just a single date for an event.

If we look at the date of the peak moth flight of the first generation (Apr. 13, 2001) and the general dates we observed massive worm feeding (May 7 to 20, 2001) we find that peak feeding occurred about three to four weeks later. Even though this is when the infestations were noticed, I can assure you that the worms were in the field and eating at least a week before this, so when thinking about when to go looking for second generation worms, two to three weeks after moth flight is more appropriate.

However, insects are driven by temperature not by calendar dates. What is important is the amount of heat units, termed degree days (DD) that accumulated during that time. From the literature we find that this development of a complete generation should be about 1035 DD's. The DD total from Apr. 13 (peak1st Generation) to May 28 (beginning 2nd Generation) is 769 so we are about right on schedule.

The number of DD from Peak moth flight to Peak worm appearance should be about 239 DD and the number of DD from Peak moth flight to Peak pupation (worm disappearance) should be about 739. In Princeton the two weeks of maximum worm activity (May 7 - 20) were about 362 to 641 degree days from the peak moth flight. Again, about the right timing. Although most people did not observe many worms before May 7, they were most certainly there. This is borne out by the number of individuals who did not find the problem until after the damage was done. Likewise, though problems tapered off there, were worms present after May 20th. Although not as exact as we would like, DD's do provide us with some estimate of when the next set of worms might appear.

Now where does that leave us? We know that second generation moth flight is beginning. We know that temperatures will be warmer from the time of this second generation moth flight to the appearance of the worms than they were for the first generation. We don't yet know when moth flight will peak or what the daily temperatures will be for the next month. If you use only calendar dates we should begin to look about two weeks from now.

If we begin the DD counter with last Friday, May 25th (when we noted the first increase in moth trap catch) we are currently at 66 DD from the beginning of the moth flight. If we use temperatures from 2000 as a model for future temperatures then the first worms from the earliest moths should appear about June 4th (235 DD from May 25th). This would be the earliest of the early worms and would likely be very tiny, few in number, hard to find, and do little damage.

A more useful number will be the worm hatch from the peak moth flight. The peak moth flight is likely to occur this week or next week. Again using 2000 temperatures the early hatching worms from June 1st or June 8th should be present about June 11 or June 16th. So, it appears that we should begin scouting for worm pressure about the end of the first week of June.

These estimates only concern WHEN worms will appear not IF or WHERE they will appear. So, the estimate simply tells us when to go look for the pest NOT if the pests will be there.

True armyworm in Kentucky generally has three to four generations per year this is not new. Additionally, it is not at all unknown to have spring (first generation) worm populations large enough to require control. Generally, these cases are in small grain fields and corn planted into small grains or fields containing grass weeds. However, before this year it has been virtually unknown for second and subsequent generations of true armyworms to cause problems in crops. But, so far as I know we have never had a first generation outbreak as large as the one we have seen this year. So, we best keep our eyes open.
So, what is to be done?
First, be aware that a second generation of true armyworm is now developing.
Second, be prepared to go to your fields of grass crops about the second week of June and look for this insect,
Third, be prepared to make an insecticide application if necessary.

For forage / cattle producers this will include:

understanding what products are available,
Knowing the restrictions for application on or around cattle,
Knowing time delay required before returning cattle to treated fields,
Knowing the allowance to harvest hay from the treated fields. Forage and cattle producers should read the Announcements section of this Kentucky Pest News to see information on the new state local need and emergency pesticide labels.

Producers of corn and small grains will have fewer problems with product restrictions, and more products from which to choose.
References: Phenology Model Database - Armyworm. Univ. CA. Statewide Integrated Pest Management Project. http://www.ipm/ucdavis.edu/PHENOLOGY/armyworm.html

To see recent armyworm trap counts, click here.

---
NEW INSECTICIDES FOR ARMYWORM CONTROL IN PASTURES
By Lee Townsend
(Frankfort) The U.S. Environmental Protection Agency has granted special registration for two insecticides to combat armyworms in pastures and hayfields in Kentucky, the Ky Department of Agriculture has announced.
The insecticides are Pounce 3.2 EC (FMC Corp.) and Confirm 2F (Rhom and Haas Co.). Both are Restricted Use pesticides. Cattle can be present during application, if necessary, when Pounce is applied and they may graze fields after treatment. However, pastures sprayed with Pounce cannot be cut for hay during the remainder of the season. Pastures sprayed with Confirm 2F can be harvested for hay after a14-day wait.
Applicators must have a copy of the appropriate state (24-c) label for Pounce or the Crisis Exemption label (Section 18) for Confirm. These are available from the pesticide dealer when the products are purchased.

---
WORKSHOP ON MICROSCOPIC IDENTIFICATION OF GRAY LEAF SPOT OF PERENNIAL RYEGRASS
By Paul Vincelli
Most readers who work with perennial ryegrass are aware of the emergence of gray leaf spot in the past decade as one of the most destructive turfgrass diseases known. Those of you with experience against gray leaf spot know how rapid and destructive the disease can be.
Fungicides remain our first line of defense against gray leaf spot, because all commercial varieties are susceptible and cultural practices can provide only limited control under high disease pressure. Because of the high cost of fungicides, many turf managers are interested in ways to use these important products more wisely and economically. My opinion is that at this time, there is no better way to optimize the use of fungicides than to scout your own swards for the disease and to microscopically verify the presence of the causal fungus in diseased tissues. Experienced turfgrass pathologists agree that microscopic verification is important because it is often not possible to positively identify this disease based on symptoms alone.
Proper scouting can help you decide:
when to spray
when to switch to more costly, but more effective, fungicides
when you can cut back on spraying
whether to treat roughs
The University of Kentucky Cooperative Extension Service will hold a workshop for turf managers and other interested professionals on microscopic identification of gray leaf spot of perennial ryegrass. Details are as follows:
Date & Time: June 20, 2001, from 1:00-5:00
Location: The University of Kentucky campus in Lexington
Cost: $900, Registration must be received by Monday, May 7
While the cost may seem high at first glance, registrants will actually be getting a lot for their money. Each registrant will receive a high-quality compound binocular light microscope (40-1000X magnifications, with halogen illumination and high contrast lenses), which you will learn to use during the workshop. In addition, each registrant will receive dissecting kits, lense cleaning supplies and other laboratory materials, a notebook including color images, a 2X desk magnifier with built-in illumination, and a field magnifying glass.
Learning Objective: As a result of this workshop, you will be able to detect Pyricularia grisea (the causal fungus of gray leaf spot) in diseased turfgrass tissue. This skill will provide the foundation for a scouting and monitoring program for gray leaf spot.
If interested in attending, please contact Pat Yancey at pyancey@pop.uky.edu pyancey@pop.uky.edu for a registration form. Registration is limited in order to provide a high- quality learning experience for those who attend. Interested Kentuckians should act soon, since out- of-state registrants will be accepted on April 20. Registration and payment must be received by Monday, May 7.

---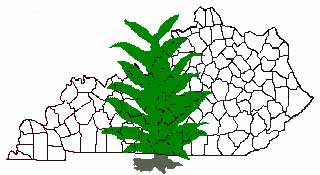 TOBACCO
---
CURRENT BLUE MOLD STATUS
By William Nesmith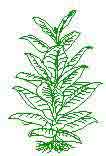 Situation: Active blue mold is occurring in Kentucky, Virginia, North Carolina, Georgia, Florida and Pennsylvania. Pathogen movement via wind borne spores and infected transplants are involved both within states and between states. The situation is further complicated in that the disease may be active in communities where it is going unreported, especially where commercial transplants may be involved. I strongly urge the tobacco community to work together and promptly report the status of blue mold within the community. "Hidden" blue mold is a major threat to the industry, especially under current weather situations and while transplanting season is still going. The weather situations of the past week and that forecasted for this week should favor rapid build up in greenhouse and transplant sites, as well as increased activity in the field and outdoor plant beds.
Shortly after Kentucky Pest News went to press last week, we learned about active blue mold in Clark County, Kentucky. That is why the Kentucky Blue Mold Warning System and Ky Pest News articles were not giving the same details. The website can be updated daily if needed, so it should be used for the most current status reports - it can be accessed from the link at the end of this article.
Kentucky: Blue mold activity has been confirmed in western Clark and eastern Fayette counties of Kentucky, and may have spread elsewhere. These outbreaks were confirmed on May 29, within 24 hours of being detected by growers, and a warning was posted for those two counties, and watches placed on neighboring counties. Today, I am expanding the watch, which includes the Bluegrass, Licking River, and Northeast Kentucky Extension Areas, plus selected counties in the Ft Harrod Area of Kentucky. In addition, Southern Ohio and Western West Virginia production areas should be considered under a watch.
Controls: Transplants: Statewide, preventive fungicide spray programs should remain in place at all tobacco transplant production sites - greenhouses, float beds, plant beds, and distribution/holding sites. Be sure to apply the material with sufficient pressure to obtain complete coverage of the foliage and often enough to keep new growth protected. See issue 908 of Kentucky Pest News, March 12, 2001 for more specifics on chemical options for disease control in tobacco transplant production. Also, operate the production system as dry as can be tolerated and still have healthy transplants. Promptly destroy all transplants once the transplanting season is over, but keep them protected with fungicides until they are destroyed. We should have adequate supplies of healthy transplants, so do not set blue mold infected transplants; but if you feel you must, at least alert your neighbors to what you have done so they can increase their blue mold control efforts.
Field: Weekly fungicide sprays should be put in place immediately in counties under a watch or warning. Plus, growers statewide should be scouting regularly and become prepared to spray in a short order should they find the disease or a watch or warning be issued for their community. In addition, growers should be incorporating cultural controls. If you cannot remain informed, then start your Acrobat MZ spray program now, or the Actigard program where plants are large enough. See issue 910, April 2, 2001 , Ky Pest News for those guidelines and the fungicide options. Also, see issue 913, April 23, 2001 , Ky Pest News for information on Actigard for blue mold prevention. Some of our crop is approaching Actigard-treatment size, but much is too small for this treatment now. Correctly used, Actigard can be a valuable tool, but when poorly used it can cause problems. Growers will need to use Acrobat MZ until the plants are large enough to be activated, and in some cases also return with Acrobat MZ later in the season. The Actigard label gives the rate at 0.5 oz/acre, starting when plants are 18 inches tall, with a limit of two (2) applications per crop/season - so use them wisely!
For the latest blue mold status and other tobacco disease information, check the KY Blue Mold Warning System.


http://www.uky.edu/Agriculture/kpn/kyblue/kyblue.htm
---
EARLY SEASON TOBACCO INSECT PESTS
By Lee Townsend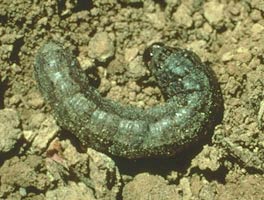 SEASON TOBACCO INSECT TREATMENT GUIDELINES by Lee Townsend Insect pressure has been intense on many crops so far this season. The same may hold true for tobacco so careful field inspections should be made to detect problems before serious injury has occurred. Inspect 5 groups of 20 plants in representative areas of each field that is ½ acre or less. Add 2 additional sites for a 1 acre field and a minimum of 2 more for each additional acre after that. Under this method there would be 7 spots checked in a 1 acre field and 9 in a two acre field. Avoid the ends and edge rows, these will give you a misleading picture of insect activity in the whole field.
Check wilted plants for signs of cutworm damage to the underground portion of the stem. Examine the bud area for aphids and budworms and the entire plant for hornworms. Record the numbers you find and compare them to the table below.
| Insect | Treatment Guideline | Weeks after transplant |
| --- | --- | --- |
| Cutworms | 5 cut plants / 100 examined, cutworms present | Transplant to 4 weeks after |
| Flea beetles | 3+ beetles per plants in the field less than 2 weeks, 10+ per plant on 2 to 4 week old plants that are growing rapidly | Transplant to 4 weeks after |
| Aphids | Colonies of 30 or more aphids on 20% of plants examined | 4 weeks after until topping |
| Budworms | 5 or more live budworms per 50 plants | 3 weeks after until button stage |
| Hornworms | 5 or more live hornworms per 50 plants | 4 weeks after until harvest |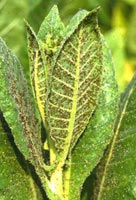 Tobacco flea beetles can be found on most all plants. They chew small, round holes in the leaves. Moderate to heavy feeding damage can result in slow initial growth and development, especially during poor growing conditions.
Tobacco aphids arrive in the field as winged adults. These dark-bodied aphids with clear wings deposit several live aphids on the top leaves and move to another plant. Both green and red forms of the aphid can be found early in the season. The green form should be more common early in the season and the red form more common later. Infestations may show up first in shaded areas along fence rows.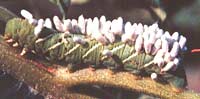 Tobacco budworm and hornworm moths lay single eggs on the plant leaves. Infestations tend to be relatively evenly spread over a field. The budworms will be in the tightly closed bud leaves and the pepper-like droppings may be seen there, too. Hornworms hang from the underside of the leaf and chew holes completely through the leaves. look on the lower side of any leaves with rounded holes.
See ENT-15 Insecticide Recommendations for Tobacco Beds and Fields - 2001 for the most current insecticide alternatives.

For more information about tobacco pests, visit "Insect Management Recommendations".
---
EVALUATION OF ACTIGARD 50 W AND ACROBAT MZ FOR BLUE MOLD CONTROL UNDER STRONG DISEASE PRESSURE
By William Nesmith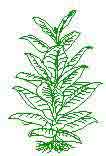 Tobacco growers now have two materials labeled for blue mold control in the field - the fungicide Acrobat MZ and the plant activator Actigard 50 W. I have conducted several side-by-side tests and found that both materials will control blue mold. The Acrobat MZ must be applied well and timely to maintain control, however. Under strong, full-season disease pressure, the fungicide Acrobat MZ has provided more control than the activator at the current labeled rates. That is clearly demonstrated in the following data from one of last year's tests. I urge growers to consider this as they implement their blue mold control plan for this year.
Below are the data from a test conducted in the 2000 crop season at the Robinson Substation, University of Kentucky, Quicksand, Ky. The crop was in a Kentucky River bottom, on rotated land, and under heavy fertilization, but according to UK's recommendations based on soil tests. Disease pressure was very strong, especially in August, driven by frequent rains and fog, and it continued strong for 10 days after topping. We were not able to make the applications exactly on the planned dates in several cases due to daily rains and wet soil conditions. In hind-sight, we should have also included a regimen that started with three Acrobat MZ applications, then two Actigard applications, and finished up with one or two Acrobat MZ, which this situation warranted.
As you review these data, note the following:
Blue mold reduced the yield by over 1200 lbs/acre.
Blue mold was under control on Aug. 7 in all plots receiving Acrobat MZ, but not in the check or the one receiving Actigard alone a few days earlier.
In plots receiving three sprays of Acrobat MZ early in the season, followed by two applications of Actigard, but no additional Acrobat MZ, moderate to strong disease developed about topping time.
The amount of systemic blue mold developing in Actigard plots was higher than we normally experience, which may account for the much lower yields.
Acrobat MZ applied at weekly intervals was the superior treatment under these conditions, but yes, that is a lot of spraying under difficult conditions!
% Leaf Area Diseased**
Treatment (Product/A) *and Planned Interval
8/7
8/25
9/27
% Systemic
Yield (lb/A)
Crop value ($)
CHECK UNTREATED
49a***
41a
44a
73ab
1793c
4630c
ACROBAT MZ (2.5 lbs/100) 7 sprays weekly-topping
1c
1c
6c
17c
3063a
8736a
ACTIGARD 50W (0.5 oz) 1st spray @ 18 inches in 4th week of growth, 2 sprays @ 10 day interval
32b
28b
43a
79a
2134b
5440b
ACROBAT MZ schedule above 1st 3 weeks, then Actigard 50W as above
1c
13c
34ab
47abc
2245b
5912b
* The variety was NC-3, set June 26, topped September 5, and harvest Sept. 27. Spray plots were single rows, 25 ft long arranged into a randomized complete block with five replications. Full-season, Acrobat MZ sprays were made with multiple nozzles (3 to 9)/row at 80 psi on July 13 & 19 (0.5 lbs/20 gallons), July 27 & August 7 (1.0 lbs/ 40 gallons), Aug. 15 ( 1.5 lbs/ 60 gallons) Aug. 23 (2.0 lbs/ 80 gallons), and Aug 29 (2.5 lbs/ 100 gallons). The 1st Actigard applications were made on Aug 3 with the average plants height at 19.3 and the 2nd on August 15. In all cases, the volume of material was calculated on a per acre basis with all nozzles directed to the plants. Additional Acrobat MZ was not applied in plots receiving Actigard, once the Actigard applications were made.
**Disease ratings included an estimates of the % leaf surface damaged by blue mold on various dates, plus the % of plants with systemic stem infections taken during harvesting. Yields are the marketable weighs and the crop value was calculated from the actual market values obtained for this crops by grade and stalk position.
***Values within a column sharing a letter, are not significantly different at P = 0.05 level as determined by the Tukey's hsd multiple range test.
For the latest blue mold status and other tobacco disease information, check the KY Blue Mold Warning System.


http://www.uky.edu/Agriculture/kpn/kyblue/kyblue.htm
---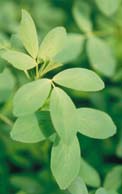 ALFALFA
---
POTATO LEAFHOPPER DAMAGE POTENTIAL
By Lee Townsend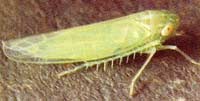 Potato leafhoppers, active now in Kentucky, are a key pest of spring-seeded alfalfa and can damage the second and third cuttings in established fields. Spring- seeded fields are especially vulnerable to this insect because there is plenty of time for leafhoppers to build up to damaging numbers before the first cutting is taken off. Ten to 14 days after cutting is the time to check established fields for these tiny, light green insects.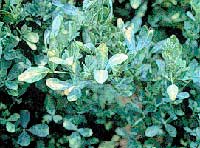 Leafhoppers are sucking insects that feed on plant sap and introduce saliva as they feed that causes "hopper burn". This appears as a yellow, wedge-shaped area at the tips of alfalfa leaves, and is the plant's distinctive response to leafhopper feeding. This damage is due to a toxic effect of the insect's saliva. Diseases and nutritional deficiencies also cause yellowing of alfalfa. These symptoms usually start at the edge of the leaf but are not confined to the tips. Intense leafhopper feeding may reduce plant height, protein and vitamin A content of the hay. once hopper burn is widespread in a field, significant damage has been done. Early detection is very important to reduce losses.
Because of their small size, sampling of alfalfa for potato leafhoppers requires a 15" sweep net. Numbers of leafhoppers per sweep, along with the height of alfalfa in the field provide the information needed to make a control decision.
See Insect Recommendations for more alfalfa pest recommendations.
---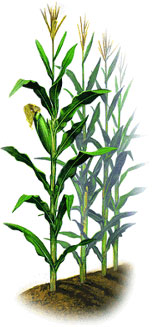 CORN
---
BURCUCUMBER CONTROL--GOOD NEWS OR BAD NEWS?
By James R. Martin

Last year was a banner season for burcucumber problems in some areas of Kentucky. Most of the 2000 season had ample moisture for the development of significant populations of burcucumber. In fact some growers abandoned portions of fields and burned the vegetation in hopes that this would kill the seed.
The dry weather during the early part of this season limited the emergence of burcucumber in corn and soybeans. This may be good news if the recent rainfall doesn't enhance emergence of burcucumber populations. However, if a significant amount of burcucumber emerges as a result of the recent rainfall, this could be bad news, particularly in cases where corn is too large to spray a postemergence herbicide treatment.
Examples of postemergence herbicides that will help manage burcucumber in corn include Exceed, Marksman, NorthStar, or Spirit for regular or herbicide-resistant corn hybrids or Roundup UltraMAX, Touchdown, or other glyphosate products registered for Roundup Ready corn. Options for soybeans include Classic for regular or herbicide- resistant varieties; or Roundup UltraMAX, Touchdown, or other glyphosate products registered for Roundup Ready soybean; or Synchrony STS for STS soybean. Information on herbicide rates and timing of application for burcucumber control in corn or soybean is summarized in the following tables:
Table 1. Postemergence Herbicides For Burcucumber Control in Corn.
Postemergence Herbicide
Rate/A
Burcucumber Max. Size
Corn Size/Stage
Exceed
1 oz
8"
Broadcast between 4"and 30" tall.Use drop nozzles when field corn is 20" to 30" tall or exhibits more than 6 collars V6 (whichever occurs first).
Marksman
3.5 pt
3"
Through fifth leaf stage or 8" tall (whichever occurs first).
NorthStar
5 oz
4"
Broadcast between 4"and 20" tall.Use drop nozzles when field corn is 20" (V6) up to 36" tall or 15 days before tassel emergence (whichever occurs first).
Roundup UltraMAX (RR Corn only)
20 oz
12"
Through V8 stage or 30" tall (whichever occurs first).
26 oz
18"
Spirit
1 oz
6"
Broadcast between 4"and 20" tall. Use drop nozzles when field corn is 20" to 24" tall or exhibits more than 6 collars V6 (whichever occurs first).
Touchdown (IQ) (RR Corn only)
24 oz
6"
Through V8 stage or 30" tall (whichever occurs first).
32 oz
12"
Table 2. Postemergence Herbicides For Burcucumber Control in Soybeans.
Postemergence Herbicide
Rate/A
Burcucumber Max. Size
Soybean Stage
Classic
0.67 oz
2 - 3"
After first trifoliate has expanded and at least 60 days before maturity.
0.75
2 - 6"
Extreme
3 pt
6"
Before bloom and prior to 85 days of harvest.
RoundupUtlraMAX (RR Soybean only)
20 oz
12"
From cracking through full flowering.
26 oz
18"
Synchrony STS (STS Soybean only)
0.5 oz
2 -3"
After first trifoliate has expanded and at least 60 days before maturity.
Touchdown (IQ) (RR Soybean only)
24 oz
6"
From cracking through full flowering.
32 oz
12"
It is not realistic to expect season-long control of burcucumber in corn or soybeans. Achieving early-season control is an important step in managing burcucumber; however, the ultimate impact in terms of harvesting corn or soybeans will likely depend on weather conditions affecting late- season emergence and growth of this problem weed.

For more information about corn pests, visit "Insect Management Recommendations".
---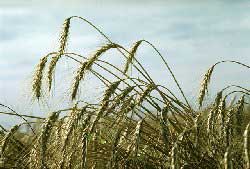 WHEAT
---
WHEAT DISEASE UPDATE
By Don Hershman

As the wheat season comes to a close, I have not moved away from my earlier comment that this year has produced the least amount of disease of any crop I have seen since coming to Kentucky 17 years ago. There was a rebound in Stagonospora leaf and glume blotch in response to some recent rain events. And, of course, there were hits of most other diseases here and there, but overall, diseases will have a very minor impact on the state's wheat yields this season.
It is my opinion that the overall low levels of disease is the result of three factors. First, we did not have a mild winter like we have experienced the last couple of years. UK extension entomologist Dr. Doug Johnson predicted in January that the cold winter should reduce the aphid vectors that transmit barley yellow dwarf virus. It appears as though his prediction was accurate in that both aphids and barley yellow dwarf were minimal. However, I cannot explain the overall lack of the soil-borne (fungal- transmitted) viruses; the soil conditions in the fall and late winter seemed to be ideal for infection and symptom expression. This situation underscores the unpredictability inherent in many biological systems.
In addition to the cold winter, I believe that the late spring cold snap significantly reduced fungal populations. I have seen this phenomenon before. It appears that our common foliar fungal pathogens are fairly cold-sensitive and are easily killed-off in response to the wide temperature fluctuations that common in early spring in Kentucky. In the case of leaf rust, which is very easily killed off by borderline freezing temperatures, that pathogen barely made it into the state as most of the rust inoculum was killed off by abnormally cold weather in Texas and other mid-south states. There simply were very low levels of leaf rust inocula available to blow into Kentucky.
Finally, the exceptionally dry weather we experienced throughout most of the state this spring most certainly limited the proliferation of fungal pathogens. If you made a fungicide application this spring, there is very little chance that you will get a break-even return on your investment. Unfortunately, even the best fungicide use decisions cannot take into account future weather patterns that may negate the value of a fungicide application. This is one of the many inherent risks associated with wheat production.
---
VEGETABLES
---
VEGETABLE INSECT UPDATE
By Ric Bessin

So far this season we have seen considerable pest insect activity in a number of field and specialty crops. Vegetable producers should be on the watch for several early season pests, and some producers have already reported problems with cucumber beetles and other pests. Particularly with vegetable insect control, early season management can be critical.

Striped Cucumber beetles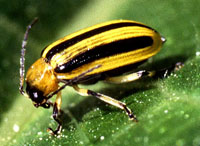 There have been numerous reports of high cucumber beetle activity in melons, cucumbers, and squash. Bacterial wilt has also been reported in several areas. Some producers have treated their crops with systemic insecticides at planting but are noticing beetles returning 3 to 5 weeks after treatment. There have been some reports of poor performance with a newly registered systemic insecticide for cucumber beetle control. However, the poor performance was not related to the product, rather it was used in the wrong manner and below labeled rates. The length of activity of these treatments will depend on the rate of the insecticides used. Producers will need to continue to scout these crops and use foliar treatments as necessary when beetle activity increases.

Beet Armyworm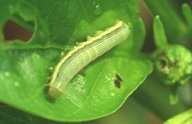 A early report indicated that high numbers of beet armyworm are active in western Tennessee. To date, pheromone traps in Kentucky have revealed only low activity. As beet armyworm populations will continue to increase until the first frosts of fall, this is an insect that we will need to continue to watch for on peppers, tomatoes, cole crops, and sweet corn. Our trapping numbers has been close to one to two moths per week per trap. Generally, we do not begin to see problems in vegetable crops until number approach 20 to 30 per trap per week. Beet armyworm commonly attacks pigweed, so it is a good idea to occasionally scout pigweed for signs of beet armyworm. If beet armyworm does become a problem, early control and proper selection of insecticides are critical to acceptable control.

Squash Bug


Producers of summer and winter squash varieties should be on the watch for squash bugs. They overwinter as adults and begin to move into fields in early June. Females lay their eggs on the undersides of leaves in the angles between major leaf veins. Eggs a small, football shaped, bronze in color, and laid in groups of 10 to 20. The threshold for squash bugs is an average of one egg cluster per plant. The best time to control squash bug is just after the eggs hatch. Early control is important as delaying application means that the foliage will be denser, interfering with coverage. Also, smaller, younger squash bug nymphs are less difficult to control.

European Corn Borer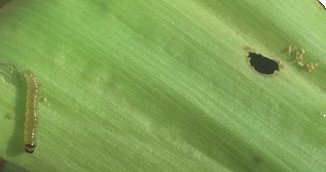 The first generation of the European corn borer was early and strong this spring. In some respects, it may have been out of synchrony with the corn as corn has been slow to grow in some areas. With high moth numbers and small corn, it is not uncommon to find some egg laying on other vegetables such as tomatoes, peppers, and potatoes. European corn borers occasionally bores into the stems of these plants when fruit are not available. The early start this spring may mean that we are likely to experience attack by three European corn borer generations this year instead of two.

Squash Vine Borer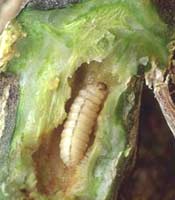 The squash vine borer is a key pest of winter squash, gourds and pumpkins in Kentucky. Unfortunately, it is usually noticed only after it has done its damage. Symptoms appear in mid-summer when a long runner or an entire plant wilts suddenly. Adult moths begin to emerge about the time the plants begin to run, and moth flight continues through mid August. Only the unmated adult bugs overwinter in Kentucky. The key to squash vine borer management is controlling the borers before they enter the stem. Once inside the vine, insecticidal control is ineffective. Poor timing of sprays is the usual cause of inadequate control. Monitor plants weekly from mid-June through August for initial signs of the borer's frass at entrance holes in the stems. Very early signs of larval feeding indicate that other eggs will be hatching soon. Use two insecticide applications 7 days apart to control The squash vine borer is a key pest of winter squash, gourds and pumpkins in Kentucky. Unfortunately, it is hatching larvae and continue to monitor for additional activity. Sprays need to penetrate the canopy to cover the vines to be effective.
---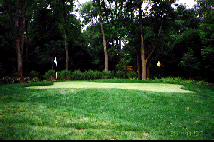 LAWN & TURF
---
RESISTANCE TO QOI (=STROBILURIN-LIKE) FUNGICIDES IN GRAY LEAF SPOT OF PERENNIAL RYEGRASS
By Paul Vincelli
Gray leaf spot, caused by the fungus Pyricularia grisea, is the most destructive disease of perennial ryegrass. In Kentucky, the disease usually first occurs in early to mid-August, and can develop very rapidly to destructive levels anytime through September. Cultural practices such as minimizing N fertility can reduce disease activity. However, perennial ryegrass is so susceptible that fungicide must be applied during periods of high disease pressure.
Among the available products, the most effective fungicides are thiophanate methyl and the QoI fungicides (the QoI fungicides were previously called "strobilurins", but the name has been changed since there are strobilurin fungicides as well as non- strobilurin fungicides which have the very same mode of action). QoI fungicides available for gray leaf spot control include Heritage (active ingredient=azoxystrobin) and Compass (trifloxystrobin). Unfortunately, there is a significant risk for the development of resistant strains to the QoI fungicides and thiophanate methyl, especially given the highly adaptable nature of P. grisea.
Occurrence of QoI-Resistant Strains
Resistant strains of P. grisea from perennial ryegrass have emerged rather quickly, given that QoI fungicides have only been labeled against this disease since 1998. Three golf courses--a course in Lexington and two in Illinois experienced significant damage from the disease last year on fairways treated with Heritage (areas affected ranged from 2.7 to 22 acres). At the course in Lexington, we had a research trial located in a fairway where the disease developed, so we have a good data set on the progress of that outbreak. All three courses had a history of using Heritage on fairways; fairways where outbreaks occurred had been treated a total of 5-11 times since 1998.
Fungal isolates of P. grisea were collected from all three courses (thanks to Dr. Andy Hamblin for providing isolates from the courses in Illinois). These "suspect isolates" as well as a set of "baseline isolates" never exposed to QoI fungicides were tested for sensitivity to QoI fungicides in tests in petri diseases as well as on perennial ryegrass. The tests with perennial ryegrass show partial to complete loss of control with Heritage and, for three of four isolates, with Compass (Table 1). Our experiments in petri dishes were extensive, with repeated tests of sensitivity of 21 isolates to three fungicides at numerous concentrations. In those tests, with one exception, suspect isolates were found to be 700-800 times less sensitive to QoI fungicides than baseline isolates. Molecular genetics research in the laboratory of Dr. Mark Farman (in the UK Dept. of Plant Pathology) revealed that all suspect isolates tested possessed one of two mutations known to be associated with QoI resistance.
The data in Table 1 also show cross-resistance: strains resistant to Heritage were also resistant to Compass, even though the latter had never been used on those fairways. This is what one would expect for fungicides that share a common mode of action.
Implications for Management
The rather rapid development of Qo I-resistant subpopulations of P. grisea strains from perennial ryegrass suggests that the potential for Qo I resistance in this pathogen is significant. However, rapid development of a resistant subpopulation in the field does not necessarily preclude the effective use of the fungicide in other locations for a number of years. For example, resistance in the cucurbit powdery mildew fungus to benomyl and to DMI fungicides occurred 1 and 2 years after commercial introduction, respectively, and yet these fungicides remained important disease control tools in other areas for years until resistant strains became widespread.
In my opinion, the QoI fungicides will continue to have an important place for gray leaf spot control; this report does not change that fact. Furthermore, it would be unwise for superintendents to avoid the use of QoI fungicides for gray leaf spot control, locations where resistance has not been detected. Taking Heritage and Compass out of the spray program puts an awful lot of selection pressure for resistance to thiophanate-methyl, the only remaining "four-star" product. I have the pessimistic belief that we will eventually discover resistance in ryegrass-infecting strains of P. grisea to thiophanate-methyl, perhaps soon. Thus, superintendents should do all they can to minimize that risk by keeping QoI fungicides in their spray program until such time as these products no longer are effective on their course. See below for specific recommendations. Furthermore, given the significant risk of resistance development to QoI fungicides, my advice is to scout your courses regularly after using QoI fungicides, should application of alternative products be necessary.
Practices for Minimizing Resistance Risk
Use of the following practices will reduce -- but not eliminate -- the risk of resistance to QoI fungicides.
Minimize disease pressure through cultural practices to the extent possible. This will reduce the chance of a resistant mutant by reducing the size of the pathogen population. If fertilizing during the period from June through August, foliar feed with no more than 0.1 to 0.25 lb soluble nitrogen/1000 ft2 during that period. Schedule irrigations near sunrise and avoid evening irrigation.
Minimize consecutive applications of fungicides having a similar mode of action, especially during the period of highest disease pressure. In fact, my recommendation has been to switch to a different mode of action each time you spray for gray leaf spot.
Tank-mix products having different modes of action during periods of high disease pressure. Chlorothalonil, a multi-site inhibitor, is an especially good mixing partner from the standpoint of resistance management. There is essentially no significant risk of resistance to a multi-site inhibitor fungicide. This is an especially important mixing partner for curative situations.
Switching from the QoI fungicides and thiophanate methyl as disease pressure diminishes, because this reduces the exposure of P. grisea to these at-risk fungicides.
Table 1. Sensitivity of isolates of P. grisea to QoI fungicides on perennial ryegrass.

% Foliar Blighting

Baseline isolates

Resistant isolates

Treatment
KY-96
MS-97
OH-97
CHRF
RGNJ
Il-00-1
GG-5-2b-2
GG-2b
HR2000-2-2
Water
58.5 a
70.5 a
67.5 a
44 a
67.3 a
62.0 a
79.5 a
80.8 a
14.3 a
Heritage
0 b
1.4 b
0 b
0 b
0 b
18.5 b
62.5 a
57.8 b
5.5 b
Compass
0 b
0 b
0 b
0 b
0 b
0.3 c
69.5 a
72.5 ab
13.5 a
Means within a column followed by the same letter are not significantly different, Tukey's studentized range test, P = 0.05.
---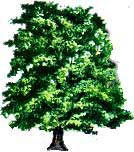 SHADE TREES AND ORNAMENTALS
---
LEAF SPOTS CAN DAMAGE ENGLISH IVY
By John Hartman
In early spring, winter injury was noted in many ivy beds. Summer weather brings on additional problems, primarily leaf spot diseases. There are two important English Ivy (Hedera) leaf spot diseases in Kentucky, one caused by a bacterium, and one by a fungus. The two diseases are sometimes difficult to distinguish.
Bacterial leaf spot is favored by periods of warm, wet weather typical of summer in Kentucky. This disease, caused by the bacterium Xanthomonas campestris pv. hederae, can be especially damaging to Ivy growing in many landscapes. The bacteria invade leaves, shoots, and stems through stomata and wounds causing a greenish-brown angular leaf spot 1/4 to 1/2 inch or larger in size. The spots sometimes appear greasy and may have a yellow margin; as they age, spots turn dark brown and may crack as they dry.
The disease is diagnosed in the laboratory by observing bacterial streaming under the microscope; however, the disease is often so active that county agents or landscape industry specialists can also diagnose the disease in the field in the same way. Cut through several leaf spots with a sharp knife and place small infected leaf pieces on a glass slide. Add a drop or two of clean water to the infected tissue and cover with small glass cover slip. After a few minutes to an hour, bacterial streaming can be seen just by holding the glass slide up to the light and observing the milky color of the water near the dissected leaf spot.
Growers should avoid planting diseased plant material, and avoid sprinkler irrigation which splashes bacteria from diseased to healthy plants. Copper-based fungicides which also serve as bactericides can be used to slow the spread of bacterial leaf spot.
Fungal leaf spot (anthracnose) appears as large, irregularly shaped tan or brown spots having numerous pimple-like fungal fruiting structures in the dead tissues. The causal fungus is Glomerella cingulata; however, the imperfect fungal state, Colletotrichum is normally observed now. Close examination with a hand lens may show spine-like formations associated with the fungal fruiting structures. There are other fungal leaf spot diseases of English Ivy which also produce fungal fruiting structures; this distinguishes them from bacterial spot, which produces none. Fungal spots do not produce bacterial streaming as described above.
Controls for anthracnose and fungal leaf spots are similar to controls for bacterial leaf spot, except that fungicides such as thiophanate-methyl [Cleary's 3336] (cleared for anthracnose of landscape plants) and mancozeb [Fore] (used for fungal leaf spots of ornamentals) are also available.

---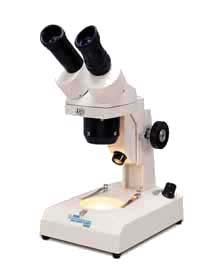 DIAGNOSTIC LAB HIGHLIGHTS
DIAGNOSTIC LAB - HIGHLIGHTS
By Julie Beale and Paul Bachi
Rainy weather in central and eastern Kentucky and continued dry conditions in western Kentucky have promoted a variety of disease and environmental problems recently. In the Diagnostic lab we have seen zinc and temporary phosphorus deficiency in corn; herbicide injury, cold injury (field), temporary phosphorus deficiency, manganese toxicity, Pythium root rot, target spot, bacterial blackleg, tomato spotted wilt virus and tobacco ringspot virus on tobacco.
On fruit and vegetable crops, we have seen anthracnose on blackberry; fireblight on apple and pear; black knot on cherry and plum; oriental fruit moth injury on peach; Alternaria fruit rot on squash; root knot nematode and numerous samples of bacterial wilt on cantaloupe; and early blight, bacterial canker and tomato spotted wilt on tomato.
On ornamentals, we have seen crown gall on rosemary; bacterial leaf spot on ivy; black root rot on holly; Kabatina twig blight on juniper; Pseudonectria canker on boxwood; and lace bug injury on azalea.
---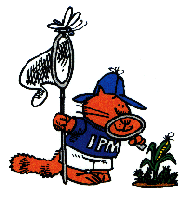 IPM TRAP COUNTS:
By Patty Lucas, University of Kentucky Research Center
Insect Trap Counts
UKREC-Princeton, KY, May 25 - June 1, 2001
Black Cutworm
14
True Armyworm
172
Fall Armyworm
0
Beet Armyworm
1
Corn Earworm
3
European Corn Borer
0
Southwestern Corn Borer
19
To see recent moth trap counts, click here.
---
Lee Townsend
Extension Entomologist