!pn040607.htm>

Kentucky Pest News Newsletter
HIGHLIGHTS IN THIS ISSUE
Number 1024__________June 7, 2004
TOBACCO
CORN
ALFALFA
SHADE TREES AND ORNAMENTALS
DIAGNOSTIC LAB HIGHLIGHTS
IPM TRAP COUNTS
---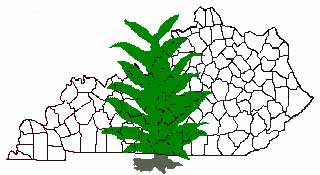 TOBACCO
---
CURRENT BLUE MOLD STATUS
By William Nesmith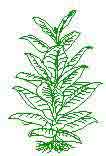 As of mid morning June 7, reported cases of active blue mold had not been coming in at the level expected considering the cool, overcast and wet weather pattern experienced for the past several weeks. Temperatures have been nearly ideal for infections and sporulation; systemic development (veins, midribs, buds, stems and roots) should also be occurring anywhere the disease is present, too, considering the cool weather being experienced. However, rains have been very frequent, which may be washing spores out near the sources. Moreover, most blue mold lesions are being quickly colonized by bacteria and fungi, resulting in a rapid rotting of the lesions, which may be limiting spread, too. Target spot, anthracnose leaf spot, frogeye leaf spot, angular leaf spot and bacterial soft rot are often also present or even more prevalent in transplants with blue mold, so be careful not to miss the blue mold as it is the much bigger issue.
Another complicating factor is that most transplants are yellow, as they have been held under low fertility for several weeks, making it difficult to discern a yellow lesion on a yellow leaf. After such plants are set and fertilization improves, overall plant color will improve, and growers may find they have set infected transplants. After new growth has had time to develop in the field, systemically infected plants will appear yellow and stunted compared to greener healthy plants, and they are more likely to have soreshin, Pythium, Fusarium stem rot, or black shank. It is important to find such infections and take steps to control them, as these fields can serve as the centers of outbreaks later in the season.
Confirmed cases of active blue mold have been reported along a southwest to northeast path in the Ohio River Valley from near Lafayette, Tennessee (Macon County) to near Nicholasville, Kentucky (Jessamine County). Additional activity is known near Middleton, Ky. (Logan County), and in Taylor and Green counties of Kentucky (Campbellsville). Nearly all these cases have reportedly involved only transplants still within the float beds or greenhouses with field activity mainly confined to the setting of infected transplants. Foliar lesions in field plantings developing from airborne spores have been found only on plants within a few feet of known transplant sources.
Further laboratory assays conducted with samples from Kentucky outbreaks indicate both mefenoxam/metalaxyl resistant (insensitive) and sensitive populations are present in the region. The sensitive portion of the populations can be easily controlled with soil directed applications of Ridomil Gold or Ultra Flourish - consult labels for specific directions.
For the latest blue mold status and other tobacco disease information, check the KY Blue Mold Warning System online.


http://www.uky.edu/Agriculture/kpn/kyblue/kyblue.htm

For more information about tobacco pests, visit "Insect Management Recommendations".
---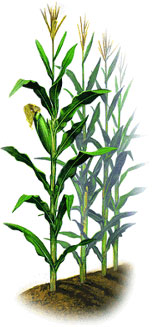 CORN
---
HERBICIDE CONSIDERATIONS BEFORE REPLANTING CROPS AFTER CORN CROP FAILURES
By J. D. Green and James R. Martin

A significant consideration before replanting corn or an alternative crop following crop losses due to flooding or other factors is the herbicides that have already been applied to corn fields. In most years soil-applied herbicides containing atrazine have been the primary concern when replanting back to soybean. However, in situations where a postemergence herbicide treatment has been applied to corn fields several of these products can also cause significant injury to an alternative crop. Listed below are corn herbicides and the potential risk associated with replanting back to corn, grain sorghum, or soybeans. Consult the label of herbicide products used for more details on crop rotation limitations.
Table 1. Risk Potentials for Crop Replanting Following Use of Corn Herbicides

Herbicide

Minimum Waiting Period before Replanting

Corn

Grain Sorghum

Soybean

Accent
No Risk
High: Wait minimum 10 months; Delay planting 18 months if soil pH >7.5
Slight; Delay planting a minimum of 14 days after application
Accent Gold
No Risk
High; 12 months
High; Wait 10.5 months; 18 months under dry conditions and less than 2% O.M.
Aim
No Risk
No Risk
No Risk
Atrazine
No Risk
No Risk
Moderate Risk
Basis Gold
No Risk
High; 10 months
Moderate; 10 months
Beacon
Slight; Clearfield hybrids may be replanted immediately, wait 14 days for other field corn hybrids
High; 8 months
8 months
Bicep II Magnum / Cinch ATZ
No Risk
No Risk; Plant sorghum treated with a seed safener
Moderate Risk
Callisto
No Risk
High; 10 months
High; 10 months
Celebrity Plus
Slight; Wait 7 days before replanting
High: Wait minimum 10 months; Delay planting 18 months if soil pH >7.5
Moderate; 4 months
Dicamba [Clarity, Banvel, etc.]
No Risk
Slight to Moderate; 14 days to 4 months depending on rate
Slight to Moderate; 14 days to 4 months depending on specific product, rate, and rainfall
Distinct
Slight; Wait 7 days
Moderate; 4 months
Moderate; 4 months
2,4-D
Slight; Wait 7 days
Slight to Moderate; 3 months
Slight; Wait a minimum of 7 to 30 days depending on amount used
Equip
Slight; 15 days
High; 9 months
High; 9 months
Exceed
Slight; 4 weeks, Clearfield hybrids may have more tolerance than regular hybrids
High; 10 months
High; 10 months, STS- soybean varieties have more tolerance
Expert
No Risk
No Risk; Plant sorghum treated with a seed safener
Moderate Risk
Glyphosate (Roundup, Touchdown, etc.)
No Risk
No Risk
No Risk
Gramoxone Max
No Risk
No Risk
No Risk
Harness Xtra, Degree Xtra, FulTime, Keystone
No Risk
Moderate Risk
Moderate Risk
Hornet WDG
No Risk
High; 12 months
High; Wait 10.5 months; 18 months under dry conditions and less than 2% O.M.
Liberty (LL-corn only)
No Risk
Slight; 70 days
No Risk
Liberty ATZ (LL-corn only)
No Risk
Moderate Risk
Moderate Risk
Lightning (Clearfield-corn)
High risk for conventional and Roundup Ready hybrids (8.5 months); Clearfield hybrids may be replanted at anytime
High; 18 months
Moderate; 9 months
Lumax
No Risk
High Risk
High Risk
Marksman
No Risk
No Risk
Moderate Risk
Option
Slight; Wait 7 days
Moderate; 2 months
Slight; 14 days
Permit
Slight; 1 month, Clearfield hybrids may have more tolerance than regular hybrids
Moderate; 2 months
High; 9 months
Princep
No Risk
Moderate Risk
High Risk
Prowl
High Risk
High Risk
No Risk
ReadyMaster ATZ
No Risk
No Risk
Moderate Risk
Spirit
Slight; 1 month, Clearfield hybrids may be replanted at anytime
High; 10 months
High; 10 months, STS- soybean varieties have more tolerance
Steadfast
No Risk
High; 10 months, wait 18 months is soil pH >7.5
Slight; Wait 15 days
Steadfast ATZ
No Risk
High; 10 months
Moderate; 10 months
Herbicide: Minimum Waiting Period before Replanting o Corn: o Grain Sorghum: o Soybean:

For information about corn pests, visit "Insect Management Recommendations".


---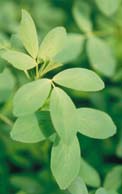 ALFALFA
---
ROOT ROTS IN NEW ALFALFA SEEDINGS

By Paul Vincelli
With all the wet weather over the past four weeks or so, new seedings of alfalfa have been exposed to stressful conditions in the root zone. Saturated soils favor three important diseases of alfalfa: Aphanomyces root rot, Pythium root rot, and Phytophthora root rot. We diagnosed cases of Aphanomyces earlier this spring (see the May 3rd issue of Kentucky Pest News, ), and last week a case of Pythium root rot was evident in a new seeding. Phytophthora medicaginis, the fungus that causes Phytophthora root rot, is also common in our soils, so it will not be surprising to find active cases of Phytophthora root rot in new seedings.
In new seedings, affected plants appear stunted. Leaves are yellow, especially the older leaves. Leaves may curl up and fall off, sometimes turning red before doing so. Belowground, the small feeder roots appear rotted, often light or dark brown in color and/or with little structural integrity.
All three diseases-Aphanomyces, Pythium, and Phytophthora-can cause disease of mature plants as well as seedlings. However, in mature plants, Aphanomyces and Pythium infections are confined to the feeder roots, so established plants rarely die from these infections; they simply are stunted, especially in dry weather. Phytophthora, however, can cause a destructive taproot and crown rot in mature plants.
All three pathogens are common in Kentucky soils. Because of this, I recommend substantial levels of resistance to Aphanomyces and Phytophthora root rots for all spring seedings of alfalfa: by "substantial", I mean levels of R (resistance) or HR (high resistance). Resistance to Pythium is not available commercially. Sowing alfalfa in well-drained soils with minimal compaction helps reduce the risk of this disease.
See Insect Recommendations for more alfalfa pest recommendations.


---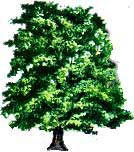 SHADE TREES AND ORNAMENTALS
---
LANDSCAPE PLANT DAMAGE CAN BE CAUSED BY EXCESS WATER
By John Hartman
High rainfall levels in some parts of Kentucky during late May resulted in high soil moisture levels which may cause symptoms to appear in June on some landscape plants. Prolonged soil saturation and localized temporary flooding which occurred in some regions of Kentucky would reduce soil oxygen levels, causing roots to function abnormally, thus stressing plants.
It has been our experience that when excess soil moisture is present in landscapes due to frequent, heavy rainfall, landscape plants can show symptoms of damage caused by excess water. Extension agents, landscape professionals and homeowners can be looking for symptoms which may include:
chlorosis - particularly on plants such as flowering crabapple that don't normally get chlorosis from iron deficiency ;
edema - many plants such as day lily, euonymus, holly, and spruce can show edema;
red or purple coloration - euonymus and kousa dogwood sometimes show this, but be aware that flowering dogwoods with powdery mildew may also show purple coloration;
marginal leaf browning or sunscald - can occur on some plants;
wilt - sometimes the wilt is associated with Phytophthora root rot, but excess water alone can cause wilt;
twig dieback - again canker-causing pathogens, active on flood-stressed plants, can be involved; and
plant death - Phytophthora root rot, especially on hemlock, taxus, and rhododendron is likely to be associated with excess soil moisture.
Epinasty (downward bending of leaf petioles), stem swelling, and leaf drop are also symptoms of excess water damage to plants.
Some trees and shrubs show symptoms or die if only flooded for a few days during the growing season. Local short-term flooding and soil saturation have certainly occurred in many instances these past several weeks in some low-lying regions Kentucky.
Roots in flooded or waterlogged soils often die of anoxia (oxygen deficiency). In flooded soil, plant roots and microorganisms use up the available oxygen while adding to a buildup of carbon dioxide. As redox (chemical reduction and oxidation) potential decreases due to low oxygen levels, some mineral elements may be reduced to toxic forms. In addition, a variety of toxic organic substances can form in the soil. The metabolism of the tree is changed and adversely affects the tree by using energy less efficiently, producing toxic byproducts, inadequately taking up water and mineral elements, closing stomata, and depressing photosynthesis and translocation.
After the soil drains, plants with killed roots may subsequently suffer drought stress and death. For many of these plants, the only functioning roots are near the soil surface, and when dry weather follows wet, those surface roots quickly dry out. Plants enduring a flooding episode may also become abnormally susceptible to Phytophthora root rot or collar rot. Excess water promotes susceptibility of roots to this disease and aids the fungus in moving to new infection sites during its swimming phase. So, if the roots don't die of anoxia, water molds such as Phytophthora are waiting for their turn to kill the plant by causing root and collar rot.

---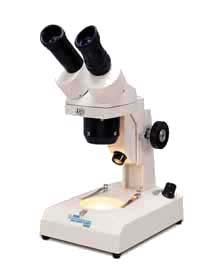 DIAGNOSTIC LAB HIGHLIGHTS
DIAGNOSTIC LAB - HIGHLIGHTS
By Julie Beale and Paul Bachi
Recent field crop samples that have been diagnosed have included Lepto leaf spot on alfalfa; Stewart's wilt on corn; blackleg, black shank, blue mold, Pythium root rot, frogeye and target spot on tobacco.
On fruit and vegetable samples, we have diagnosed fireblight on blackberry, apple and pear; anthracnose and black rot on grape; frogeye leaf spot on apple; early blight on tomato; Pythium root rot on bean; Rhizoctonia root rot on pea; bacterial leaf spot on pepper; and black rot and Rhizoctonia head rot on cabbage.
On ornamentals and turf, we have seen black spot and spider mite injury on rose; Kabatina twig blight on juniper; spot anthracnose on dogwood; Phyllosticta leaf spot on maple; anthracnose on oak and redbud; leaf blister on oak, and brown patch on turf.

---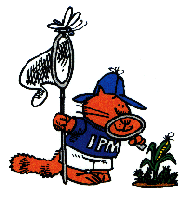 IPM TRAP COUNTS:
By Patty Lucas, University of Kentucky Research Center
UKREC-Princeton, KY, May 28-June 4, 2004
Southwestern Corn Borer
10
True Armyworm
7
Corn Earworm
52
European Corn Borer
1
Cam Kenimer reports the following trap counts for Fulton County May 26-June 2
True Armyworm
9
European Corn Borer
5
Southwestern Corn Borer
80
To view previous trap counts for Fulton County, Kentucky go to - http://ces.ca.uky.edu/fulton/anr/ and click on "Insect Trap Counts".
For information on trap counts in southern Illinois visit the Hines Report at - http://www.ipm.uiuc.edu/pubs/hines_report/index.html. The Hines Report is posted weekly by Ron Hines, Senior Research Specialist, at the University of Illinois Dixon Springs Agricultural Center
---
NOTE: Trade names are used to simplify the information presented in this newsletter. No endorsement by the Cooperative Extension Service is intended, nor is criticism implied of similar products that are not named.
---
Lee Townsend
Extension Entomologist