!pn050221.htm>

Kentucky Pest News Newsletter
HIGHLIGHTS IN THIS ISSUE
Number 1047__________Feb 21, 2005
ANNOUNCEMENTS
SOYBEAN
FRUIT
!--**************************************seperator********************************************-->
---

ANNOUNCEMENTS
---
PESTICIDE TRAINING MEETINGS
By Lee Townsend
Pesticide Training Meetings
March 16 - IPM Training, UK Research and Education Center, Princeton, KY Approved for continuing education credits for commercial applicators and Certified Crop Advisors
For more opportunities go to http://www.kyagr.com/enviro_out/pesticide/programs/testing/CEUlistAG.htm
---
KENTUCKY PEST NEWS PARAGRAPHS MISPLACED
By John Hartman
Those readers who received the printed version of Kentucky Pest News Number 1046 (February 7, 2005) may have noticed a printing error. In the article entitled "Survey for Phytophthora ramorum (Sudden Oak Death) in Kentucky Parks and Natural Areas, 2004," some of the paragraphs were printed out of sequence and part of one paragraph was placed in an adjacent column. All of the information written for the article appeared in print - some of the information simply appeared out of place in the article. We apologize that this made the article more difficult to read.
This error only affected the print version of the newsletter. The web-posted article appeared as intended, without paragraph misplacement.

---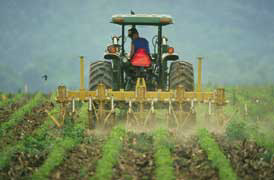 SOYBEAN
---
USING THE MINNESOTA SPEED SCOUT METHOD FOR MAKING CONTROL DECISIONS ON SOYBEAN APHID IN SOYBEANS.
By Doug Johnson

The Department of Entomology at the University of Minnesota has produced a "faster" method of making control decisions for soybean aphid in soybeans. This is a very straightforward sampling scheme that is designed to make control decisions using the fewest number of plants and reducing the counting of aphids on each plant. Using as few as eleven plants, but in some circumstances up to 30 plants, the worksheet will help you make one of three decisions:
1.) stop sampling today and return in 7-10 days,
2.) continue sampling (today) in 5 plant increments, or
3.) Treat within 7 days.
All data collection and computer analysis for development of this system was done by Erin Hodgson, a Ph.D. student in Entomology at the University of Minnesota. You can get to the sampling information through the New Sampling Plan on the University of Minnesota Soybean Aphid pages. These pages contain explanations of when, where, how and why this sampling scheme was developed. After reviewing this material you can select "a. Blank worksheet and directions". Here you can obtain a file that can be saved to your computer and printed as needed. New Sampling Plan
When using this procedure you need to remember
1.) it was developed in Minnesota and has NOT been tested in Kentucky,
2.) it is less likely to detect very small populations,
3.) soybeans in Minnesota are likely to be infested much earlier in the season (early - mid V stages) than we expect in Kentucky (very late V to R stages),
4.) the scheme was developed in beans planted on 30"rows.
This, like any other sampling system is not foolproof. There is always error associated with sampling. However, it will allow you to have a system that is easy to use, was developed using rigorous standards, and will not take a great deal of time (at least in uninfested and minimally infested fields).

---
BIOSECURITY CONCERNS WITH SOYBEAN RUST
By Paul Vincelli and Don Hershman

By now, most of the agricultural community is aware that a highly destructive disease--Asian soybean rust--was discovered in November, 2004 in widely scattered locations in the Mid-South Southeast. Proper management of Asian soybean rust will require intensive and frequent scouting, in order to use fungicides most effectively and as economically as possible. In its early phases of development in a field, Asian soybean rust is very difficult to distinguish from a number of other diseases, including bacterial pustule, bacterial blight, downy mildew, and brown spot. Therefore, many of us are anxious to learn as much as we can about how to recognize this disease early.
In 2005, Asian soybean rust will likely develop first in soybean crops in the Gulf Coast states. It is natural that soybean producers and crop consultants will want to see this disease firsthand as it develops there, so they can be better prepared to scout for it here. However, keep in mind that you, the reader, could be the vector that introduces the fungus much earlier to Kentucky than would natural wind dispersal. Earlier arrival of the fungus means more potential for a widespread and destructive epidemic.
Researchers who go to Brazil or elsewhere to study Asian soybean rust often take old clothes and footware and leave them behind when they return to the United States as a biosecurity measure. While one option is to bag and launder field clothing and footware after leaving southern fields affected by Asian soybean rust before returning north, the better choice is to leave them behind. Vehicles also should be washed after leaving the field but before returning north, including washing the undercarriage of the vehicle.
Some well-intentioned individuals may be tempted to bring an infected plant back under sealed conditions to use as a teaching tool for their staff or for neighbors. However, doing so is a violation of federal law. Asian soybean rust is one of about 10 so-called "Select Agents" considered to be a serious bioterrorism threat to crops in the Agricultural Bioterrorism Prevention Act of 2002. Since Asian soybean rust has been discovered in United States, it may be removed from the list in the coming months but for now it remains on the list.
Instead of heading south during a busy time of year to see the disease, learn to identify it by attending one of the intensive training sessions conducted by the UK Cooperative Extension Service. The sessions began in January and continue through the beginning of March. To find a training location near you, contact the county Extension office or visit the soybean rust Web site at http://www.uky.edu/soybeanrust. This Web site contains much information and also is where farmers, crop consultants or anyone else interested in the disease can sign up for e-mails with updated information on the disease. At these training sessions, participants will receive soybean rust identification cards and see infected leaves encased in plastic that were provided by the United States Department of Agriculture. The fungus within these leaves is not viable and they are approved to use as a teaching tool.
For more information about soybean pests, visit "Insect Management Recommendations".


---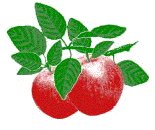 FRUIT
---
WINTER DECISIONS FOR HOME FRUIT DISEASE MANAGEMENT
By John Hartman
Primary infections for many fruit crop diseases occur in very early spring. Growers wishing to manage diseases of fruit crops more effectively should plan and act now so that when the rush of spring gardening activities begins in spring, important disease management operations can be implemented. With the rainy spring weather we experienced in recent years in Kentucky, home fruit growers are sure to be aware of the destruction caused by fruit crop disease problems. The following is a checklist of disease management activities backyard fruit growers might be accomplishing now, in winter, and in the coming weeks. Hopefully, this information will be helpful to County Extension Agents working with home garden clientele.
Apples. The diseases of concern in early spring are scab, cedar rust, and fire blight.

If you are ordering nursery stock, plan on growing disease-resistant apples. Nursery catalogs will indicate varieties that are scab-resistant.
Prune out old fire blight cankers now, while it is still cold, so new infections won't occur.
Prune also to thin the tree canopy to allow good air movement and sunlight penetration.
Remove and destroy fruit mummies left on the tree from last season.
Remove nearby cedar trees, source of rust diseases, if possible.
Obtain fixed copper or Bordeaux mixture to apply to the apple twigs and branches just as the buds begin to swell next month.
Obtain a scab fungicide with ingredients such as mancozeb, captan, myclobutanil, or thiophanate-methyl so that sprays can be applied as green foliage (green tips) is just emerging and repeated periodically throughout the spring months.
Carefully read fungicide labels before making spray applications.
Stone fruits. The diseases of concern in early spring are peach leaf curl, plum black knot, and eventually brown rot and scab.
Apply fixed copper or Bordeaux sprays now to prevent peach leaf curl. In some parts of the state, it may be already too late because, with recent warm days, buds may have begun to swell and leaf curl infections may have just begun.
Prune to thin the tree canopy to allow good air movement and sunlight penetration.
Prune out any diseased or cankered twigs and branches from the trees.
Remove and destroy last year's mummified fruit still hanging in the tree or on the ground.
Prune out black knot disease swellings from plum trees.
Obtain brown rot and scab fungicides with ingredients such as sulfur, captan, or myclobutanil. Read and understand the chemical labels.
Grapes. The diseases of concern in early spring are black rot, anthracnose, cane and leaf spot, and downy mildew.
Prune the grape canopy to allow good sunlight penetration and air movement, as well as to maximize fruit production.
Prune out any diseased, dead, or cankered vines.
Remove and destroy all of last year's fruit mummies hanging on the vine and lying on the ground.
Apply lime-sulfur sprays to the dormant vines just as buds begin to swell to prevent anthracnose.
Obtain fungicides with ingredients such as captan, mancozeb, myclobutanil, or thiophanate-methyl to be used for black rot and cane and leaf spot management.
Be prepared to apply fungicides as the first green leaves are beginning to appear on the vines and to repeat the applications throughout the spring as called for on the pesticide label.
Brambles. The raspberry and blackberry disease of most concern in the spring are anthracnose and orange rust.
Prune out dead and winter-injured canes.
Apply lime-sulfur fungicide to the canes in early spring just as the buds begin to swell, but before green tissue emerges.
Be prepared to remove and destroy orange-rust infected blackberries and black raspberries. These plants will appear abnormally whitish and spindly in early spring as they emerge from the ground.
If orange rust is present in the neighborhood, remove and destroy wild blackberries growing in nearby fields and fencerows, if feasible.
If, because of rainy weather last year, plants died from root rot disease, improve drainage in the garden or grow brambles on raised beds.
Strawberries. The diseases of most concern in spring will be fruit rot diseases.

Apply straw mulch to the beds between the rows and under the canopy so that fruits will not have to touch the ground.
Provide adequate spacing of the strawberry plants to provide good sunlight penetration and air movement to help reduce gray mold fruit rot.
Hand remove dead leaves and stems from the strawberry bed to reduce the presence of the gray mold fungus.
If sprays, such as captan, are to be used to prevent fruit rot, the sprays need to be applied to the strawberry flowers in early spring.
Blueberries. The diseases of most concern will be twig blights and cankers.

Prevent twig canker diseases by avoiding stressful growing conditions. Mulch blueberries with organic matter, such as wood chips, and adjust the soil pH if necessary to provide favorable growing conditions.
Prune out dead and dying twigs and branches from the blueberry plants.
If, because of wet weather, blueberries are declining and dying due to root rot disease, improve garden soil drainage or grow blueberries on raised beds.
Backyard fruit growers will want to refer to U.K. Cooperative Extension publication I.D. 21, "Insect and Disease Control Program for Home Fruit Plantings Including Organic Alternatives," available at Kentucky County Extension Offices.

---
NOTE: Trade names are used to simplify the information presented in this newsletter. No endorsement by the Cooperative Extension Service is intended, nor is criticism implied of similar products that are not named.
---
Lee Townsend
Extension Entomologist