Fire blight of apple and pear, caused by the bacterium, Erwinia amylovora, kills blossoms, fruit spurs, shoots, limbs and, sometimes, whole trees. Fire blight disease in Kentucky is difficult to control. It is unpredictable; epidemics can strike quickly in young orchards where it has never been a problem and yet, in some years, mature orchards with a long history of fire blight may
show little disease. Fire blight control is also difficult because the best available antibiotic, streptomycin, works well only when used just before blossom infections occur. An important concept in fire blight management is that infection of the flowers provides a large quantity of inoculum for continued spread of fire blight in the shoots and branches. Preventing fire blight infections during bloom with timely applications of the antibiotic should be the goal.
Can fire blight be predicted? To relate fire blight infection biology to weather conditions, disease models have been developed. Maryblyt (developed by Dr. Paul Steiner, University of Maryland and Gary Lightner, USDA/AFRS, Kearnysville, WV) and Cougarblight (developed by Dr. Timothy Smith, Washington State University) are computer-assisted disease models for predicting fire blight. These models use measurements of temperature and wetness in the orchard to predict infection of open apple or pear flowers by E. amylovora.
Both models pre-suppose that fire blight primary infection is a four step process:
Erwinia amylovora bacteria, emerging around last year's fire blight cankers, must be moved to the open flowers by rain-splash or by foraging bees.
The bacteria must grow and develop a colony on the flower large enough to cause an infection.
Gentle rain or other wetness is needed to wash the bacteria to the base of the flowers and into the open nectaries so E. amylovora can get into the plant.
Once inside the flower, suitable temperatures will allow the bacteria to continue growing as a parasite and to move within the blossom spur and eventually the tree's twigs and branches.
To predict whether or not a threat from fire blight exists one must know how much bacterial growth might occur on the stigmas of apple and pear flowers. This growth is temperature dependent, so prediction of infection risk requires knowing the temperature while flowers are open (Figures 1, 2, & 3) using degree hour data or average daily temperatures and relating it to rate of bacterial growth at similar temperatures in the laboratory. These calculations, based on recorded temperatures, are done by the computer or they can be done using specially prepared charts. Temperatures determine both the number of days the flower may be infected and degree of bacterial colony growth. Wetness is the potential trigger of infection, as water moves the bacteria into the nectaries.
Typically, while flowers are open, 2-4 days of warm weather, followed by a rain or heavy dew provides conditions needed for infection. Using the disease models, risk potential in the near future may be evaluated with forecasted temperatures. Thus, managing primary infections of the tree via the flowers can be aided substantially through the use of Maryblyt or Cougarblight. By knowing daily high and low temperatures, rainfall, and tree development stage the computer or the grower calculates when fire blight infections have occurred or when they are likely to occur.
When blossom blight occurs, early symptoms often show ooze droplets or browning of blossom pedicels. The infection of a single flower in a cluster usually kills the entire spur (Figure 4). As the disease progresses bacteria invade the supporting twig, causing a canker that girdles it, resulting in the loss of other nearby spurs. From the bacteria that build up from these primary infections, infection of new, elongating shoots occurs. The resulting shoot blight, or twig blight, is the most visible and damaging phase of fire blight (Figure 5). Early shoot blight symptoms show a slight wilt of the shoot tip, sometimes with ooze droplets visible on the stem. This is soon followed by leaf and shoot browning and death which proceeds down the shoot.
Will disease predictive systems work? During the past week, apples have been in bloom throughout Kentucky. Warm weather occurred on Friday and Saturday, April 17&18. Then rain moved in on Sunday and Monday. Was it warm enough for long enough for fire blight to pose a significant threat? Using the Cougarblight model on Mesonet and National Weather Service data from 44 Kentucky locations indicates that in 27 of the locations, fire blight infection risk was high or fairly high and growers would have wanted to apply streptomycin. However, in the other 17 locations, fire blight infection risk was low or marginal and sprays may not have been needed.
Some Kentucky growers have used the disease models to determine whether or not to spray. Several years ago, the Maryblyt system was used to calculate the need for fire blight applications by participating Kentucky apple growers. In years with low disease pressure, growers saved one or more streptomycin sprays, with no decrease in tree health, by following these recommendations.
Figure legends: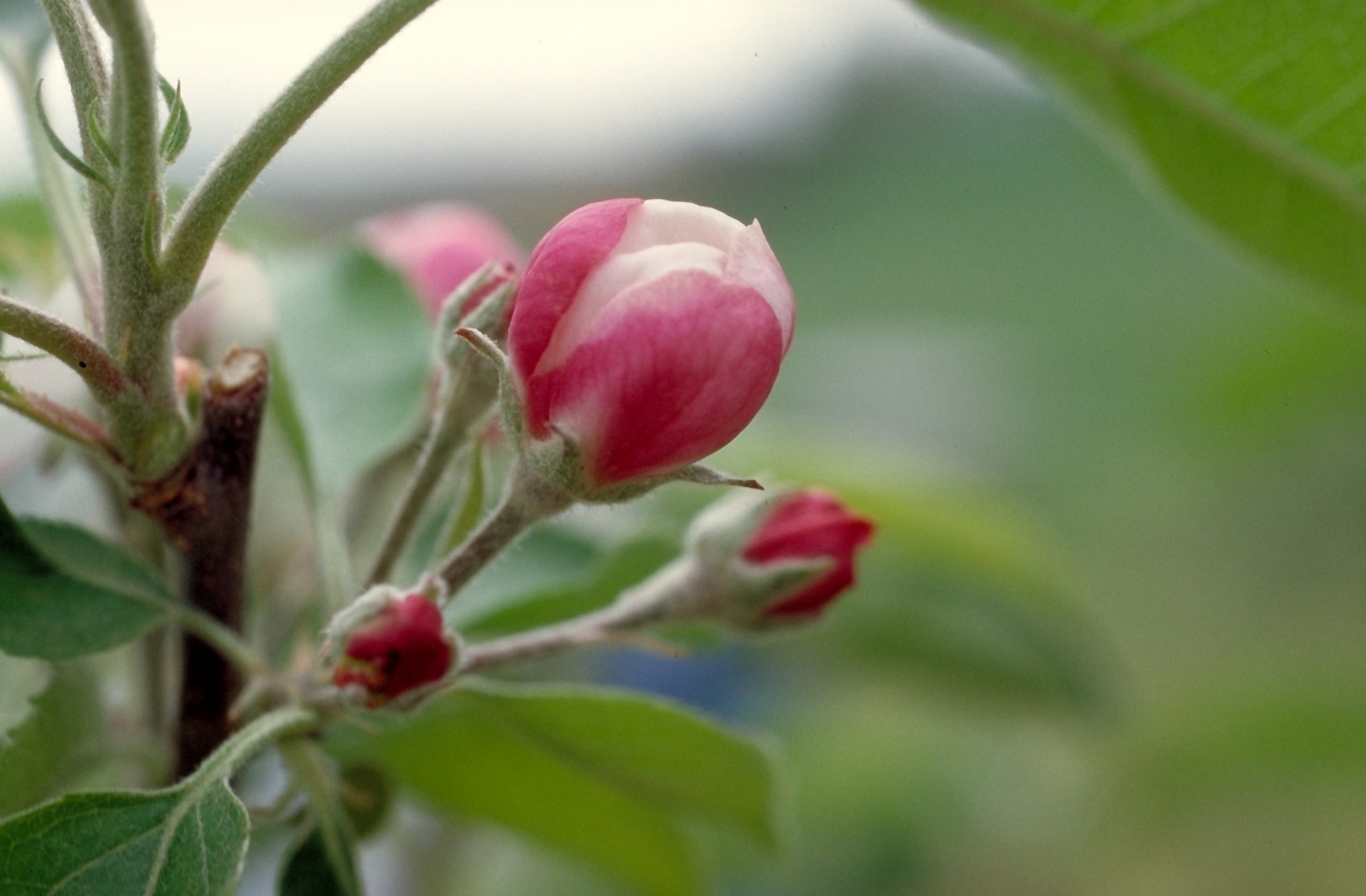 Figure 1. Apple blossom at the pink stage, not susceptible to fire blight infection.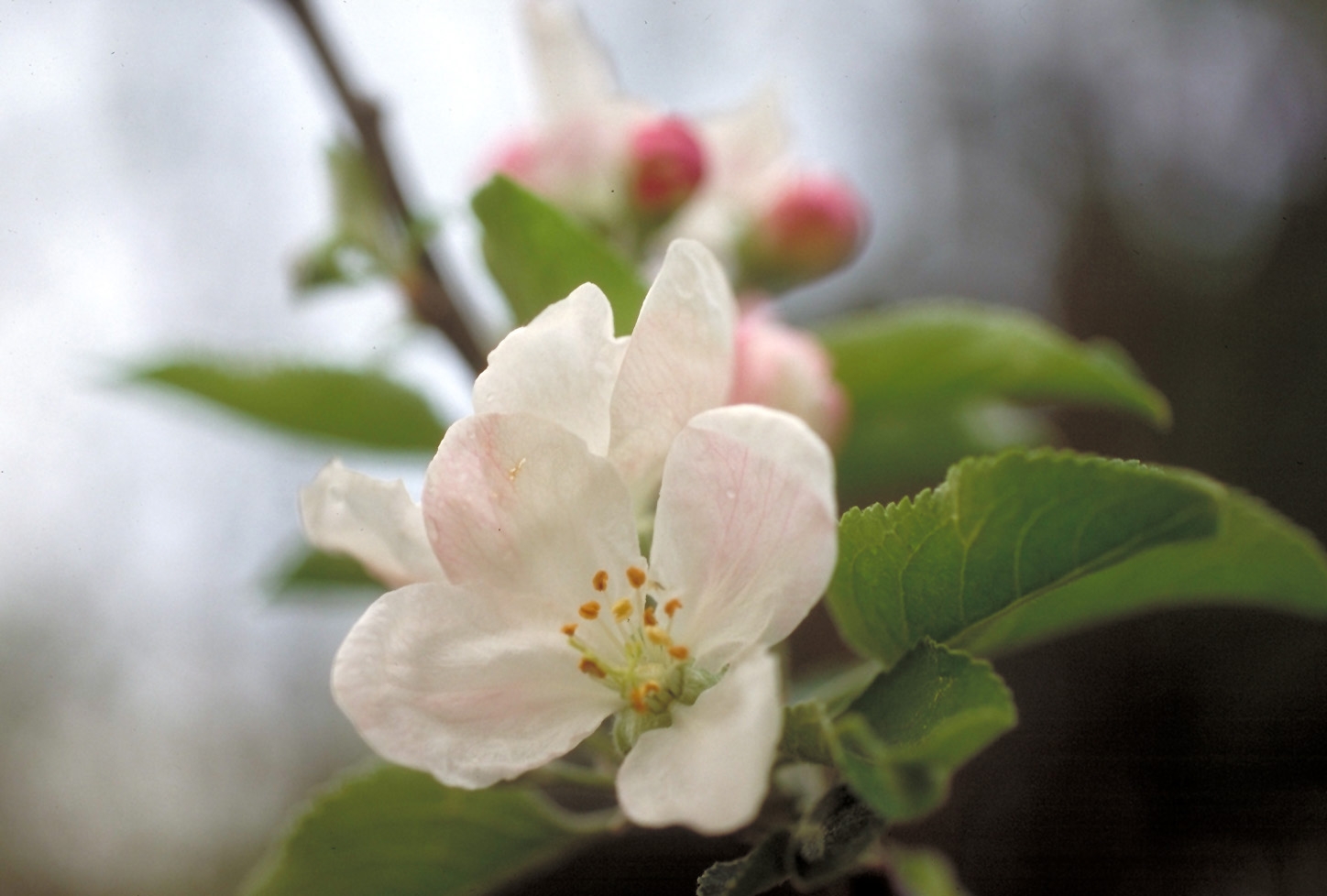 Figure 2. Apple blossom open and susceptible to infection.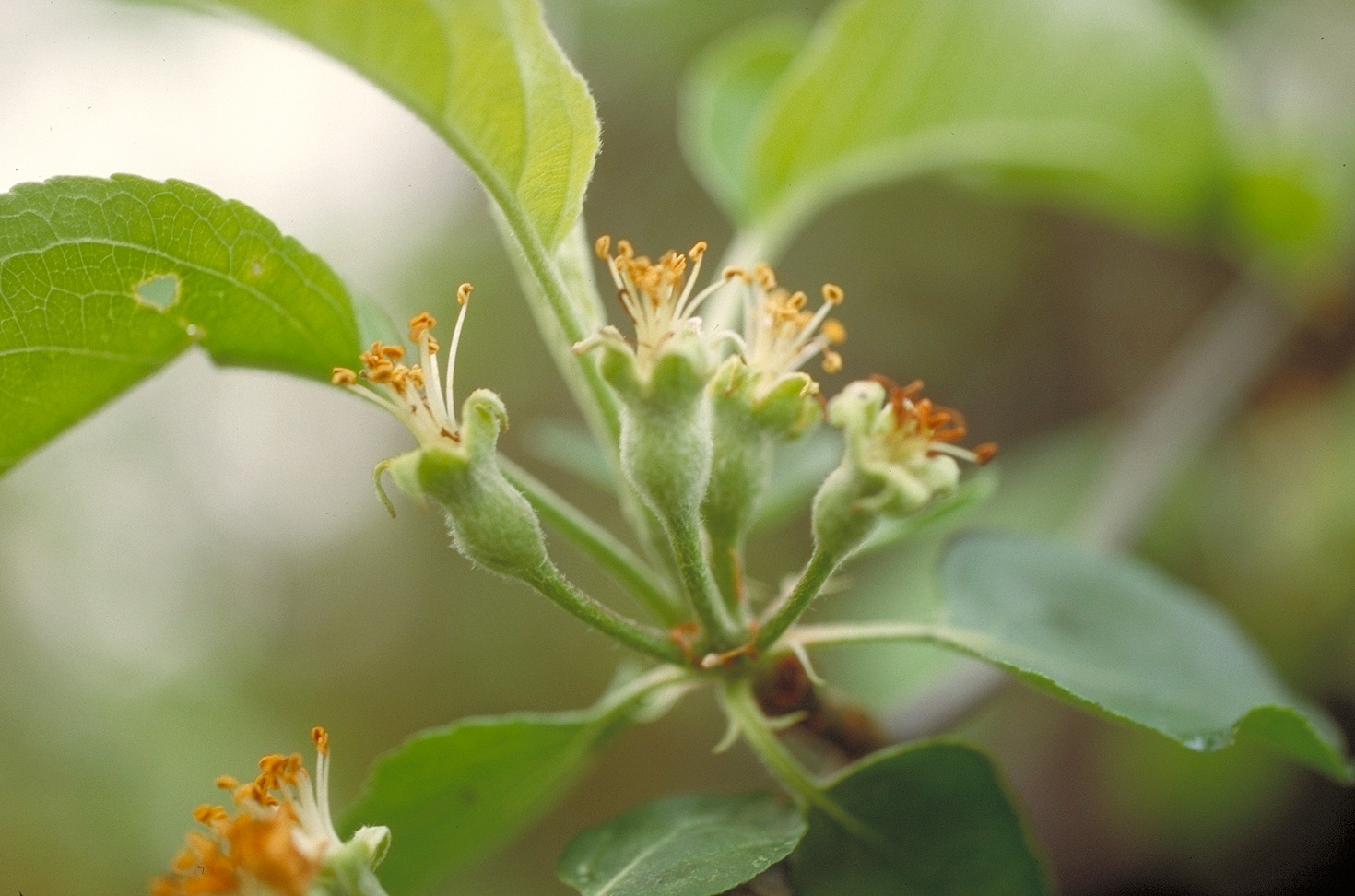 Figure 3. Apple blossom at petal-fall stage and no longer susceptible to infection.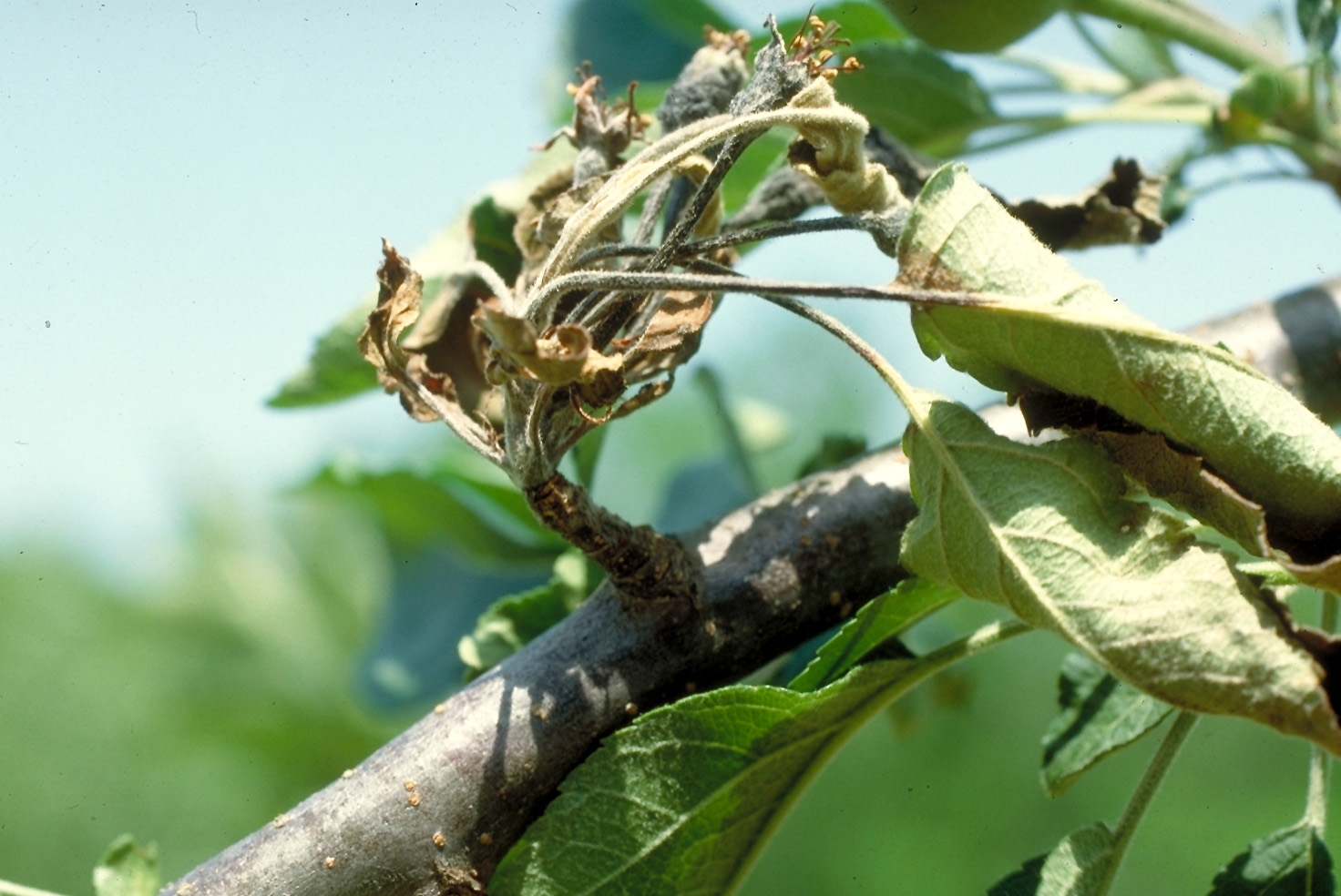 Figure 4. Apple blossom/fruit spur killed by fire blight.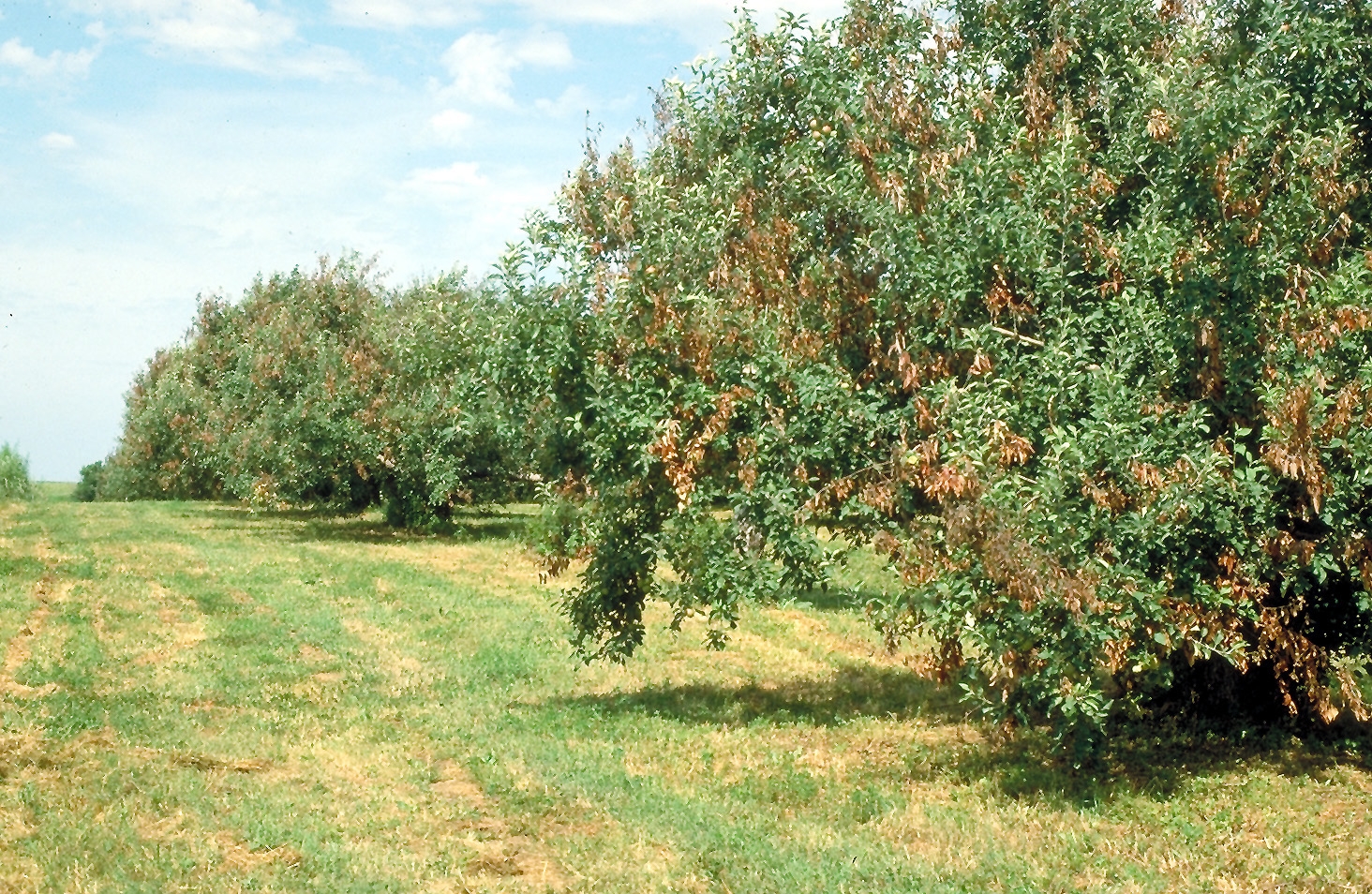 Figure 5. Apple orchard with numerous dead shoots killed by fire blight.