Each year since 2003, Kentucky soybean producers have had to decide if applying a fungicide to their soybean crop was in their best interest or not. Quite naturally, soybean producers want to maximize the yield potential of their soybean crops. Application of a fungicide, when needed, has been shown to be one means to achieve this end. However, producers also realize that maximizing yield does not necessarily mean maximizing profits. Treatments must be economical in order to be viable. It's that simple.
There are some who would tell producers to apply a fungicide no matter what, because the past yield performance of treating is just too favorable NOT to apply. I do not subscribe to this philosophy. Instead, I tell producers to make fungicide use decisions based on need, as determined by a disease risk assessment, for each field where a fungicide appliction is being considered. It is not acceptable, and in the long term may not be sustainable, to treat fields without first establishing the need to spray.
The data figures, below, are a case in point. The figures come from a summary of multi-state, multi-cultivar, small plot trials conducted in various Midwestern states by Pioneer Hi-Bred International, Inc, Agronomy Sciences, during 2004-2008. Although Kentucky is considered to be a southern state, its soybean crop is more like that in lower Midwest than states like Arkansas, Louisiana, or Mississippi. Thus, the Pioneer studies done in the Midwest are directly applicable to us. I have decided to focus on the results of the Pioneer studies since neither Pioneer, nor their parent company DuPont, sell foliar fungicides that are being commonly being used in soybean. Pioneer also does not carry the label "too conservative" that has recently been applied to many university studies by some soybean producers. The Pioneer studies and this article focus on Headline and Quadris since these two fungicides represent the majority of soybean acres sprayed in the Midwest and Kentucky
Figure 5 summarizes the results for Headline applied at 6 fl oz/A at the R3 (early pod) growth stage. Figure 6 summarizes the results for Quadris applied at 6.2 fl oz/A at R3. Fungicides were applied, without reference to disease risk, in 15-20 gal/A, and included adjuvants recommended by their respective manufacturers (BASF [Headline] and Syngenta [Quadris]). Little foliar disease developed in any test, any year.
The results of both treatments are fairly similar, and the associated "piano graphs" are not unlike what you may have seen from a variety of sources, including many Land Grant universities. Almost without exception, there is a trend towards an overall positive yield response when treating. Our studies and many others have shown a similar trend. Headline produced a higher yield in treated plots 78 out of a 100 times (78%), while Quadris produced the same statistic, but treatments differed in average yield response over all trials (3.7 for Headline vs. 2.9 bu/A for Quadris). However, when economics were applied (Pioneer placed this at 3 bu/A and I think few would argue with this figure), Headline produced an economical result 51% of the time and Quadris 47% of the time. University trials typicially show a less favorable response when data are subjected to appropriate statistical analyses, but lets assume for the sake of argument that 50% is about right.
Folks, 50% represents the same response I would get if I were to flip a coin 100 times. The bottom line in the above examples is that while the overall positive yield response looks very favorable, the true measure of the treatments – economics- is about a 50-50 proposition at best. I hope you count this as compelling evidence that you should avoid spaying without determining the need to spray. There is no statistic available to support my next statement, but my guess is that the economic response rate would be >80% if spray decisions were based on a disease risk assessment. It is true that benefits associated with stess tolerance and/or improved growth efficiency, as indicated on the Headline label and in marketing literature for both Headline and Quadris, may also occur when the fungicides are applied. However, there is presently no way to predict when, and to what extent, these benefits will occur.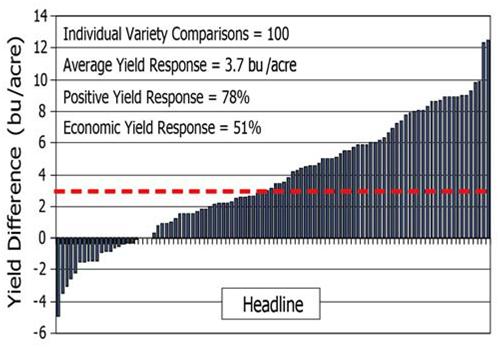 Figure 5. Yield reponse to Headline @ 6.0 fl oz/A (2004-08); the dashed red line indicates the 3 bu/A breakeven point. Source: J. Trybom and M. Jeschke. 2009. Foliar Fungicide Effects on Soybean Yield. Crop Insights, Vol 19, No. 1.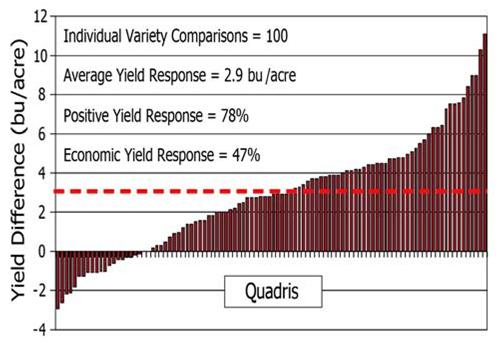 Figure 6. Yield response to Quadris @ 6.2 fl oz/A (2004-08); the dashed red line indicates the 3 bu/A breakeven point. Source: J. Trybom and M. Jeschke. 2009. Foliar Fungicide Effects on Soybean Yield. Crop Insights, Vol 19, No.1.
Now that I have established that basing fungicide spray decisions on a disease risk assessment is essential, just what does this assessment involve? Figure 7 lists the various factors that need to be considered as part of your risk assessment in soybean. Most of the factors determine the risk that one or more foliar fungal diseases will develop and reduce yield. The factors do not account for the many other diseases that can hurt soybean yield, but are not controlled adequately (or at all) by foliar fungicides applied at the R3 growth stage. This underscores that there is, and always will be, a risk associated with applying a fungicide. You might make all the right decisions and do all the right things, and a disease, such as charcoal rot, might negate the value of treating. Similarly, if a crop experiences serious drought or some other event or condition that compromises yield, all benfits associated with spraying a fungicide might evaporate. Farming, as you all know, is just risky business.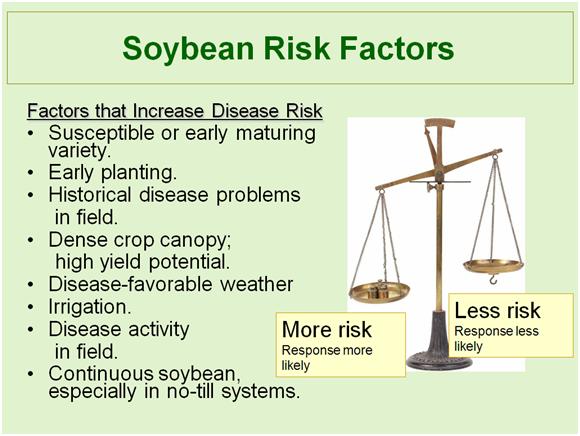 Figure 7. Factors that favor disease and, therefore, a response to foliar-applied strobilurin fungicides, such as Headline and Quadris.