I've heard early reports that Diplodia ear rot is showing up in some corn fields as they approach maturity. The abundance of wet weather many crops experienced around the silking period would have provided opportunities for infection.
This ear rot appears as white cottony fungal growth between kernels, usually progressing from the ear shank upward and from the cob outward (Fig. 1).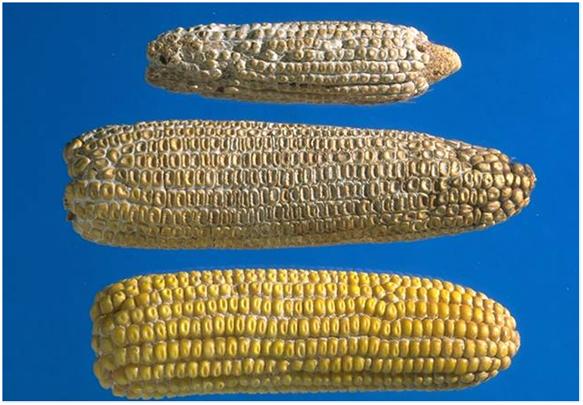 Figure 1. Ears with varying levels of damage from Diplodia ear rot.

Severely affected ears can be obvious from a distance, as the husks turn brown and dry down well before the rest of the plant, although the disease may not be discovered by producers until combining. In most cases, no symptoms appear on the leaves of infected plants.
Key Features of Biology
The Diplodia ear rot fungus survives between seasons in residue of corn stalks, cobs, and fallen kernels. During wet weather, microscopic spores are splashed up to the ear leaf and then deposited by rainwater around the ear shank. These spores can germinate and penetrate the ear shank, growing up into the cob and outward into the kernels. Ears are most susceptible to infection within a week or two of mid-silk (50% of plants with silks). The incidence of affected ears in a field can range from 1-2% to as high as 75-80%.
Management Notes
For The 2009 Crop
Scout corn fields as they mature. Fields with significant levels of Diplodia ear rot should be harvested as soon as possible and dried with heat to below 15.5% moisture (below 13% for storage through the following summer). To avoid contamination of the whole bin, store dried, affected corn separately from healthy corn. Also, maintain a storage facility free of leaks, aerate the grain regularly, and check regularly for hotspots, musty odors, or other signs of deteriorating grain. Diplodia-affected corn may not store well, so market that grain as soon as possible. Diplodia-affected corn in the U.S. does not appear to contain mycotoxins, and is not regarded as a feeding risk to livestock.
Laboratory confirmation is recommended if there is any uncertainty as to the identity of an ear rot, since several ear rot diseases of corn can be associated with high levels of mycotoxins. The nutritive value of Diplodia-affected corn may be reduced, and some animals refuse the feed. It may be possible to overcome palatability problems by blending it with adequate amounts of normal corn.
For The 2010 Crop and Later
Fields with more than 2-3% of ears with Diplodia ear rot in 2009 should have a management plan implemented.
Rotation can be very important for managing this disease. Any rotation away from corn, even for one year, is helpful in reducing buildup of spores by allowing decomposition of infested corn residues. In fields with moderate to high levels of Diplodia-infested residues, rotations of 2-3 years may be required in order to reduce inoculum to acceptable levels. Recognize, of course, that repeatedly sowing a rotation crop to control Diplodia ear rot may create a different set of pest and disease problems. For example, if soybean is sown for several years in order to reduce inoculum levels of the Diplodia fungus, growers should monitor the pre-plant population of soybean cyst nematode annually.
Tillage practices which partially or completely bury corn residue can provide substantial disease control by reducing spore levels greatly in the field. However, because of soil erosion concerns, many growers may not wish to exercise this option, and may even be restricted from doing so by their soil conservation plan. Deep tillage is not a guarantee against the disease, since some infested residue may still reside on the soil surface. For many farmers, rotation may be the preferred option for dealing with fields where Diplodia ear rot is a significant problem.
No corn hybrid currently on the market has a high level of resistance to Diplodia ear rot. The disease can develop to some extent in any corn hybrid if spore levels are high and weather conditions during silking favor infection. However, hybrids do differ in their level of susceptibility to the fungus. Ask your seed supplier for information on the susceptibility of hybrids to Diplodia ear rot. Note that resistance of a corn hybrid to Diplodia stalk rot does not mean the hybrid has resistance to Diplodia ear rot. These two traits are inherited independently.
Consider planting several hybrids with differing maturities. This spreads the risk from this disease since they won't all be silking simultaneously. Thus, even if an outbreak of Diplodia occurs, some fields may escape the disease.