KGS Home > News and Announcements
12th Survey Celebrates its Tenth Anniversary
KGS staff celebrated the tenth anniversary of the 12th Survey on Friday, October 2. It marked a decade since the appointment of Dr. Jim Cobb as state geologist and KGS director.
Speaking to the Survey staff, Dr. Cobb summarized the major accomplishments and challenges of the period. He noted the 409 new publication titles issued by KGS in thirteen publication categories, the completion of the scanning of all paper records of oil and gas wells to make them freely available online, and the explosive growth of the use of the KGS website by people worldwide.
He also pointed out that KGS hosts and manages the largest state-operated seismic-station network in the eastern half of the country, the Kentucky Seismic and Strong-Motion Network. KGS staff continues to develop new information which is valuable for a variety of purposes and audiences, from a Kentucky landslide database and surficial mapping of the state to research data on deep geologic carbon dioxide storage and enhanced oil recovery.
Despite the challenges of shrinking budgets and the loss of several staff positions in recent years, Dr. Cobb added, KGS remains relevant and important to a number of state agencies and local communities that need assistance. Agencies such as the Kentucky Transportation Cabinet and the Energy and Environment Cabinet regularly turn to KGS for technical assistance, and rural communities seek KGS assistance for situations including water supplies and storm water management.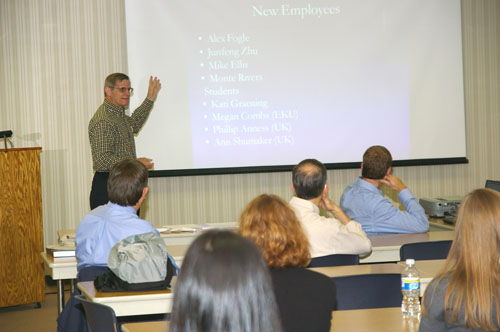 KGS Director Dr. Jim Cobb addresses the Survey's staff
during the celebration of the tenth anniversary of the 12th Survey.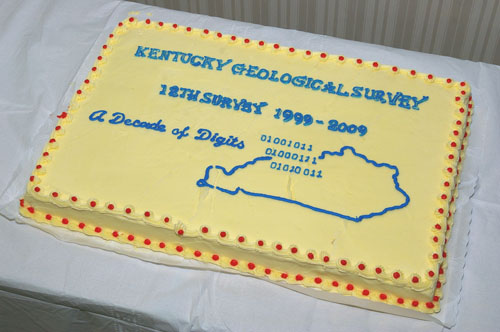 The traditional anniversary cake awaits cutting and
serving at a staff reception after Dr. Cobb's address.