KGS Home > News and Announcements
KGS contributes items to Breeders' Cup display at Headley-Whitney Museum
Lexington is celebrating the Breeder's Cup World Championships horse racing series with a community celebration this week, in advance of the races on Friday and Saturday. Lexington's Headley-Whitney Museum has put together a display called "Treasures from the Farm," featuring items borrowed from more than 20 major horse farms in the area, as part of the celebration.

Among the items in the exhibit are contributions from KGS: a poster and map created by cartographer Terry Hounshell and a polished sample of the Grier Member of the Lexington Limestone retrieved by Richard Smath and Patrick Gooding. "The purpose of the poster is to show why this area is considered prime horse farm country, because of the limestone with its minerals that make good strong race horses," says Hounshell. "The Lexington Limestone and its various members are rich in minerals, especially phosphates. They erode into the soil, especially the phosphorous." The minerals in the soil are consumed by Thoroughbreds that graze on the Bluegrass Region's famous horse farms. Hounshell's poster includes a geologic map of Kentucky as well as a larger hillshaded map of Bluegrass-area geology, highlighting the Lexington Limestone.
Museum Board President Martine Head came up with the idea for the exhibit, and she wanted to be able to explain to visitors during the Breeders' Cup why Thoroughbred farms are so successful in the region. She contacted KGS Geologic Mapping Section Head William Andrews about creating a map or poster for the exhibit.
"Any time you're raising awareness of the many impacts of geology on our life, history, culture, and economy, it helps the geologic profession and helps raise the visibility of the science," Andrews said. "In Kentucky, we have this beautiful landscape, and to be able to say to visitors that there are broader impacts beyond just the visible ... that it has a real, lasting impact on our life and on our economy, that's an important message."
The Headley-Whitney Museum, created in 1968 by jewelry designer George Headley and his wife Barbara Whitney, is located on Old Frankfort Pike west of downtown Lexington. The exhibit went on display in September and will be at the museum until November 8.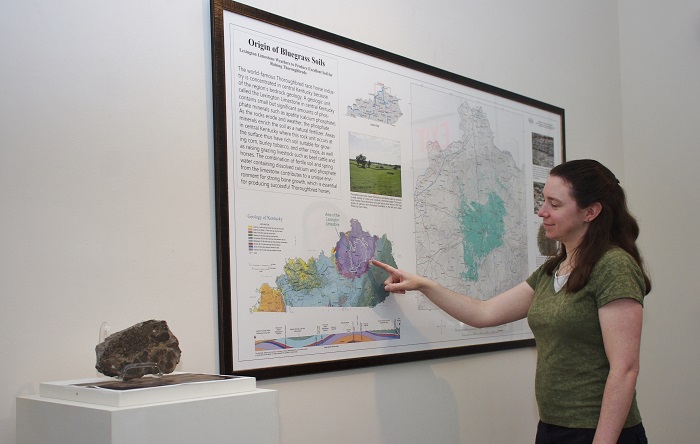 Headley-Whitney Museum director and curator Amy Greene points out details on the poster created by Terry Hounshell of KGS.
A polished sample of the Grier Member of the Lexington Limestone, rich in phosphates, is part of the display.