KGS Home
>
News and Announcements
Carter County deep storage research to begin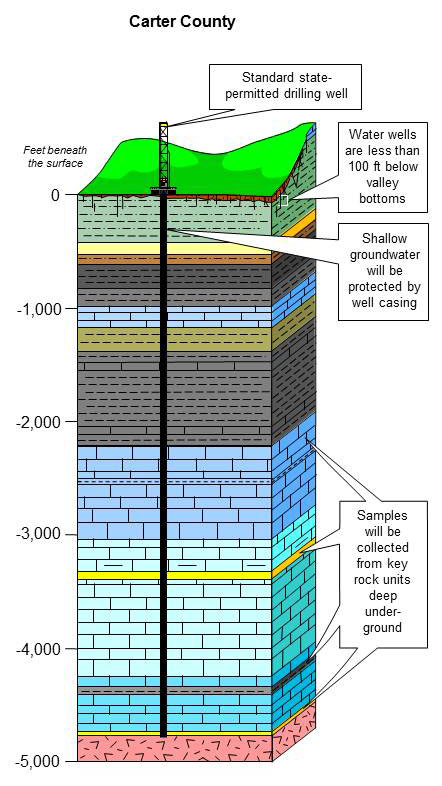 Work is expected to begin the week of March 18 on a 4,800-foot-deep research well in Carter County of eastern Kentucky. This project is part of the carbon dioxide (CO2) storage research mandated by a 2007 special session of the Kentucky General Assembly. Hanson Aggregates has provided KGS with access to property at its AA Limestone quarry in northern Carter County for the project. Hanson Aggregates is a subsidiary of Lehigh Hanson, Inc., which is part of the HeidelbergCement Group, one of the largest building materials manufacturers worldwide.
This well will be a stratigraphic-test well designed to collect geologic information about the nature of the deep subsurface formations in northeastern Kentucky, without actual CO2 injection. KGS will obtain rock cores, geophysical well logs, water samples, and test properties of several deep formations penetrated in the well, including the Ordovician Knox Group and Rose Run Sandstone, and the Cambrian Mount Simon Sandstone. The depth of these zones ranges from 3,000 to 4,700 ft. below the surface. The research will help KGS and the state to learn reservoir rock properties of the region and gather data needed to evaluate any potential for future CO2 storage along the Ohio River industrial corridor.
KGS has contracts with four companies for work on the project. Sandia Technologies, of Houston, TX, will manage the project; Crossrock Drilling, in Pikeville, KY, will construct the well site, drill the well and reclaim the site after project completion; coring services will be provided by CorPro, of Pittsburgh, PA; and well logs will be taken by Schlumberger, of Houston.
The Energy Independence and Incentives Act of 2007 called for research into deep storage of CO2 in both the Eastern and Western Kentucky Coal Fields.  KGS conducted a similar project in 2009-10 in Hancock County of western Kentucky.
The stratigraphic test well will pose no danger to people or property in the vicinity of the well site. After the research project in Carter County is completed, the well will be permanently plugged in accordance with state regulations. There are no plans for commercial CO2 storage in Carter County or surrounding counties.