KGS Home > News and Announcements
Western Kentucky Deep Well Tests CO2 Sequestration
LEXINGTON, Ky. (Aug. 24, 2009) − The Kentucky Geological Survey and its industry partners has successfully completed the injection of carbon dioxide (CO2) into an 8,126-foot deep well at a test site in Hancock County, Kentucky. A total of 323 tons of CO2 were injected into the well on August 19th and 20th in a project which has proceeded smoothly and without incident since drilling began in April of this year.
The purpose of this project was to test the technical feasibility of sequestering carbon dioxide in deep underground rock formations in western Kentucky. The ability of these deep rock formations to accept and permanently store CO2 is an essential element of carbon capture and storage (CCS), a set of new technologies being developed to significantly reduce the emission of CO2 into the atmosphere from coal-burning electricity generation plants. This project was mandated by House Bill 1 in the 2007 special session of the Kentucky General Assembly.
State Geologist and KGS Director James Cobb said that by injecting CO2 into the Knox formation, this project investigated a previously untested formation which is present throughout much of the Midwest. Injection testing showed that the formation will readily accept injected carbon dioxide.
CO2 injection came after KGS and industry scientists and engineers used water injection testing to confirm that the Knox Formation, at depths between 3,800 feet and 7,400 feet, would sequester the injected CO2, Cobb said.
Overlying impermeable rock formations and natural pressure will hold the brine and the CO2 permanently in place, Cobb added. The CO2 will pose no threat to the surface or the water table. Monitoring of the injected materials will continue for up to three years.
Dianna Tickner, chairman of the Western Kentucky Carbon Storage Foundation, said, "We are pleased that early results from the injection tests suggest good potential for safely storing substantial volumes of CO2 deep underground in Kentucky's substantial Knox dolomite formations." The non-profit Western Kentucky Carbon Storage Foundation was created by Peabody Energy, ConocoPhillips, E.ON U.S. and the Tennessee Valley Authority to provide significant funding and technical assistance to the project.
Funding for the project has been provided through a $1.5 million allocation from a grant by the Kentucky General Assembly in 2007, as well as a total of $6.5 million in grants from the Western Kentucky Carbon Storage Foundation, Illinois Office of Coal Development and Marketing, and the U.S. Department of Energy's National Energy Technology Laboratory.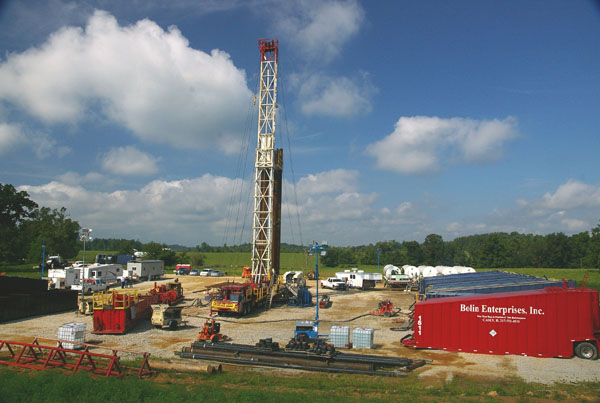 A workover rig stands over the test well in Hancock County
where carbon dioxide was injected August 19th and 20th.