KGS Home > News and Announcements
KGS Recognizes Partners in Successful Carbon Storage Well Test
The Kentucky Geological Survey and several partners have successfully drilled a deep well in Hancock County, Kentucky, and tested the capacity of the deep geological formations to permanently store carbon dioxide gas.
To commemorate the success of the project, KGS Director Jim Cobb recognized state government, University of Kentucky, and private partners in the venture. He provided plaques, including a sample of Precambrian rock brought up from a depth of over 8,000 feet in the well, to several people important to the project.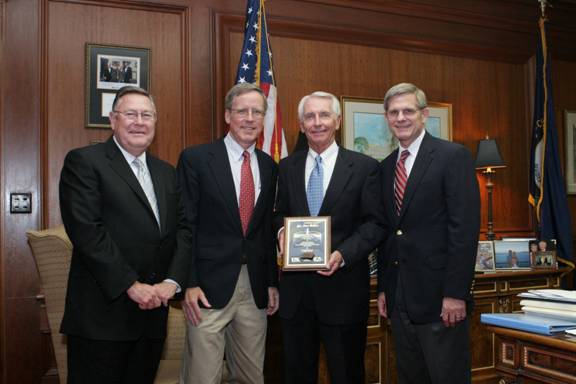 Kentucky Governor Steve Beshear accepts a plaque on behalf of the Survey and its partners
in the deep well test. Also pictured are Energy and Environment Secretary Len Peters,
KGS Energy and Minerals Section Head Dave Harris and KGS Director Jim Cobb.
(Photo Courtesy David Bryan, Kentucky Office of Creative Services)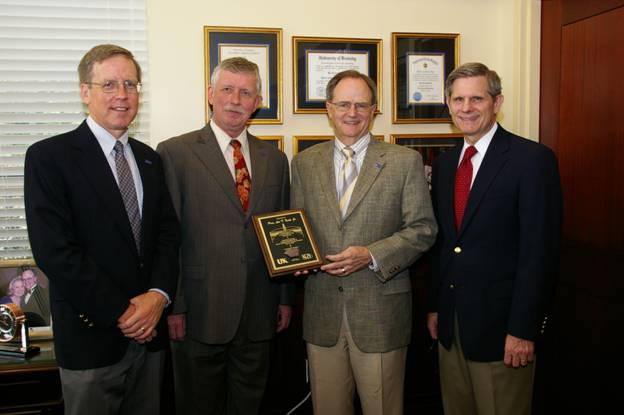 University of Kentucky President Lee Todd accepts a copy of the plaque with the Precambrian rock sample.
KGS is a research entity of the university. Second from left is Jim Tracy,
the university's vice president for research.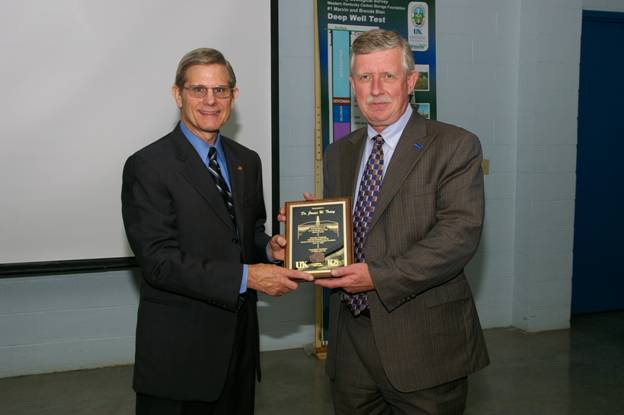 UK Vice President for Research Jim Tracy received a plaque commemorating
the deep carbon storage test at a recent meeting of the KGS Advisory Board.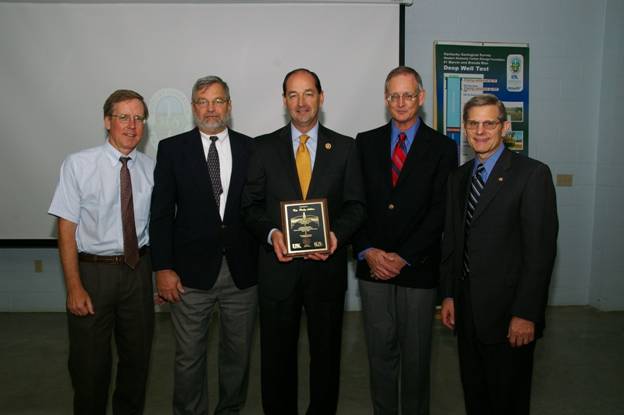 State Representative Rocky Adkins, of Elliott County (center) was among the major sponsors of
the 2007 legislation mandating the carbon storage research and providing state funding.
Also in the photo are Energy and Minerals Section Head Dave Harris, KGS Western Kentucky Office
Manager Dave Williams and Rick Bowersox, co-principal investigators on the project, and KGS Director Jim Cobb.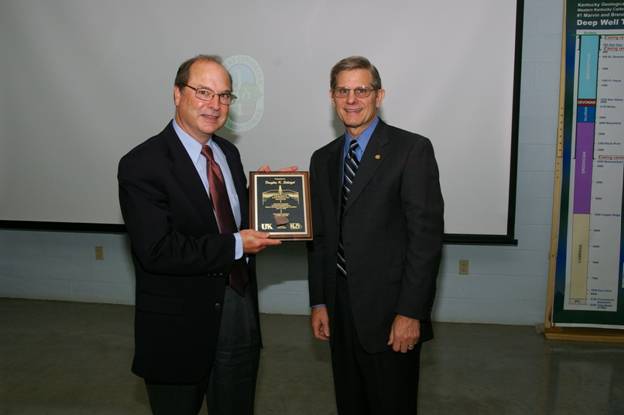 Doug Schetzel of E.ON U.S. received a plaque at the September 25 meeting of the KGS Advisory Board.
E.ON U.S., Peabody Energy, and ConocoPhillips created the non-profit Western Kentucky Carbon Storage
Foundation in 2008 and provided the majority of the funding along with other assistance
for the research well. In addition, the Tennessee Valley Authority, the Illinois Office of Coal Development and
Marketing, and the U.S. Department of Energy's National Energy Technology Laboratory provided funding.