KGS Home > News and Announcements
New Kentucky coal resource map and information Web site now available
Follow the link to explore the new map: http://kgs.uky.edu/kgsmap/kcrim/
The Kentucky Geological Survey at the University of Kentucky has developed a new interactive Web site for disseminating information about Kentucky's coal resources, and the site is now accessible to the public. The project to create the site was developed with a Coal Education grant from the Kentucky Department for Energy Development and Independence in the state Energy and Environment Cabinet.
With recent declines in Kentucky coal production and employment, and much public discussion about the sustainability of coal mining, DEDI sought an unbiased source of data about the current state of this important natural resource. KGS has long been a leader in coal resource analysis and regularly revises estimates of remaining coal for future development.
The Kentucky Coal Resource Information site, located here, was designed for a wide audience, ranging from community leaders and state policy makers interested in the future of coal to academic and industry experts needing site-specific information about coal beds. Assessments of remaining coal resources conducted in 2012 for 16 of Kentucky's most prolific coals are included in the Web site. These beds represent about 75% of the total Kentucky resource. Remaining coals of lesser importance may be added in the future as time permits.
A map of each coal bed can be viewed to visualize the geographic distribution of remaining resources for each of the beds. The maps show the general thickness characteristics of unmined coal and how accessible the areas are to near-surface development. Original and Remaining resource tonnages are available by county and presented in tabular and graphical format. For local officials, a "county" view is provided that quickly summarizes all coal resources for a selected county.
An introductory section and tutorial are included, to help first-time users navigate the available search options. The site also lists the source data used in the assessment of the coal beds, including borehole records, coal thickness measurements, and coal quality data. Selected data can be downloaded from the Web site at no charge. Mine-specific information can be accessed from minemaps.ky.gov using hyperlink tools built into the map. Additional information includes historical coal production graphs, coal publications, and links to related Web sites.
According to these estimates, Kentucky has more than 30 billion tons of remaining resources thick enough to be mined with current technology. How much of this resource can be profitably mined and marketed remains an open question. This Web site illustrates the geographic distribution of the remaining coal, its proximity to active mines, and distinct differences between the eastern and western Kentucky coal field deposits.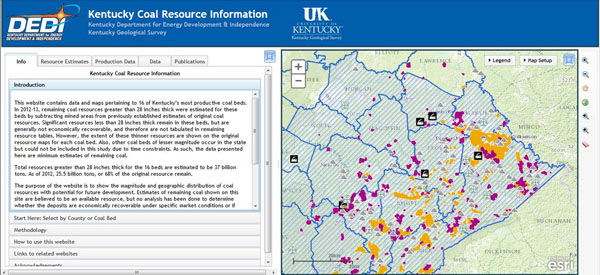 Click the image to explore the new map: http://kgs.uky.edu/kgsmap/kcrim/