KGS Home
>
News and Announcements
Jim Cobb, 12th state geologist of Kentucky, retires from UK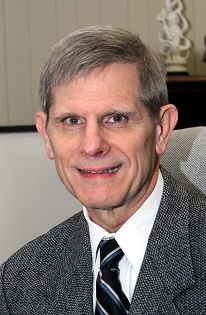 On July 8, Jim Cobb retired as director of the Kentucky Geological Survey and state geologist after 34 years of service at UK. Jim was the 12th state geologist since KGS was established in 1854 and the fourth to serve since the Survey was transferred to UK in 1948. He was state geologist since 1999.
With a research background in coal geology at the University of Illinois, Dr. Cobb first directed the coal research programs at KGS, oversaw the completion of the state's comprehensive coal resource assessment in 1983, and was instrumental in establishing the national Coal Availability Program for characterizing restrictions to mining. He served on the National Resource Council's Committee on Coal Research, Technology, and Resource Assessments to Inform Energy Policy, which published its findings in 2007.
Although Jim's predecessor and mentor, Don Haney, cemented the KGS future by creating a centralized database of Kentucky geoscience information, including the Kentucky Groundwater Data Repository and the Kentucky Oil and Gas Well Repository, Jim established KGS as a worldwide leader in data dissemination by executing his vision of distributing these data over the World Wide Web. These online services support hundreds of users every day for resource characterization and development and environmental oversight.
One of the rich legacies of the Cobb survey was the digitization of Kentucky's geologic maps to create one of the world's premier online geologic map services. This seamless geologic map is used by geologists and engineers daily to investigate the geologic context of sites in Kentucky and to access resource and environmental data from the KGS databases.
During his tenure, the Survey upgraded and expanded one of the few state-run seismic monitoring networks in the nation. Together with Zhenming Wang, Dr. Cobb led a dispute over the scientific underpinnings for the methodology used to create the national seismic hazard map that assigns a higher hazard to western Kentucky than to Southern California. He was also instrumental in developing a long-term scientific exchange program with several institutes under the China Earthquake Administration, now in its ninth year.
Dr. Cobb also has been a role model for service to the geologic profession. He has been a leader in the Association of American State Geologists, serving successive terms in each of its officer positions. He has been an active member and officer in both Kentucky geologic societies, as well as GSA and AAPG. He served on the Board of Registration for Professional Geologists and is a tireless advocate for strengthening the geologic profession in Kentucky.
Possibly his most important legacy was encouraging a culture of quality research and public service to the Commonwealth of Kentucky at the Kentucky Survey. The Survey produced more than 400 publications and maps during his tenure. Under his leadership, Kentuckians came to rely on and take pride in timely access to geologic data and knowledge.
Jerry Weisenfluh will be serving as interim director while a search for the 13th state geologist is undertaken.