KGS Home > News and Announcements
Geologic Map of Corbin Region Published by KGS
Lexington, Ky. (April 8, 2011) Another in a series of 30 x 60 minute geologic quadrangle maps of Kentucky has been published by the Kentucky Geological Survey at the University of Kentucky. Each of these maps is the result of detailed compilation of 7.5-minute geologic quadrangle maps, converted from their original paper versions to digital files by KGS staff. Kentucky is geologically mapped at a scale of 1:24,000, by a total of 707 of these 7.5-minute geologic quadrangle maps.
The new publication, Geologic Map of the Corbin 30 x 60 Minute Quadrangle, South-Central Kentucky, includes parts of Knox, Laurel, McCreary, Pulaski, Russell, Wayne, and Whitley Counties. It was created by KGS staff members Tom Sparks, Warren Anderson, and Xin-Yue Yang, with cartography by Terry Hounshell.
The large map (scaled to 1:100,000) measures 32 x 65 inches and depicts the major mapped geologic formations of the region, as well as the county boundaries, cities and major roads. The publication includes descriptions of the geologic formations and a summary of the geologic resources of the region, including limestone, coal, oil, gas, and clay. A section on engineering geology points out potential problems for development in the region. For instance, landslides and slumps are common in parts of the mapped area, and on-site engineering studies are recommended before road excavation or foundation construction begins. Karst features and caves pose a challenge for construction and should also be carefully investigated beforehand. The availability and quality of groundwater in the region is also summarized.
To view the 30 x 60 minute geologic maps online, go to the KGS Publications & Map catalog at http://kgs.uky.edu/kgsweb/findpubsmain.asp. Enter the publication number (17495) in the "Publication Number or Sku Code" box, and select "exact publication id" from the pull down menu. Clicking on the "Search" button opens a new page with a link to the map.
Paper copies of the maps are available from the KGS Public Information Center on the UK campus for $10 each plus shipping and may be ordered by calling (859) 257-3896 or toll free at (877) 778-7827.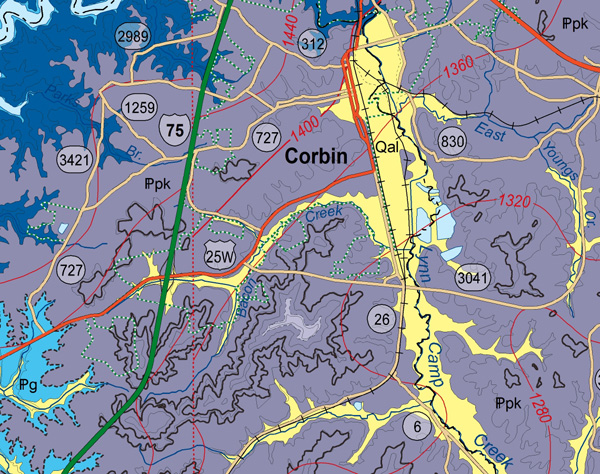 A detailed section of the Map of the Corbin 30 x 60 Minute Quadrangle, South-Central Kentucky