KGS Home > News and Announcements
Cumberland Gap Historical Park Map Published by KGS
Lexington, Ky. (July 21, 2011) A new publication, Geology of Cumberland Gap National Historical Park, has been released by the Kentucky Geological Survey at the University of Kentucky. Intended for a general audience, the publication includes information not only on the geology of the park region, but also its history and other interesting features in the vicinity.
The 42-inch by 30-inch map can be downloaded from the KGS Web site or purchased in paper format from the Survey's Publications Center. It was created by Matt Crawford, of the KGS Geological Hazards Section and Hannah Hunsberger a GIS specialist at Cumberland Gap. Terry Hounshell of KGS did the cartographic work on the final product.
The 24,000 acre park occupies a narrow strip of land in southeastern Kentucky and adjoining areas of Tennessee and Virginia. It is currently the largest of the nation's historical parks. The KGS publication shows two maps of the region, one depicting the geology and one showing the related landscape. The maps are surrounded by text, photos and graphics providing information on the park and the region.
In addition to providing information on the geology, the text discusses other topics including landslide hazards, cave and karst features, historic, and cultural information. Readers can learn about the Cumberland Gap Tunnel, a four-lane highway bored through Cumberland Mountain, as well as the nearby Middlesboro impact structure, left by an ancient meteoroid impact.
Crawford also collaborated in 2008 with staff at Mammoth Cave National Park to produce a similar publication focusing on that park's geology, landscape, and other features.
To find the new publication, go to the KGS publications Web search site, http://kgs.uky.edu/kgsweb/findpubsmain.asp. Enter the publication number, 17510, in the "Enter Publication Number or SKUCode box, and click "Search." Clicking on the name of the publication in the page that comes up will bring up download and ordering links. Paper copies of the map are available from the KGS Public Information Center on the UK campus for $10 each plus shipping and may be ordered by calling (859) 257-3896 or toll free at (877) 778-7827.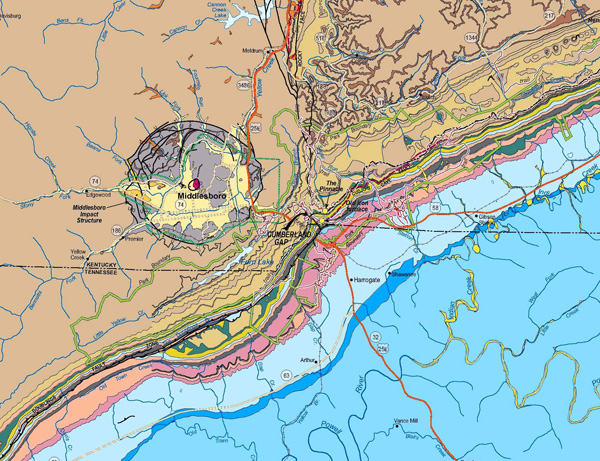 Detail of the geologic map included on Geology of the Cumberland Gap National Historical Park