KGS Home
>
News and Announcements
William Andrews named KY-AIPG Geologist of the Year
KGS Geologic Mapping Section Head William Andrews was named Geologist of the Year by the Kentucky Section of the American Institute of Professional Geologists. The recognition was given at the KGS annual seminar on Friday, May 17, 2013.
Andrews was cited for his outreach to professional geologists in the state by setting up refresher courses for those who were scheduled to take the ASBOG exam. The Kentucky Section also cited his overall professionalism and contributions to the geologic practice.
Andrews earned bachelor's and master's degrees as well as his Ph.D. from the University of Kentucky.  As head of the geologic mapping section, he manages the programs and activities of the mapping staff and oversees Quaternary mapping and geomorphology projects for USGS STATEMAP grant in Kentucky.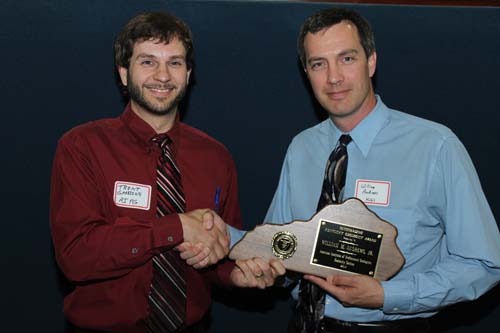 KY-AIPG President Trent Garrison presents William Andrews
with the Geologist of the Year Award on May 17.