KGS Home
>
News and Announcements
Fifth highway geology publication available from KGS for free download
The fifth in a series of new publications focusing on the geology along major highways and parkways of Kentucky has been released by the Kentucky Geological Survey at the University of Kentucky. Geology Along the Louie B. Nunn and Hal Rogers Parkway and Ky. 80 (Special publication 15 Series XII, 2012) breaks the roadway into 16 segments along the route from Warren County in west-central Kentucky to Floyd County in the east.
The 23-page publication includes an introduction, a page for each segment, and maps, photos, graphics, and text to describe the landscape and geology of each mapped segment. The publication is intended to help anyone traveling the roadways to understand and appreciate the geology visible from the pavement.
Differing landforms along the roadways indicate that differing types of rock can be found beneath. The three roads mapped on this publication stretch from the Pennyroyal Region's upland with its underlying limestone, sinkholes and caves, east into the more rugged Eastern Pennyroyal, through the valleys and ridges of the Cumberland Escarpment, and end in the Eastern Kentucky Coal Field.
'"Road cuts along the Louie B. Nunn Parkway provide an introduction to the 340-million year old Mississippian geology of Kentucky's karst region, which covers nearly half the state, and the Hal Rogers Parkway and Ky. 80 cut through the 300-million year old Pennsylvanian geology of the Eastern Kentucky Coal Field. These rocks, formed as life on earth began its journey from the sea, are representative of large areas of Kentucky," says a co-author of the publication, Dan Carey.
The publication highlights the variety of geologic formations visible at roadcuts along the route as well as scenic points of interest, including lakes and state parks.
The other authors of the publication are retired geologist M.C. Noger and former State Geologist Don Haney. This series of highway maps was created from notes about the geology of Kentucky highways, especially at road cuts, gathered two decades ago by Noger and Haney.
To view and download a free digital copy of Geology along the Louie B. Nunn and Hal Rogers Parkway and Ky. 80, or any of the previous four publications in the series, go to this page at the KGS Web site. The publication was created in a 13 x 17 inch format, but Carey says they were also designed for printing in standard 8.5 x 11 inch page size.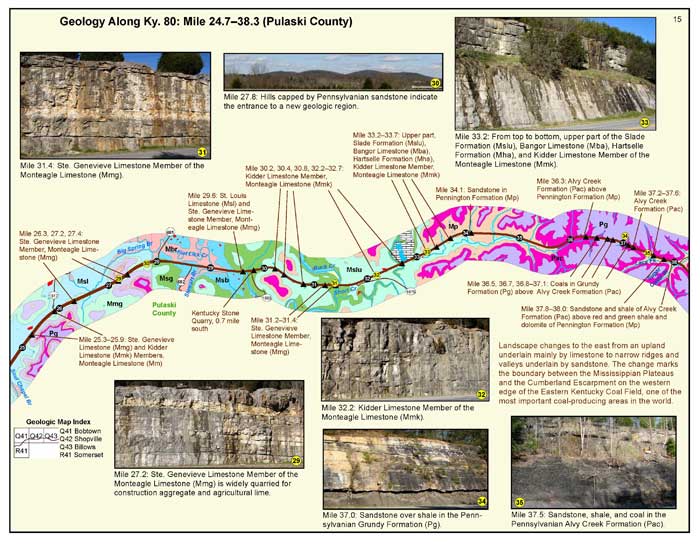 A sample page from Geology Along the Louie B. Nunn and Hal Rogers Parkway and Ky. 8.