KGS Home
>
News and Announcements
In recognition of "National Protect Your Groundwater Day"
Sponsored by the National Groundwater Association
http://www.ngwa.org/Events-Education/groundwater-day/Pages/default.aspx

The Kentucky Geological Survey (KGS) will sponsor a field trip to see firsthand the karst groundwater basin work currently being conducted in the Cane Run Watershed of Fayette and Scott Counties. We will meet at the Survey's Well Sample and Core Library on Iron Works Pike at 10:00 a.m. to see a short presentation on the Cane Run project. We will then board vehicles and travel to Georgetown to see Royal Spring, the city's principal aquifer. Following that, we will proceed to the Kentucky Horse Park to view the KGS karst monitoring station installed in an underground limestone conduit that feeds groundwater directly to Royal Spring. A down-hole well camera will be demonstrated, weather permitting.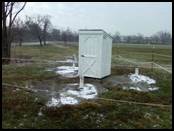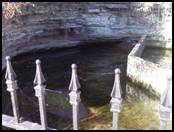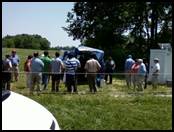 Date: September 11, 2012
Time: 10:00 a.m. E.S.T.
Place: Convene at Kentucky Geological Survey's Well Sample and Core Library, 2500 Research Park
Drive, Lexington, KY 40511 (phone: 859.389.8810)
Duration: approximately 2.5 hours
Please Note: Space is limited to the first 25 people that contact us to attend.
PLEASE RSVP BY FRIDAY, SEPTEMBER 7, TO:
Bart Davidson
KGS Water Resources Section
Phone: 859.323.0524
Email: bdavidson@uky.edu