KGS Home > News and Announcements
Rep. Hal Rogers Recognized by National Geologists' Group
Lexington, Ky. (March 22, 2011)—Fifth District Congressman Hal Rogers was presented with the 2011 Pick and Gavel Award by the Association of American State Geologists at its annual banquet in Washington D.C., on March 15. The award was presented to Rep. Rogers by AASG President and Kentucky State Geologist Jim Cobb.
The Pick and Gavel Award is presented annually to a member of Congress or federal official who contributes to public policy in the mineral resources and earth science arena. Rogers is the dean of the Kentucky congressional delegation, currently serving in his 16th term in Congress. He was recently appointed chair of the House Appropriations Committee and was formerly chair and ranking member of the Homeland Security Appropriations Subcommittee.
Congressman Rogers' district incorporates much of eastern and part of southern Kentucky. The Fifth District is a large coal, natural gas, oil, stone, and timber producer. In 2010 the Fifth District produced 75 million tons of coal, 1.2 million barrels of oil, and 137 billion cubic feet of gas. The Fifth District by itself is the third largest producer of coal in the eastern U.S., supplying a large amount of the electrical power needs for the eastern and southeastern U.S.
Congressman Rogers has been a supporter of the National Geologic Mapping Act that provides for the identification and mapping of geology and resources.
AASG members include the state geologists of the 50 states and Puerto Rico. Founded in 1908, AASG produces fact sheets on geology-related public issues and interacts with federal agencies, NGOs and Congress on geologic topics. These topics include energy, environment, water, mapping, and geologic hazards. AASG members work to promote the science and practical application of geology and related earth sciences in the U. S. and its territories, commonwealths, and possessions.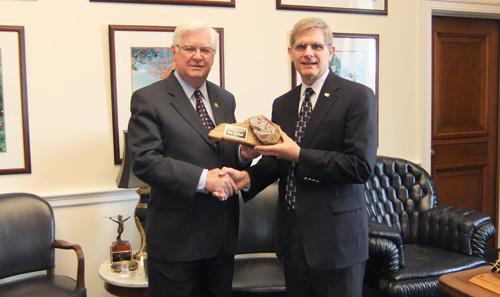 Rep. Hal Rogers, R-Ky., receives the Association of American State Geologists Pick
and Gavel Award from Kentucky State Geologist and AASG President Jim Cobb.