KGS Home
>
News and Announcements
New highway geology publication available from KGS for free download
Lexington, Ky. (March 2, 2012) - The fourth in a series of new publications about the geology visible along major highways and parkways of Kentucky has been released by the Kentucky Geological Survey at the University of Kentucky. Geology Along the Bert T. Combs Mountain Parkway, U.S. 460, Ky. 114, and U.S. 23 (Special publication 14 Series XII, 2012) breaks the roadway into 8 segments along the 118-mile route from Clark County in central Kentucky to Pike County in the eastern part of the state.
The publication includes maps of each segment, with photos, graphics, and text to describe the landscape and geology of the area. Differing landforms along the roadways indicate that they are underlain by differing types of rock.
"Road cuts along the highways between the western end of the Bert T. Combs Mountain Parkway and U.S. 23 at Pikeville illustrate 200 million years of geologic history, with rocks that were formed before and during the exodus of life from the sea," says a co-author of the publication, Dan Carey. "The route passes through six physiographic regions, and the publication illustrates and discusses the geology and landscapes seen by travelers along the way."
The publication also highlights the geologic resources, such as natural gas from the New Albany Shale and the variety of coals along the route in eastern Kentucky. Some manmade features of interest, such as the Pikeville Cut-Through, which diverts the Levisa Fork River to reduce flooding, are also discussed.
The other authors of the publication are retired geologist M.C. Noger and former State Geologist Don Haney. This series of highway maps was created from notes about the geology of Kentucky highways, especially at road cuts, gathered two decades ago by Noger and Haney.
To view and download a copy of Geology Along the Bert T. Combs Mountain Parkway, U.S. 460, Ky. 114, and U.S. 23, go to http://kgs.uky.edu/kgsweb/olops/pub/kgs/SP14_12.pdf at the KGS Web site. The publication was created in a 13 x 17 inch format, but Carey says they were also designed for printing in standard 8.5 x 11 inch page size.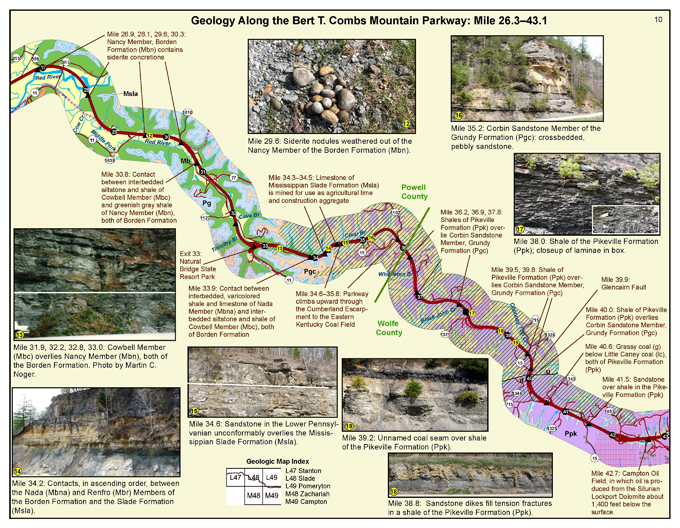 A sample page from the new Geology Along the Bert T. Combs Mountain Parkway, U.S. 460, Ky. 114, and U.S. 23