KGS Home
>
News and Announcements
Enhanced Gas Recovery Project Starting Up in Eastern Kentucky
The University of Kentucky Research Foundation and the Kentucky Geological Survey (KGS) will soon begin a test of an experimental technology that may enhance natural gas production from existing wells and help to store carbon dioxide (CO2) in eastern Kentucky geologic formations. CO2 will be used to stimulate an existing natural gas well drilled into the Devonian Ohio shales in Johnson County, Kentucky. Several surrounding wells will be monitored to determine whether the injected CO2 increases gas production, which is the main focus of the project. In Eastern Kentucky, shale gas wells are currently stimulated with nitrogen, but experiments have shown that CO2 stimulation could result in greater gas production.
A pressure transient test will be performed by pumping up to 300 tons of carbon dioxide into the Devonian shale in several stages. In a pressure transient test, reservoir pressure is allowed to build during pumping and then fall off during a closed period to reveal information on the behavior of the reservoir and produced gases. The test will be conducted at low pressures to prevent the formation of new fractures. At the end of the test, the injected CO2 will be allowed to flow back out through the test well to measure the difference between the amount injected and the amount recovered. That will determine the amount of CO2 that displaced natural gas in the shale formation.
Testing with CO2 at the Johnson County site - at depths between 1,200 and 1,700 feet - is expected to take about six weeks. A test of the carbon dioxide storage capacity of a much deeper geologic formation in western Kentucky was successfully conducted by KGS in Hancock County in 2009 - 10.
The project complements Governor Beshear's 2008 7-point strategy for energy independence by addressing the strategic plan to capture and store carbon emissions as a way to address greenhouse gases produced by coal-powered generating plants.
The Johnson County project is funded with a grant provided to the Kentucky Geological Survey through the Incentives for Energy Development and Independence Act, approved by the Kentucky General Assembly in 2007. The research is also supported by Advanced Resources International and Crossrock Drilling, LLC of Pikeville, Kentucky. Crossrock is allowing access to the test well and serving as the contractor for drilling rig services. Advanced Resources International is providing petroleum engineering, reservoir modeling and simulation, and the funding for advanced well logging services.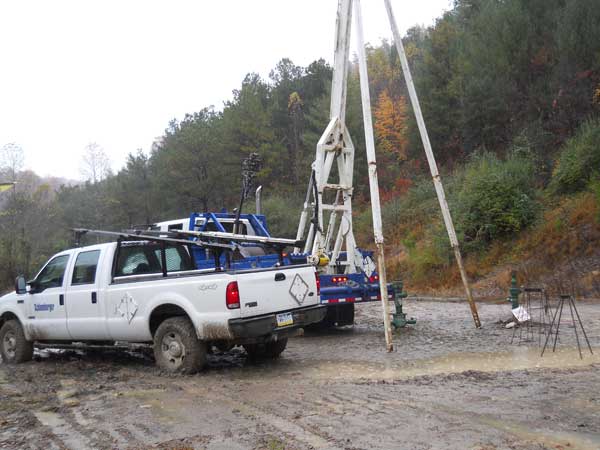 The research well site in Johnson County undergoes preparation in advance of project startup.