KGS Home
>
News and Announcements
New version of Mammoth Cave map released by KGS
Lexington, Ky. (May 22, 2013) A 2008 KGS publication about Mammoth Cave National Park has been updated and will go on sale at the park's gift shop. Matt Crawford, of the KGS Geologic Hazards Section, created the Geology of Mammoth Cave National Park, Kentucky (Map and Chart 186, series 2012), with the help of several Mammoth Cave Park staff.
"I had the idea of making the map available in the Mammoth Cave gift shop, so it would be more accessible to the public," Crawford says. "My co-authors agreed, and we decided that some updates to the map were needed before we did this."
The size was reduced to 42 x 28 inches, to make it smaller and easier to handle, the text and figures were updated, and the geology re-classified. One of the new figures is a fault map showing the park area in a structural geologic context. The publication includes maps, diagrams, photos and text to illustrate issues including karst and sinkholes, water quality protection, cave formation and the interaction of plant and animal life with the region's geology.
"We felt that the public really embraces geology when visiting the park, and we wanted to provide them something that's visually appealing, easy to understand, and answers their questions," Crawford adds. The park has initially ordered 40 copies to be sold in the gift shop.
The updated publication is available from KGS as a free download from this site: http://kgs.uky.edu/kgsweb/olops/pub/kgs/mcs186_12.pdf. Paper copies of the map are available from the KGS Public Information Center on the UK campus for $10 each plus shipping. They may be ordered by calling (859) 257-3896 or toll free at (877) 778-7827. Ask for publication 17233.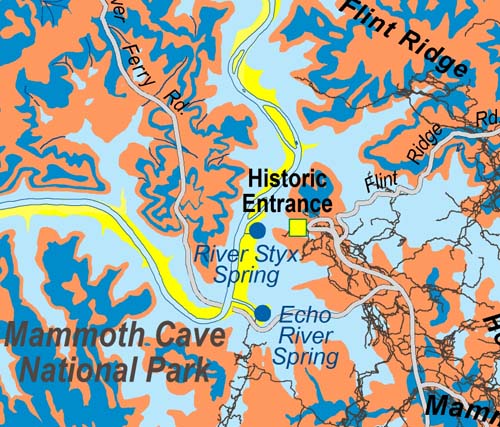 Detail of a section of one of the maps on Geology of Mammoth Cave National Park, Kentucky.