KGS Home > News and Announcements
Five New Geologic Maps Released by KGS
Lexington, KY. (October 21, 2010) - Five more in a series of geologic maps of the 30 x 60 minute quadrangles of Kentucky have recently been published by the Kentucky Geological Survey at the University of Kentucky. KGS has now published 23 of these large 1:100,000 scale geologic maps and three more remain to be published. The maps are assembled from smaller 7.5-minute geologic quadrangle maps, converted from their original paper versions to digital files known as digitally vectorized geologic quadrangle (DVGQ) maps.
The newly-published maps include the Campbellsville, Tompkinsville, and Elizabethtown quadrangles, as well as the Kentucky parts of the Huntington quadrangle and the Maysville/Ironton quadrangle. They depict the major mapped geologic formations, as well as counties, cities and major roads of the mapped areas. In addition, each publication includes text on economic geology, water resources, geologic hazards, and other features. This information makes the maps useful for community planners, energy industries and others interested in the geologic resources of the mapped areas.
The Elizabethtown map's text, for instance, notes that limestone, oil, gas, sand, and gravel are among the resources found in the geologic formations in the mapped area. It includes production figures and information about the history of resource production in the region.
The engineering geology text on the Campbellsville map cautions that steep slopes should be avoided in any development on shales in the northeastern part of the mapped area. The shales are unstable and provide a poor formation for roads and buildings.
A number of current and former members of the KGS staff created the maps, and Terry Hounshell of KGS did the cartographic work for the final versions.
The digital vector files used to create these maps are also available from KGS on CD-ROM for $10 per individual DVGQ and can be used in geographic information systems (GIS) and other computer software. The digital data sets allow GIS users to combine the geologic map data with other data for multiple purposes, including geologic hazard mitigation and assessment of energy and mineral resources. The digital data sets can also be used to create custom maps; they are very useful for land-use development and planning.
To view the 30 x 60 minute geologic maps online, go to the KGS Publications & Map search page at http://kgs.uky.edu/kgsweb/PubsSearching/PubsSimpleSearch.asp. Enter the name of the map in the box next to the "Keyword" box, and then click the "Submit Search for Publications" bar.
Paper copies of the maps are available from the KGS Public Information Center on the UK campus for $10 each plus shipping and may be ordered by calling (859) 257-3896 or toll free at (877) 778-7827.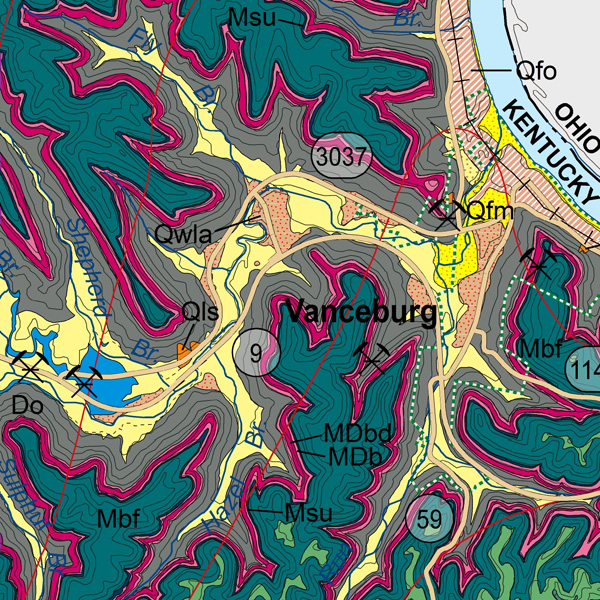 A detailed section of the newly-published map of the Kentucky part of the Maysville / Ironton quadrangle.