KGS Home > News and Announcements
Map of Geologic Hazards Published by Kentucky Geological Survey
Damages from geologic hazards in Kentucky don't make the headlines often, unless an earthquake like the 5.2-magnitude event on April 18 strikes the region or a sinkhole swallows a section of street and threatens vehicle and structures. Yet, even without catastrophic events, a variety of geologic hazards typically do millions of dollars worth of damage in Kentucky each year.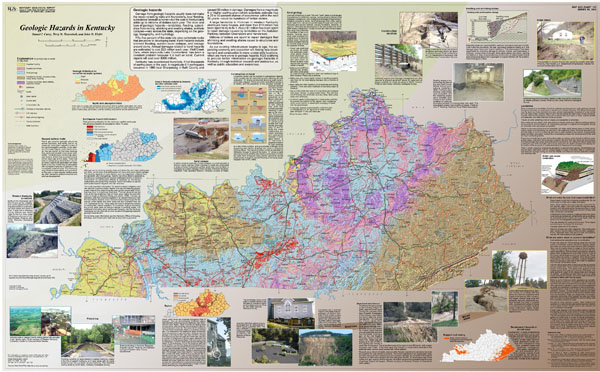 The Kentucky Geological Survey at the University of Kentucky has published a new illustrated map, Geologic Hazards in Kentucky, to help educators, community leaders, and the general public become aware of these hazards and what can be done to reduce their effects. The hazards depicted on the map include karst, landslides and slope failure, mine subsidence, flooding, earthquakes, swelling shales, and radon gas.
A map of the state in the center of the publication depicts areas of Kentucky where the hazards are more likely to exist. Sections of text, photos, and graphics arranged around the map discuss each of the hazards and their causes. For instance, the section on karst notes that 55% of Kentucky sits above rocks prone to developing karst, with hazards such as sinkholes and flooding. The estimated damages from karst-related hazards in Kentucky, it adds, amount to $23 million a year.
"We hope this publication will give people and their community leaders a better idea of the geologic hazards in Kentucky and help them to plan and build with these hazards in mind," says Dan Carey, the chief author of the map, which includes advice on how to prevent damages resulting from the hazards.
KGS cartographer Terry Hounshell, who co-authored the publication, notes the variety of hazards around the state. "People are likely to consider their neighborhoods and work places safe from such hazards because they live, play, and work there all the time, usually without problems," he says. "But once you display all of these hazards on a map, you realize that plenty of locations all around the state have the potential for damage from one or more of them."
"During my KGS career, I've been asked to visit a large number of locations where landslides, sinkholes, subsidence and other hazards have wrecked homes and streets," says co-author and Assistant State Geologist John Kiefer. "The homeowners and local officials I've encountered on these trips realize from their experience just how serious these hazards can be."
To view and download this publication on-line, Click Here.
Copies of the map are available from the KGS Public Information Center on the UK campus for $10 each plus shipping and may be ordered by calling (859) 257-3896 or toll free at (877) 778-7827.