KGS Home > News and Announcements
Another highway geology publication available from KGS
Lexington, Ky. (January 31, 2012) The third in a series of free publications about the geology along major highways and parkways in Kentucky has been released by the Kentucky Geological Survey at the University of Kentucky. Geology Along the Wendell H. Ford Western Kentucky Parkway (Special Publication 13, Series XII, 2012) is intended to help ordinary people understand the rock formations and terrain visible along this 137-mile parkway between Lyon and Hardin Counties.
The newest publication, available for download from the KGS Web site, breaks the parkway into ten segments and describes the geology along the road using maps, text, graphics, and photos.
"The sedimentary rocks seen in road cuts along the parkway provide a view into Kentucky's geologic past. The sandstones, siltstones, limestones, shales, and coals along the road were formed when Kentucky lay above and below shallow seas near the equator 300-million years ago," says the chief author of the map, Dan Carey of KGS. "The 16-page publication provides a colorful, annotated strip map of the parkway that illustrates the rock units, the associated landscape, and energy resources, and describes the geologic history of the region." The other authors are retired geologist M.C. Noger, former State Geologist Don Haney, and Steve Greb of KGS. Carey adds that the series is built on the notes about the geology of Kentucky highways, especially at road cuts, taken by Noger and Haney twenty years ago.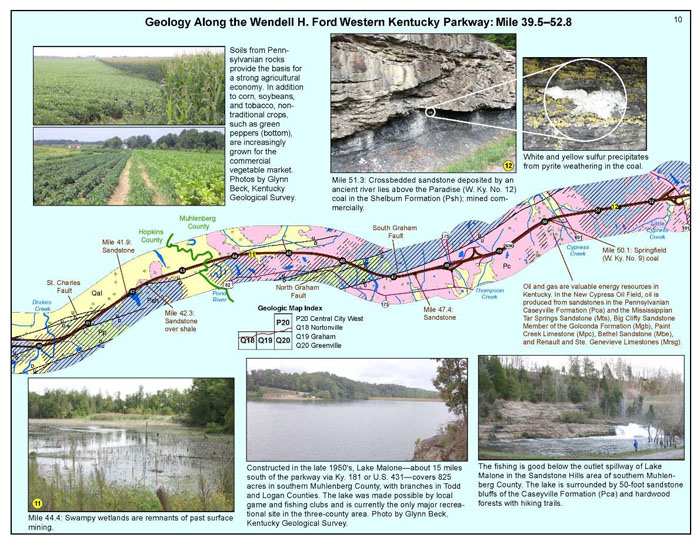 To view and download a copy of Geology Along the Wendell H. Ford Western Kentucky Parkway, go to http://kgs.uky.edu/kgsweb/olops/pub/kgs/SP13_12.pdf . The pages were created in a 13 x 17 inch format, but Carey says they were also designed for printing in standard 8.5 x 11 inch page size.
The next installment in this series of publications will be Geology Along the Bert T. Combs Mountain Parkway.