KGS Home > News and Announcements
The Pipes Are Calling at Jacobson Park
The sounds of pipes could be heard near the newly constructed playground by the lake at Lexington's Jacobson Park on Saturday, June 11. It wasn't the skirl of bagpipes, but rather melodious tones from fluorescent-green 8-inch steel pipes coming out of the ground, with built-in speakers playing music generated by groundwater-more specifically, by the underground waters flowing through Kentucky's limestone and fractured bedrock aquifers and discharging from some of the state's many natural springs.
Called "Livestream," the new structure is a unique collaboration between art, science, and technology that has been two years in the making. In 2013, Kiersten Nash founded Public Works as a platform for catalyzing creative civic engagement. For the development of Livestream, she assembled Lexington-based cellist Ben Sollee, engineer Sean Montgomery, artist Bland Hoke, construction manager Jon Pope and writer Dan Marwit. This group collaborated with staff of the Water Resources Section of the Kentucky Geological Survey, a research center at the University of Kentucky, to incorporate groundwater data collected at three springs located in different regions of Kentucky into a musical sculpture that the public can enjoy and learn from.
The project was initiated in 2013 by a grant managed by LexArts and the Lexington Department of Environmental Quality and Public Works. Nash's company, Public Works Collaborative in New York, was awarded the grant and developed Livestream to help raise groundwater awareness in Kentucky.
Kentuckians use more than 4 billion gallons of water every day, and about 5 percent of that water is groundwater from wells and springs. Groundwater data collected over many years by State and federal agencies, including KGS, are stored in the Kentucky Groundwater Data Repository maintained by KGS and are publicly available at http://goo.gl/mwicNT.
The Livestream installation currently uses repository data for the Bluehole Spring located at McConnell Springs Park in Lexington (Fayette County, Inner Bluegrass Region), Lost River Rise Spring in Bowling Green (Warren County, Mississippian Plateau Region), and Cold Spring in Bledsoe (Harlan County, Eastern Kentucky Coal Field). These data were collected over a period of 10 years, primarily by the Kentucky Division of Water, and provided to the repository. Three parameters that are indicative of the natural variability of groundwater discharging from springs-flow, temperature, and conductivity (a measure of the ability of water to transmit an electrical current, indicating the amount of dissolved minerals or chemicals in the water)-were selected from these data to be converted to musical tones by means of a sound library (one tone per value) generated by cellist Ben Sollee. The tones rise and fall according to the higher or lower data values recorded for each of the three parameters obtained from periodic sampling.
Nash's intent for the project is to challenge people's perceptions and, hence, understanding of groundwater. The speakers that generate the sounds each have a small computer and a proximity detector, so they only emit sounds as a person draws near them, and increase in volume the closer the person gets. A master computer junction box located near the pipes displays a sign describing Livestream on its cover and compiles metadata on which speakers have played and how often.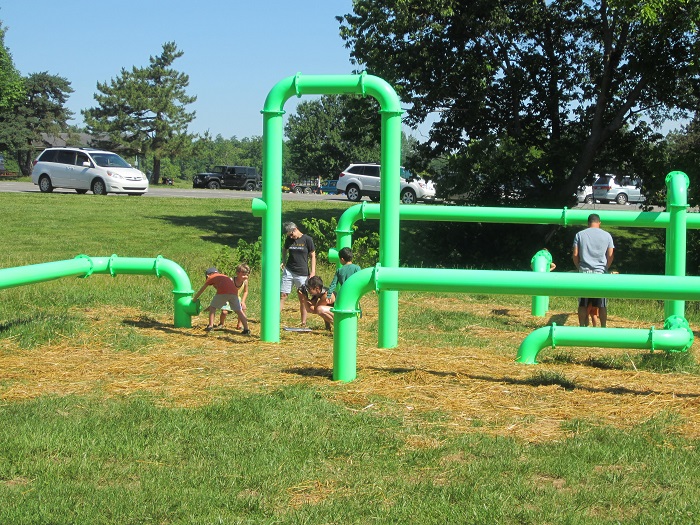 Families enjoying the Livestream pipes and speakers constructed by the Public Works Collaborative
through a grant by LexArts and the Lexington Department of Environmental Quality and Public Works.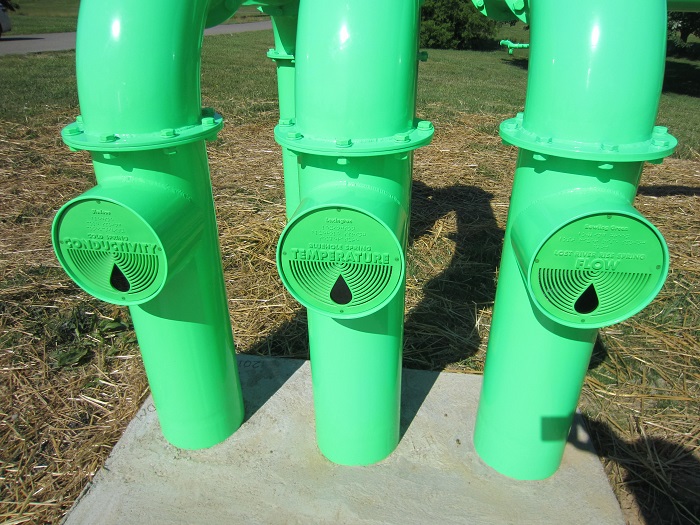 Three of the Livestream speakers that generate different sounds for each separate value of flow, temperature,
and conductivity for three Kentucky springs: Bluehole Spring in Lexington, Lost River Rise Spring in Bowling Green, and Cold Spring in Bledsoe.