KGS Home > News and Announcements
Second of Highway Geology Series Publications Now Available from KGS
Lexington, Ky. (September 27, 2011)—Drivers on Kentucky's parkways or interstates may not realize it, but the variety of geologic formations and terrain alongside these roadways provides them an introduction to earth science in Kentucky.  To help them understand this better, the Kentucky Geological Survey at the University of Kentucky began publishing a series of educational highway geology maps earlier this year. The second installment of the series, Geology Along Interstate-64: Winchester to Ashland, has just been released and can be downloaded and printed without cost from the KGS Web site.
It provides a guide to the geology and terrain of the 98-mile interstate stretch in seven segments 13-17 miles long. Dan Carey of the KGS Geologic Mapping section, along with retired KGS geologists Martin C. Noger and Garland R. Dever, Jr., and former State Geologist Donald C. Haney authored the 13-page publication.
"Interstate 64 between Winchester and Ashland provides a virtual history lesson in geology and geography, spanning over 150 million years of geologic time," says Carey. "The sedimentary rocks—limestone, shale, siltstone, sandstone, coal— formed during this time when Kentucky rose and fell in equatorial seas may be seen in the road cuts along the highway."
The publication uses maps, text, graphics, and photos to explain and illustrate the geology along the highway. Over hundreds of millions of years, geologic forces and differential weathering of the rocks created the physiographic regions traversed—Inner Bluegrass, Bluegrass Hills, Outer Bluegrass, Knobs, Cumberland Escarpment/Mississippian Plateau, and the Eastern Kentucky Coal Field.
To view and download a copy of Geology Along Interstate-64: Winchester to Ashland, go to http://kgs.uky.edu/kgsweb/olops/pub/kgs/sp12_12.pdf. The pages were created in a 13 x 17 inch format, but Carey says they were also designed for printing in standard 8.5 x 11 inch page size.
The next installment will be Geology and Geography Along the Wendell H. Ford Western Kentucky Parkway.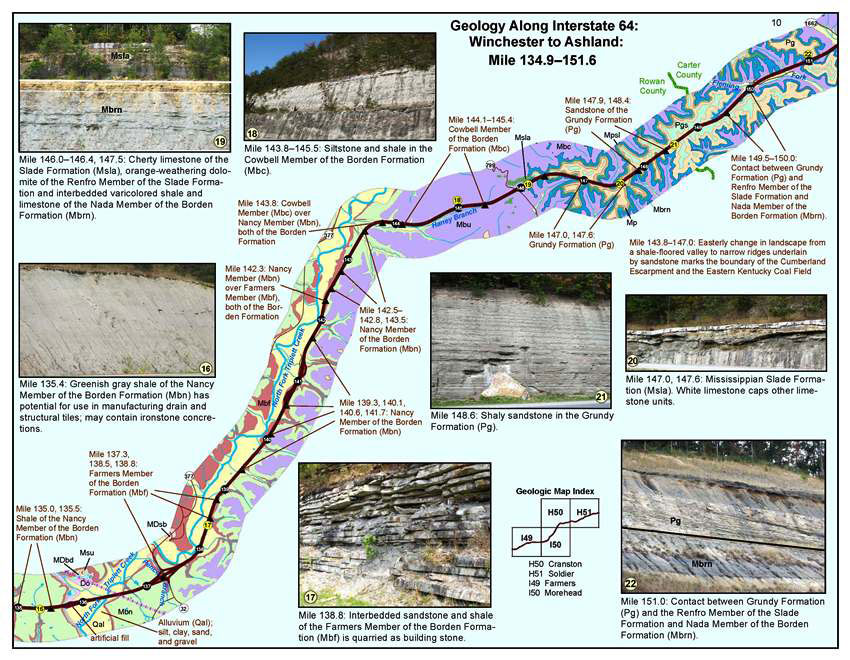 A sample page from Geology Along Interstate-64: Winchester to Ashland.