Small-scale sedimentary structures that result from currents moving at different velocities which deposited the original sediments are conspicuous features in rocks with appreciable amounts of sand (sandstones, interbedded sandstones and shales). These structures generally occur within a single rock bed or laminae. Wetting the core with a spray bottle can make some of these structures more apparent. Geologists define a large number of sedimentary structures. Three common distinctive structures are used in the Ferm classification:
Crossbedding results from the movement of fine to coarse sand in large ripples (megaripples) or sand waves by relatively high-velocity currents. They are more than 0.4 in (1 cm) in thickness (height) and commonly exceed a foot in thickness. Because these structures may be tens of inches to several feet in height and typically feet to tens or even hundreds of feet in length, they cannot be seen in their entirety in a piece of core. What can be seen is the low- to moderately inclined foresets (laminae) of these features, which appear as sharp-based subparallel lines of darker material interlaminated with sandy material.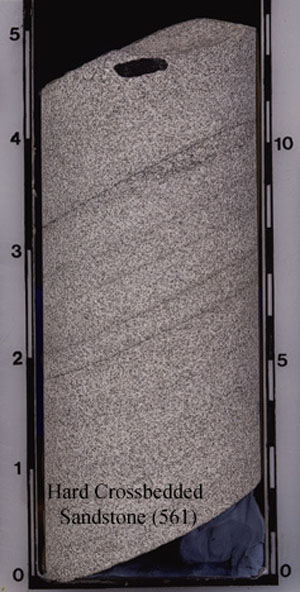 Crossbeds versus ripples
Several different features in core may show relatively closely spaced, inclined laminae or beds. Crossbeds and ripples both have a sharp base and top that is flat or undulating. Between the top and bottom surfaces of the crossbed or ripple are low- to moderate-angle dipping, closely spaced laminae called foresets. Crossbeds and ripples are distinguished based on thickness or height. Ripples are small sedimentary structures less than 1 centimeter in thickness or height, and crossbeds are greater than 1 centimeter in thickness or height. Geologists distinguish many types of ripples and ripple structures, which is useful for interpreting how the ripples form, but this distinction is beyond the scope of most core descriptions used in coal exploration, and is therefore not included in the Ferm classification.

Crossbeds and ripples versus slumps
Several different features in core may show relatively closely spaced, inclined laminae or beds and can be confused with each other. Crossbeds have inclined foresets. In crossbeds that are several feet thick, these foresets can look like inclined, thin, flat or massive beds in core, and could be misinterpreted as slumps. A type of ripple called a climbing ripple normally develops at a low to high angle of climb or dip so that it might look like a ripple bed that had been tilted at higher-than-normal angles, which could be misinterpreted as a slump. Likewise, in relatively rare occurrences, ripples develop on crossbed foresets, making them look like ripples that have been tilted at higher-than-normal angles, so can be misinterpreted as slumps. In core, the term "slump" should be used for rock bedding that is tilted at higher-than-normal angles in different rock types. Crossbeds and individual ripples occur in sandstone. Tilted rocks with thick siltstone, shale, and sandstone are more likely slumps than crossbeds or ripples. Slumps with appreciable shale also commonly exhibit glassy slickenside surfaces, which are not common in normal crossbeds and ripples.

Ripple bedding results from movement of silt and very fine- to fine-grained sand formed by lower-velocity currents. Individual ripples can be observed as thin lenses or layers of sandstone that contain smaller, internal closely-spaced inclined dark laminae (alternating light and dark lines). Ripples may occur in groups or clusters, or may occur as isolated beds separated by subhorizontal layers or streaks of shale. Ripples are essentially small crossbeds. Ripples are less than 0.4 in (1 cm) in thickness (height).
More about ripples
Geologists commonly divide ripple bedding into flaser bedding (sand-dominant), wavy bedding (interlaminated ripples and thicker shale or mudstone drapes), and lenticular bedding (isolated sandstone ripples in shale or mudstone). Flaser bedding would generally be coded as 5X3.5 in the Ferm classification. The second digit would depend on the type of sandstone (4=gray, 5=crystalline, 6=hard). Lenticular bedding would be coded as 3X3 and wavy bedding would be coded as 3X2.5. The second digit would depend on the color of the interlaminated shale or mudstone (1=black, 2=dark gray, 3= light gray-green).


Ripple bedding in sandstone (543.5) and interbedded sandstone and shale (322.5) in core.
In siltstones and sandstones, bedding is sometimes approximately horizontal with no inclined laminae. Flat bedding in the Ferm classification is defined by relatively flat or horizontal laminae or bedding. Laminae may appear as faint dark lines in lighter rock, or distinct thin shales separated by thicker intervals of siltstone or sandstone.
Graded or flat bedding in sandstone (543.6) and interbedded sandstone and shale (322.6) in core.
Many sandstones lack distinct lines or breaks that define sedimentary structures, and are termed massive or homogeneous. Careful inspection of these varieties can reveal subtle evidence of inclined grain alignment, which may indicate that these types of beds in core are associated with larger sedimentary structures. For more information about the description and coding of beds without apparent sedimentary structures, see Bedding.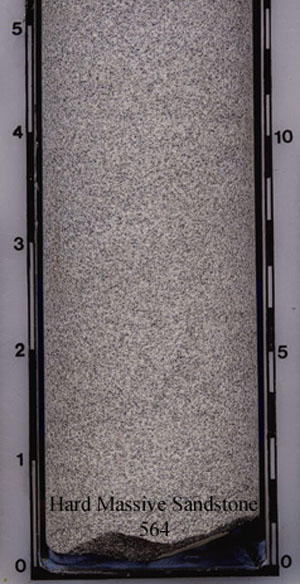 Flat bedding includes many bedding types
Flat bedding in the Ferm code includes a variety of bedding features recognized by geologists, such as flat or horizontal laminae produced by parting lineations, rhythmic laminae (alternating thick and thin sandstone or siltstone beds with very thin shale laminae or no shale laminae), pinstripe bedding, and graded beds. These different bedding types are formed in a variety of flow conditions. Graded beds are particularly common in siltstones and sandstones of the major marine zones and stratigraphic members of Appalachian coal fields. Graded beds generally have a sharp base and then gradually coarsen or fine upward, rather than occurring in distinctly sharp, alternating laminae or beds, so that internal contacts are essentially gradational. Graded beds result from turbidity or density currents that transport suspended sediment very quickly over long distances.
Primary sedimentary structures may be modified to some degree by bioturbation. If the original sedimentary structures are still visible, the bioturbation can be added as a decimal digit. Go to the Biogenic Structures page for more information.