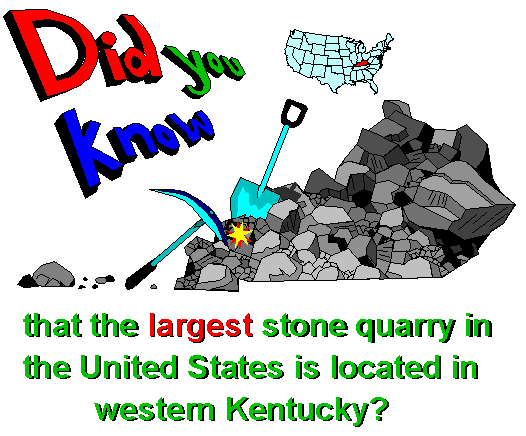 Limestone and dolomite are sedimentary rocks that occur at the surface in 25 percent of Kentucky, mainly in the central and western parts of the State. These rocks are often mined in quarries. The quarried stone is mostly used in road construction and maintenance, but can also be used for lime production, cement, jetty stone, agricultural limestone, sewage plant filters, sulfur dioxide removal in power plants, railroad ballast, and mine dusting. One of the quarries from which crushed stone is recovered in Kentucky is Vulcan Mineral's Reed Quarry in Livingston County.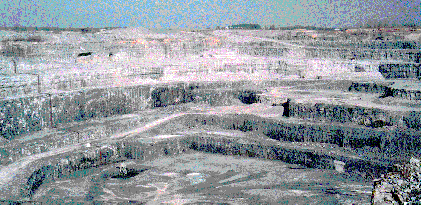 Photograph of the Reed quarry in Livingston County, Kentucky. The quarry is 450 feet (140 m) deep.
The Reed Quarry is one of the largest producer of crushed stone in the United States. The quarry pit is 4,500 feet (1.4 km) wide at its widest, and is 450 feet (140 m) deep at the present time. It produces more than 10 million short tons of crushed stone each year. To get an idea of how much stone that is, think of a pick-up truck as equal to about one short ton of material. Now imagine ten million trucks! The quarry ships 80 percent of its stone by barge on the Ohio River to the Mississippi River, then south into the lower Mississippi Valley, mostly into Louisiana and Mississippi. These two states have few local sources of construction stone.
Annual sales of crushed stone in Kentucky generate between 190 and 250 million dollars of revenue. Raw materials such as crushed stone also add significantly to the State's economy in two ways. According to a report by the University of Kentucky, for every $100 million spent on highway construction in the State, an additional $236 million is generated in the total output of goods and services to Kentucky's economy.
References
U.S. Department of the Interior, 1993, The Mineral Industry of Kentucky in 1993: U.S. Bureau of Mines, Mineral Industry Survey.