Kentucky Oil and Gas Overview: 2001 Production
---
Contact: Brandon Nuttall
Production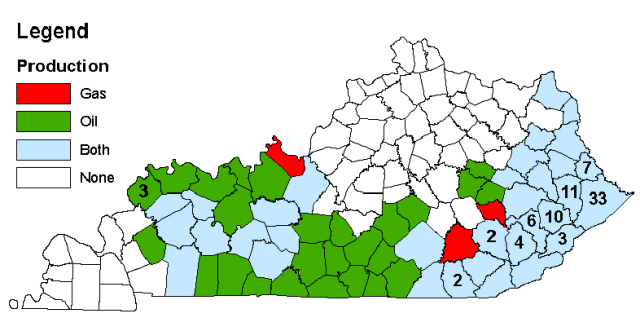 Kentucky's oil- and gas-producing counties, 2001. The top 10 counties have total production in trillions of Btu.
All of Kentucky's counties have been tested to varying depths for oil and gas resources. In 2004, production was reported from 65 counties. In general, oil production dominates in the western coal field and south-central areas of Kentucky; the eastern coal field produces mostly natural gas. Kentucky has an estimated 18,000 producing oil wells and 13,000 producing gas wells. The majority of those producing wells are in the "stripper" category, having daily production rates of 60 million Btu or less (10 barrels of oil or 60,000 cubic feet of gas). Many wells are reported with initial daily production rates in excess of 580 million Btu (100 barrels of oil or 580,000 cubic feet of gas). Daily production per well averages much lower, however: 2.4 million Btu (0.5 barrels) for oil and 19 million Btu (19,000 cubic feet) for gas in 2004. In 2004, production totaled 109 trillion Btu (2.54 million barrels of oil and 94 billion cubic feet of natural gas) with a total value of $583 million ($26 million severance tax paid). Annually, Kentucky produces only about 12 percent of the 921 trillion Btu of oil and natural gas consumed in the state (EIA, State Energy Data Report 2001).
Petroleum is produced at various depths from limestone, sandstone, and shale of Cambrian through Pennsylvanian age. In some areas of the state oil is still produced from depths of less than 100 feet. Wells producing natural gas from the Cambrian Rome Formation are currently Kentucky's deepest producers, with some zones exceeding 7,500 feet. The overall average total depth of oil and gas wells drilled in the state is less than 1,500 feet. The average depth for wells drilled in 2001 is more than 2,700 feet. This increase represents the exploration for deeper producing zones and the continuing efforts to develop the Devonian shale natural gas resource; both occur primarily in eastern Kentucky. As the price of oil and gas has increased, interest in coalbed methane and Devonian shale gas production have grown especially in western Kentucky.
Era

System and Series

Began mybp*

Resource

Mesozoic

Cretaceous

144

Lignite?

Jurassic

208

(not present in Kentucky)

Triassic

245

(not present in Kentucky)

Paleozoic

Permian

286

(not present in Kentucky)

Carboniferous System

Pennsylvanian

320

Coal, oil, gas, tar sand

Mississippian

360

Oil, gas, tar sand

Devonian

408

Oil & gas

Silurian

438

Oil & gas

Ordovician

505

Oil & gas

Cambrian

544

Oil & gas

Precambrian

4,500

Potential gas

* million years before present
[Strengths] [History] Production [Resource Estimates] [Future] [Concerns] [Back to Overview]
---
© 2005 Kentucky Geological Survey, University of Kentucky
Created 8-Jul-2002