Trenton-Black River Appalachian Basin Exploration Consortium
---
Contact: John Hickman



Creating a Geologic Play Book for Trenton-Black River
Appalachian Basin Exploration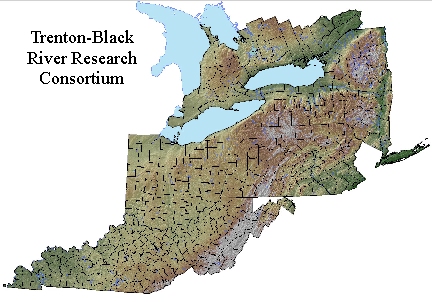 Introduction:
Numerous recent oil and gas discoveries in West Virginia, New York, Ohio, and southwestern Ontario produce from features found in the same geological units that lie beneath the surface in Kentucky. Researching the possibilities of similar oil and gas reservoirs in Kentucky could lead to increased oil and gas production and resulting economic benefits to the Commonwealth. This multidisciplinary project will address many of the factors that may influence locating additional reserves and optimal production from fractured Trenton-Black River oil and gas fields. Working with the agencies from the other states, KGS is studying the stratigraphy, structure, petrography, source rocks, seismic data, fluid geochemistry, isotope geochemistry, fluid-inclusion geochemistry, production histories, and effectiveness of horizontal drilling technology within this emerging play.

Research collaboration:
Private- and public-sector stakeholders formed the new Trenton-Black River Appalachian Basin Exploration Consortium and began a 2 year research effort that will lead to a play book for Trenton-Black River exploration throughout the Appalachian Basin. The final membership of the consortium consists of 17 gas exploration companies and six research team members, including the state geological surveys of Kentucky, Ohio, Pennsylvania, and West Virginia; the New York State Museum Institute; West Virginia University; and the Ontario Petroleum Institute.
This project has three main objectives: (1) develop an integrated, multifaceted resource assessment model of Trenton-Black River reservoirs in New York, Ohio, Pennsylvania, Kentucky, and West Virginia, (2) define possible fairways within which to conduct more detailed studies leading to further development of the gas resource in these reservoirs, and (3) develop an integrated structural-stratigraphic-diagenetic model for the origin of Trenton-Black River hydrothermal dolomite reservoirs. Eight integrated research tasks are being conducted by basinwide research teams organized from this large pool of experienced professionals.
Research objectives:

Task 1. Structural and seismic analysis and mapping
Task 2. Analysis of stratigraphic relationships and thickness mapping
Task 3. Analysis of petrographic data and synthesis of depositional environments
Task 4. Analysis of isotope geochemistry and fluid inclusion data
Task 5. Analysis and summary of petroleum geochemistry data
Task 6. Analysis of production data/histories and horizontal well technology
Task 7. Manage data, GIS, and Web site
Task 8. Compile play book and manage project

The Kentucky Geological Survey is the task leader for the structural and seismic analysis and mapping (task 1), as well as a collaborator with tasks 2 and 8.

Contact: jhickman@uky.edu

Research in collaboration with:
---
© 2004 Kentucky Geological Survey, University of Kentucky