Structural Cross Sections of Paleozoic Rocks in the Illinois Basin
---
Contact: Dave Harris
A network of regional cross sections that show the structure, thickness, and distribution of Paleozoic strata in the Illinois Basin are being prepared by the Illinois Basin Consortium (Illinois, Indiana, and Kentucky Geological Surveys). Most of the sections radiate from the UNOCAL 1 Cisne drill hole in Wayne County, Illinois, near the approximate center of the basin. The other regional cross sections are oriented to traverse significant geologic features in Indiana and Kentucky. Completed cross sections available in open-file format from the surveys are shown on the figure below.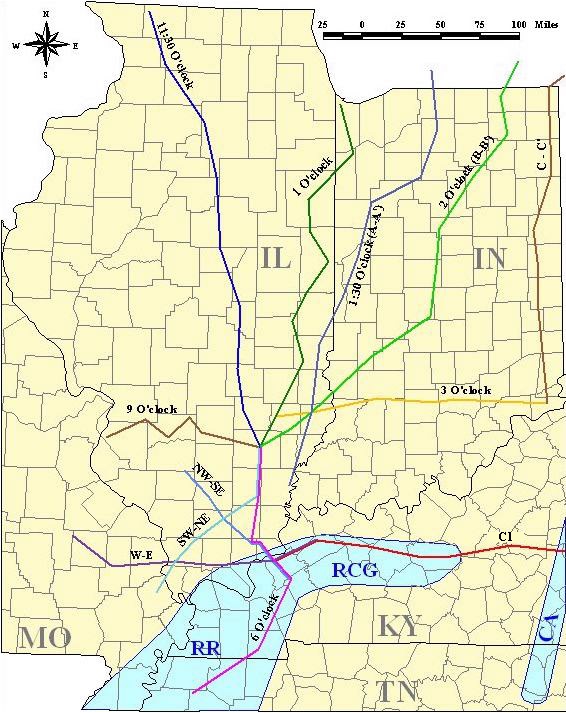 Locations of Illinois Basin cross sections.

Cross section C1, which is being constructed, will show the stratigraphic and structural relationships of the Reelfoot Rift (RR) and Rough Creek Graben (RCG) in western Kentucky to the Cincinnati Arch in central Kentucky. The cross section will also be useful to anyone exploring for oil or gas accumulations in the area. The upper part (Knox and post-Knox) of the section is being compiled using available geologic mapping and well data. The lower part (pre-Knox) of the section is being supplemented with seismic data. A manuscript describing Paleozoic stratigraphy along the cross section is under review; expected publication date is late 2004.
Cross sections available at the Kentucky, Illinois, and Indiana Geological Surveys:
11:30 o'clock, 1:30 o'clock, 2 o'clock, 6 o'clock, SW-NE, W-E, NW-SE, C-C'

Cross sections available at either the Illinois or Indiana Geological Surveys:
1 o'clock, 3 o'clock, 9 o'clock
Cross section in preparation by Martin C. Noger and James A. Drahovzal at the Kentucky Geological Survey:
Key to other abbreviations on index:
RR-RFG - Reelfoot Rift/Rough Creek Graben
CA - Cincinnati Arch
Cross section order information pages:
Kentucky Geological Survey - List of Publications
Illinois State Geological Survey
Indiana Geological Survey (choose Extended Search, then set type to "IBC Structural Cross Sections")
---
© 2004 Kentucky Geological Survey, University of Kentucky
Created 4-Aug-2000