Fossil of the month: Syringothyris

Meet Syringothyris textus. Is this the biggest brachiopod fossil in Kentucky? We're not sure, but it's the widest (margin to margin) in the Kentucky Geological Survey's paleontological collection. This specimen was found by Stephen Greb (KGS) in the Fort Payne Formation along Lake Cumberland in Russell County. It is at least 4 inches wide and 2.1 inches long. Because the margins are broken, it may originally have been as much as 4.8 inches wide and 3 inches long.

Description. Syringothyris is a spiriferid brachiopod. It is in the order Spiriferida (suborder = Spiriferinidina and family = Syringothyrididae). Spiriferids typically have a biconvex (both valves bulge outward) profile, and a transverse shape, which means they are wider (subparallel to hinge) than long (hinge to commissure [opening]). Most spiriferids have a well-developed fold on the brachial (dorsal) valve and sulcus (depression) on the pedicle (ventral) valve.

Syringothyris has a ventribiconvex profile, which means both valves are convex (bulge outward), but the pedicle (ventral) valve is taller (more convex) than the brachial (dorsal) valve. The pedicle valve also is broadly pyramidal in section. Valves are ornamented with relatively coarse ribbing, but the fold and sulcus are commonly smooth. Specimens in the Illinois Basin (which includes western Kentucky) are typically more than 3.7 inches wide (Weller, 1914), which is larger than most brachiopods found in the region.
Their large size and the lack of ornamentation on the fold and sulcus help to distinguish Syringothyris textus from other smaller spiriferids in the rock units in which they are found. When viewed along the hingeline, Syringothyris textus also has a large interarea (area beneath the beak at the rear of the shell), with a very tall, triangular opening, called a delthyrium. Details of the delthyrium and other parts of the interarea also help to distinguish Syringothyris from similar-appearing brachiopods in the same family (Weller, 1914, Williams and others, 2002).


Species. Although many species of Syringothyris are known, only S. textus has been reported from Kentucky.
Biggest of all time? Syringothyris textus is not the largest brachiopod of all time. Several species of Gigantoproductus, a large productid brachiopod, are in the running for the largest brachiopod of all time. Gigantoproductus giganteus is commonly more than 3.9 inches long (Muir-Wood and Cooper, 1960) and G. tujucsnensis from Japan is as much as 6.3 inches in length! (Ibaraki and others, 2008). Gigantoproductus is also a Mississippian brachiopod, but it has not been found in Kentucky or surrounding states. Other slightly smaller productids, such as Productus and Marginirugus, are known from Kentucky.
Range and geographic occurrence. Syringothyris textus is a Mississippian brachiopod. It has been found in the Borden and Fort Payne Formations in Kentucky and in similar units in surrounding states. It may also occur in the Warsaw Formation. Sable and Dever (1990) considered Syringothyris textus a useful guide fossil for the Borden Formation in west-central Kentucky. In the Borden of Kentucky, it occurs in the New Providence, Nancy, Holtsclaw Siltstone, and Kenwood Siltstone Members. These members of the Borden crop out around the western and southern parts of the Knobs region of central Kentucky. The Fort Payne is exposed in south-central Kentucky, especially around Lake Cumberland and Dale Hollow Lake. The Borden and Fort Payne are in the Osagean stage (Late Tournaisian to Early Visean international stages) of the Early to early Middle Mississippian Period, which lasted from approximately 340 to 350 million years ago.
Life and paleoecology. Syringothyris textus was a marine brachiopod. It lived in seas that covered Kentucky during Osagean time. Large-scale stratigraphic relations and details of bedding indicate the Borden Formation was deposited as a submarine delta that prograded westward across the state. In Kentucky, the delta appears to have stopped along a line from Louisville southeast to Somerset. Syringothyris textus lived along the delta slopes and in deeper waters west of the delta. The Nancy, Kenwood, and Holtsclaw Members of the Borden were deposited as parts of the prodelta and lower delta slope. The New Providence Member represents deeper-water, basin-floor deposits west of the delta front. The Fort Payne Formation was deposited above the New Providence Member of the Borden Formation in western and west-central Kentucky (Kepferle, 1977; Ettensohn, 1979; Chaplin, 1980; Sable and Dever, 1990). The large example at the top of the page was found on the margin of a carbonate mound in the Fort Payne Formation.
Large brachiopods are relatively common in the Borden Formation. Besides Syringothryis textus, other large brachiopods include Imbrexia imbrex, Orthotetes keokuk, and Marginirugus magnus. The large size of many brachiopods, from many different families, suggests optimal living conditions, perhaps from nutrients coming off the delta. Ausich and others (1979) reported finding Syringothyris textus in living position within Borden delta slope environments. In life, the brachiopod rested on its large interarea (along the hinge), with its commissure oriented upward. It shared the muddy to silty deltaic seafloor with other brachiopods, crinoids, bryozoans, mollusks, corals, and trilobites.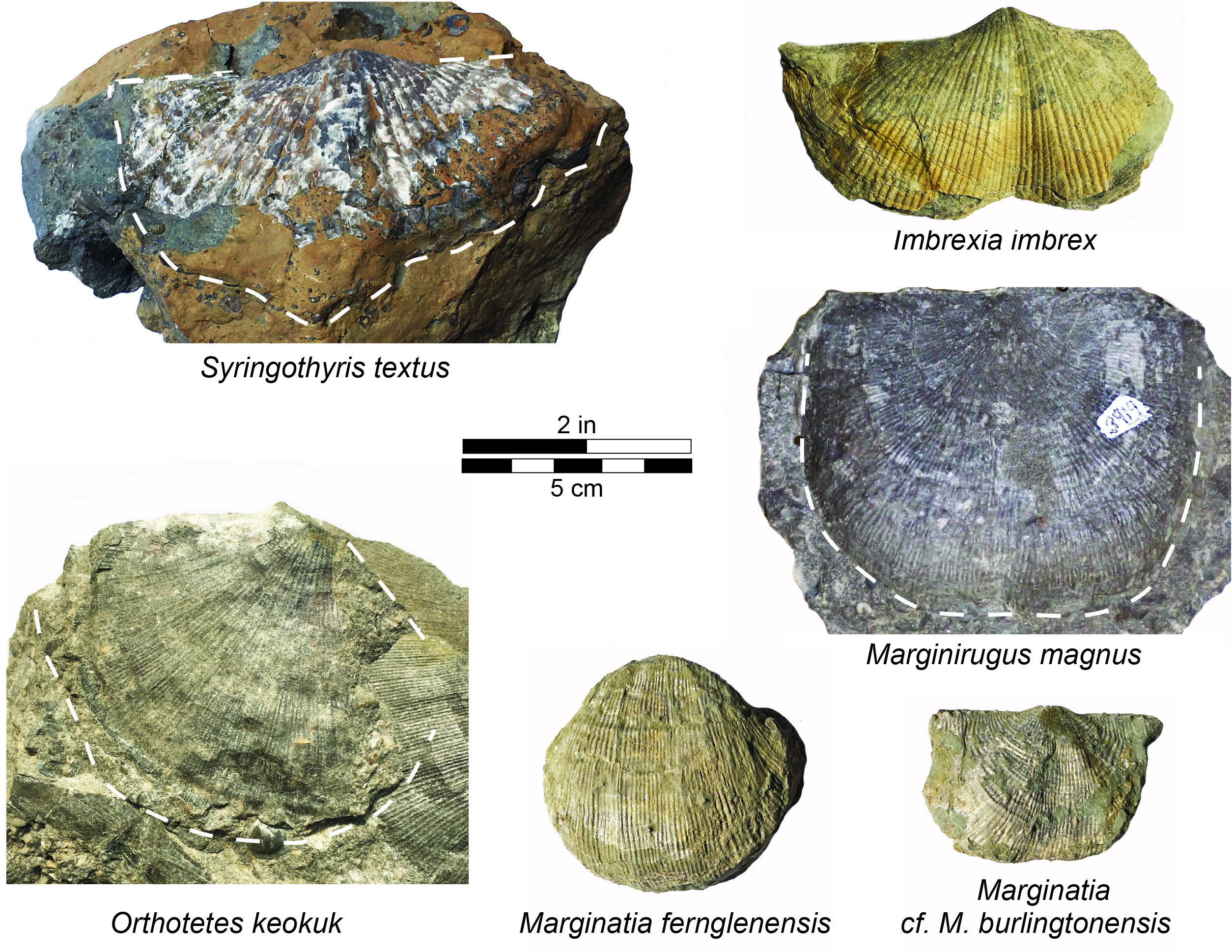 References
Ausich, W.I., Kammer, T.W., and Lane, N.G., 1979, Fossil communities of the Borden (Mississippian) delta in Indiana and northern Kentucky: Journal of Paleontology, v. 53, no. 5, p. 1182-1196.


Chaplin, J.R., 1980, Stratigraphy, trace fossil associations, and depositional environments in the Borden Formation (Mississippian), northeastern Kentucky (Geological Society of Kentucky 1980 field conference): Kentucky Geological Survey, 114 p.


Ettensohn, F.R., 1979, Depositional framework of Lower Mississippian subaqueous delta sediments in northeastern Kentucky, in Ettensohn, F.R., and Dever, G.R., Jr., eds., Carboniferous geology from the Appalachian Basin to the Illinois Basin through eastern Ohio and Kentucky (Guidebook for Field Trip No. 4, IX International Congress of Carboniferous Stratigraphy and Geology): Lexington, University of Kentucky, p. 133-136.


Ibaraki, Y., Tazawa, J.I., Sato, K., and Nakamura, Y., 2008, Gigantoproductus (Carboniferous Brachiopoda) from Kotaki, Itoigawa City, Niigata Prefecture, central Japan: Niigata University (Geol.), Scientific Reports, v. 23, p. 55-64.


Kepferle, R.C., 1977, Stratigraphy, petrology, and depositional environment of the Kenwood Siltstone Member, Borden Formation (Mississippian), Kentucky and Indiana: U.S. Geological Survey Professional Paper 1007, 49 p.


Muir-Wood, H.M., and Cooper, G.A., 1960, Morphology, classification and life habits of the Productoidea (Brachiopoda): Memoirs of the Geological Society of America, v. 81, 567 p.


Sable, E.G., and Dever, G.R., Jr., 1990, Mississippian rocks in Kentucky: U.S. Geological Survey Professional Paper 1503, 125 p.


Weller, S., 1914: The Mississippian Brachiopoda of the Mississippi Valley Basin: Illinois State Geological Survey Monograph 1, 508 p. [Syringothyris on p. 399-401].


Weller, J.M., 1931, The Mississippian fauna of Kentucky, in Jillson, W.R., ed., Paleontology of Kentucky: Kentucky Geological Survey, ser. 6, v. 36, p. 251-290.


Williams, A., Rowell, A.J., Muir-Wood, H.M., Pitrat, C.W., Schmidt, H., Stehli, F.G., Ager, D.V., Wright, A.D., Elliott, G.F., Amsden, T.W., Rudwick, M.J.S., Hatai, K., Biernat, G., McLaren, D.J., Boucot, A.J., Johnson, J.G., Staton, R.D., Grant, R.E., and Jope, H.M., 2002, Brachiopoda (Part H) revised, Rhynchonelliformea, in Moore, R.C., ed., Treatise of invertebrate paleontology: Geological Society of America and University of Kansas Press, v. 2, 1688 p.
Text and images by Stephen Greb
See more Kentucky fossils of the month