Fossil of the Month: Agaricocrinus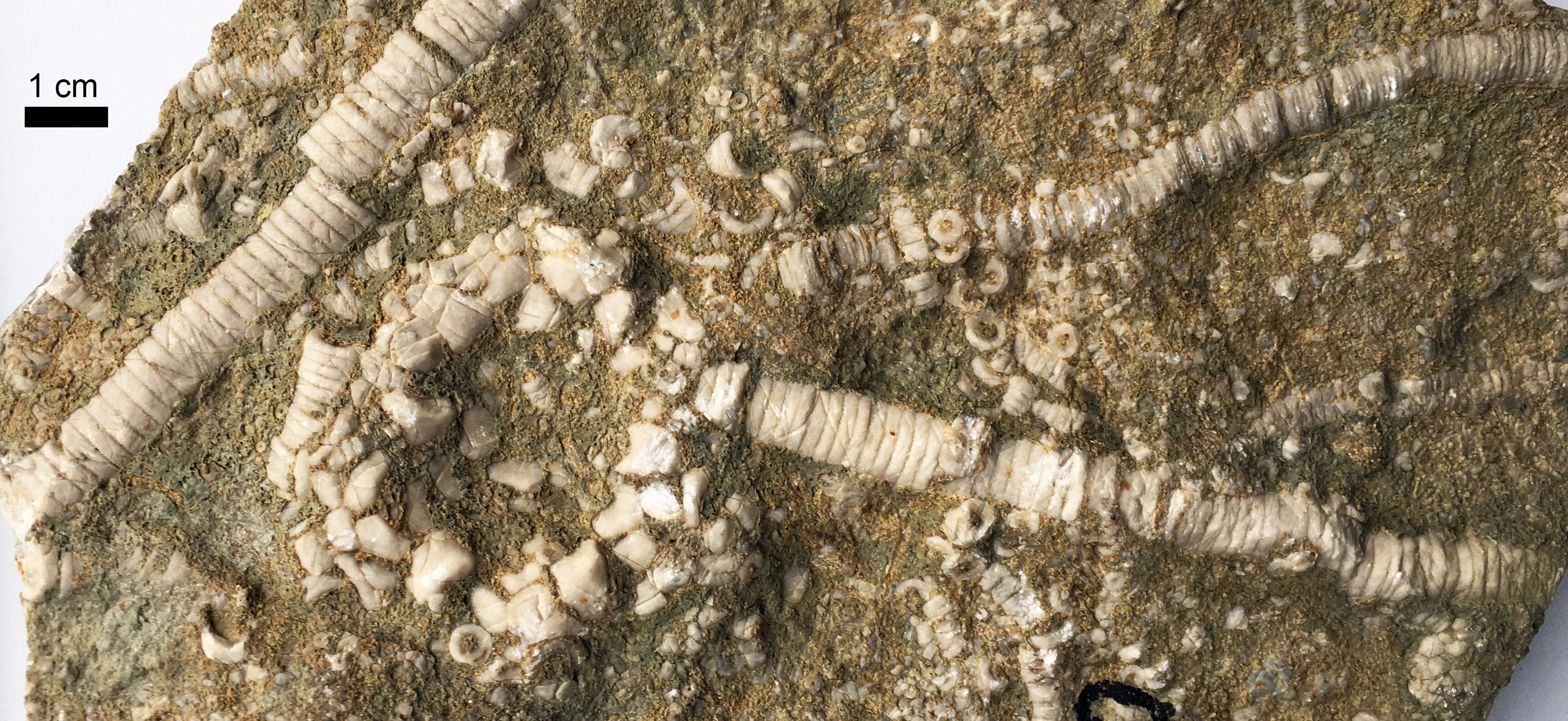 This month's fossil from the KGS collections looks like a flower or a ball on a stem, but it's really the remains of a marine creature related to starfish. Agaricocrinus is a fossil crinoid.Crinoids are sometimes called "sea lilies" because they look like flowers, and live in the sea. Rather than being plants, however, crinoids are marine invertebrate (lacking a backbone) organisms. Also, rather than a "lily," this particular crinoid is sometimes referred to as the "mushroom crinoid" because some species have a shape similar in appearance to a mushroom.
Crinoids consist of a cup (called a calyx), which is covered in skeletal plates. Arms attach to the cup. Many modern crinoids are stemless, but in the past, most crinoids had stems (called columns), which connected to the cup. The columns were composed of many thin, ring-shaped skeletal plates called columnals. Broken columns and columnals are the most common crinoid fossils. Less common, but needed for more specific identification, are fossils of the calyx or cup. Loose fossil cups may look like small balls, cones, cups, nuts, or in the case of Agaricocrinus, mushrooms or short-armed starfish.
Classification. Agaricocrinus is a Mississippian crinoid, which is a type of echinoderm (the phylum which includes starfish and sea urchins). It is in the family Coelocrinidae, and is one of three members of this family reported from Kentucky (Ausich and Kammer, 1991).

Description. Agaricocrinus has a small- to medium-size, low-lying cone to rounded, bowl-shaped cup (calyx) with a flat to indented (convex) base. Thecalyxlooks like a mushroom cap. The indented side (underside of the "mushroom cap") is the side where the crinoid stem attached, which is called the aboral side. The rounded side of the calyx (top of the "mushroom cap") is formed by a structure called a tegmen. The tegmen side is termed the oral side of the calyx. One species has a distinctive five-lobed (pentalobate) shape, so it looks somewhat like a starfish with stunted arms. Each lobe marks the point on the calyx from which at least a pair of arms extended. Smaller lobes (labeled A, B, and C) hosted two arms, rarely three arms. The two larger lobes (labeled D and E) hosted 2 to 3 arms, and rarely 4 arms (Moore and others, 1978; Ausich and Kammer, 1991; Meyer and Ausich, 1997). Most of the Agaricocrinus fossils found in Kentucky lack arms, so interpretations are based on fossils from other areas. Plates on the cup of Agaricocrinus may be smooth, granular, or covered in tiny curving shapes termed "vermiculose" texture. Some species have "nodose" appearance, which means the plates are slightly raised from the surface of the cup, like bumps. Agaricocrinus stems have holdfasts constructed of root-like structures termed "cirri," which extended from the stem (Morgan, 2021).
The unusual "ball" shape of the specimen at the top of the page is a calyx that has been crushed and flattened, which masks its true shape. Details of the plates have been preserved and can be used to identify the specimen as Agaricocrinus.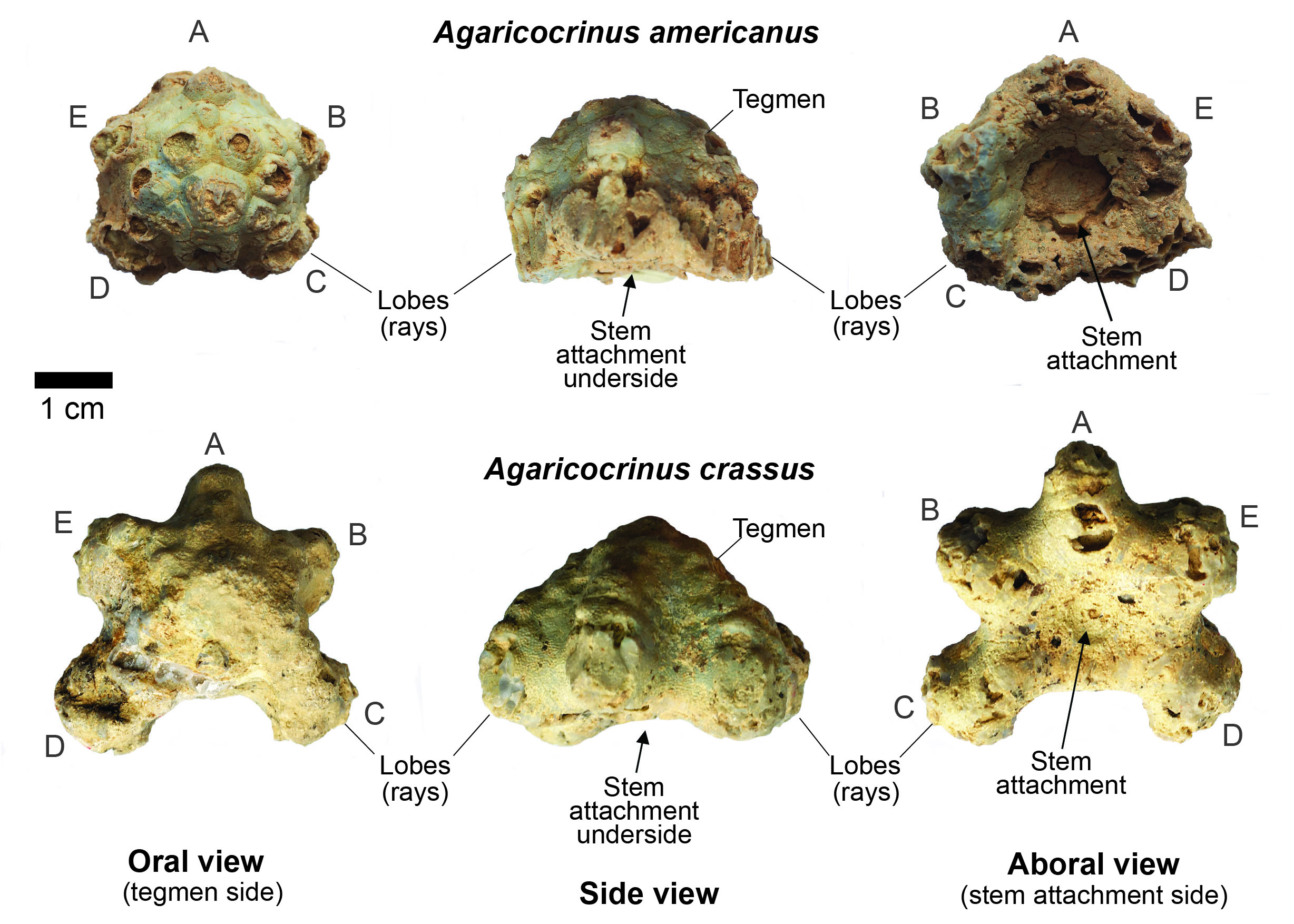 Species. Thirty-eight species of Agaricocrinus are known, and seven are reported from Kentucky: three from the Fort Payne Formation and four from the Nada Member of the Borden Formation. At one time, 39 species were listed from the Fort Payne (Ehlers and Kesling, 1963), but detailed studies of these species have resulted in many being synonymized or combined into others, such that three remain valid today (Meyer and Ausich, 1997). Most of the variability in features that had been used to determine which species were invalid was related to ontogenetic variation. Ontogeny is the term used to describe natural changes in individuals from birth to adult (for example small versus large size). The remaining valid species are defined based on their relative cup shape, plate ornamentation (where preserved), and details of specific plates, which require some knowledge of crinoid morphology to differentiate.
Several specimens of Agaricocrinus from Kentucky are housed in museums around the country. The original or type specimen of Agarocrinus americanus is from the Fort Payne Formation in Kentucky, and is housed in the U.S. National Museum's type collections in Washington, D.C. (along with many referral specimens from Kentucky, called neoparatypes and hypotypes). The type specimen of A. crassus was originally reported from Tennessee, but is labeled as being from Kentucky. It is housed in the collections of the Field Museum of Natural History in Chicago (Meyer and Ausich, 1997).
Range and geographic occurrence. Agaricocrinus has been reported from Lower to Lower Middle Mississippian (Osagean) strata from several Midwestern states. In Kentucky, Agaricocrinus has mostly been found in the Nada Member of the Borden Formation and in the Fort Payne Formation (Ausich and Kammer, 1991; Meyer and Ausich, 1997; Lee and others, 2005; Krivicich et al., 2014). It is a relatively common crinoid in the Fort Payne. A few specimens have also been found in the New Providence and Muldraugh Members of the Borden Formation. The Borden and Fort Payne are 340 to 345 million years old. Both units contain many different types of crinoids. The Borden Formation is exposed at the surface in the Knobs Region of Kentucky, and the Fort Payne crops out in south-central Kentucky, especially around Lake Cumberland and Dale Hollow Lake. Agarocrinus crinoids are also found in the Crawfordsville area of southern Indiana, which is famous for its many whole crinoids with well-preserved arms. Crinoids are abundant in Mississippian strata, so much so that the Mississippian Period is sometimes referred to as the "Age of Crinoids"!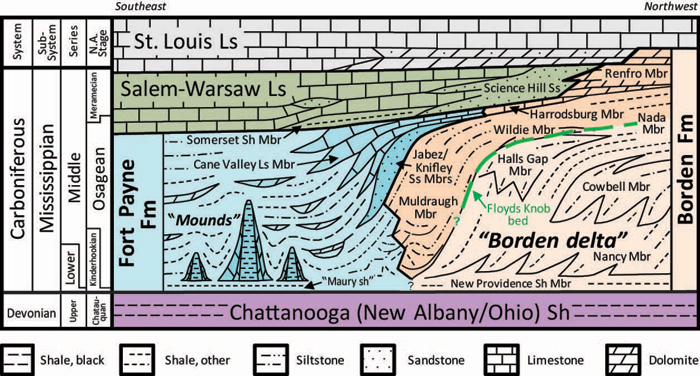 The Agarocrinus specimens shown here are all from the Fort Payne Formation. The Fort Payne contains mounds of green shale and limestone, which accumulated in the ancient Mississippian seas west of an abandoned delta, represented by the Borden Formation. Fort Payne "mud mounds" have sparked considerable research interest, especially related to their diverse fossil crinoids. Much of what we know about the geology of Fort Payne mud mounds is based on the research of Dr. Paul Potter, who spent years carefully measuring and sampling mud mounds throughout south-central Kentucky and Tennessee. The crushed specimen at the top of the page was collected at a site he first described along Lake Cumberland. Dr. Potter died in 2020, but left a legacy of research on the geology of Kentucky and Midwestern geology.
Life and paleoecology. In life, Agaricocrinus lived with its column attached to the sea floor and its arms directed upward into the water column, and oriented to bottom currents. When feeding, their arms presumably curved into broad, "fan-" and "bowl-shaped" patterns similar to modern crinoids. Pinnules on crinoid arms trap food particles from water currents. In the Fort Payne and Borden Formations, some crinoids were restricted to certain depths, or certain types of mounds on the sea floor, but Agaricocrinus appears to have lived in many different areas with other crinoids and bryozoans (Krivicich and others, 2014). Undersea gardens of hundreds or thousands of crinoids would have covered the slopes of the Borden delta and the deeper waters in front of the delta, where the Fort Payne mounds accumulated. The mounds themselves were buildups partly caused by sediment trapping of gardens of bryozoans and crinoids like Agaricocrinus.

Special thanks. The fossil of the month and many other Fort Payne crinoids in the KGS fossil collections were donated by Dr. David Meyer from the University of Cincinnati. We thank Dave for his donations, and for his helpful suggestions on some of the figures shown on this web page. Dr. Meyer, along with Dr. Bill Ausich at Ohio State University, have published many papers on the Fort Payne crinoid fauna, including Agaricocrinus.
References Cited
Ausich, W.I., and Kammer, T.W., 1991, Systematic revisions to Aorocrinus, Dorycrinus, Macrocrinus, Paradichocrinus, Strotocrinus, and Uperocrinus: Mississippian camerate crinoids (echinodermata) from the stratotype region: Journal of Paleontology, v. 65, no. 6, p. 936–944.
Ehlers, G.M., and Kesling, R.V., 1963, Two new crinoids from Lower Mississippian rocks in southeastern Kentucky: Journal of Paleontology, p.1028–1041.
Greb, S.F., Potter, P.E., Meyer, D.L., and Ausich, W.I., 2008, Mud mounds, paleoslumps, crinoids, and more; the geology of the Fort Payne Formation at Lake Cumberland, south-central Kentucky: Field trip for the Kentucky Chapter of the American Institute of Professional Geologists, May 17-18, 2008: 45 p.
Krivicich, E.B., Ausich, W.I., and Meyer, D.L., 2014, Crinoid assemblages from the Fort Payne Formation (late Osagean, early Viséan, Mississippian) from Kentucky, Tennessee, and Alabama: Journal of Paleontology, v. 88, no. 6, p. 1154–1162.
Lee, K.G., Ausich, W.I., and Kammer, T.W., 2005, Crinoids from the Nada Member of the Borden Formation (Lower Mississippian) in eastern Kentucky: Journal of Paleontology, v. 79, p. 337–355.
Meyer, D.L., and Ausich, W.I., 1997, Morphologic variation within and among populations of the camerate crinoid Agaricocrinus (Lower Mississippian, Kentucky, and Tennessee); breaking the spell of the mushroom: Journal of Paleontology, v. 71, p. 896–917.
Moore, R,C., Rasmussen, H.W., Lane, N.G., Ubaghs, G., Strimple, H.L., Peck, R.E., Sprinkle, J., and Sieverts-Doreck, H., 1978, Systematic descriptions, in In R. C. Moore, R.C., and Teichert, C., eds., Treatise on Invertebrate Paleontology, Part T, Echinodermata 2, Crinoidea: Geological Society of America and University of Kansas Press, v. 2–3, p. 403–1027.
Morgan, W., 2021, Collector's guide to Crawfordsville crinoids: Atglen, Pennsylvania, Schiffer Publishing, 96 p.
Learn more about crinoid fossils
Learn more about the geology of Fort Payne mud mounds

View all archived fossils of the month from KGS collection